The Heartfelt Reason Lil Yachty Stopped By An Atlanta McDonald's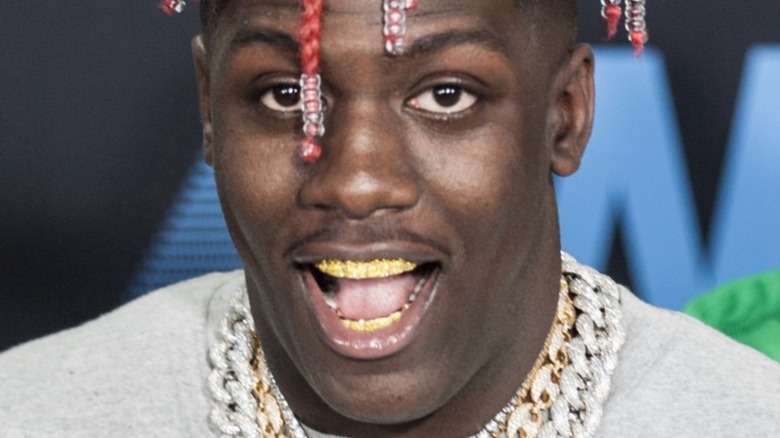 Arturo Holmes/Shutterstock
Unless they're a child of the rich and famous, most celebrities start out in obscurity. In the relatively short time that he's been on the scene, 24-year-old Atlanta rapper Lil Yachty has gone from laying tracks on SoundCloud to selling out headlining tours, sharing bills with Cardi B and A$AP Rocky, and earning accolades from the likes of Rolling Stone and The New York Times. But, before his big break in 2014, the life of the "One Night" rapper looked a lot like that of many other American teens. 
Chief among Lil Yachty's widely relatable pre-fame experiences is his time working in food service. On a recent visit to his hometown, the musician made a stop at his former place of work: McDonald's. The platinum-selling rapper's stopover was a surprise to the Atlanta outpost's staff, who looked beyond excited to be sharing the kitchen — and even some food-prep duties — with the star. But while the cooks and cashiers may not have known about Lil Yachty's visit to the local Golden Arches ahead of time, the fast food company was actually the one to coordinate it.  
The rapper's visit was part of McDonald's 'Thank You Crew' initiative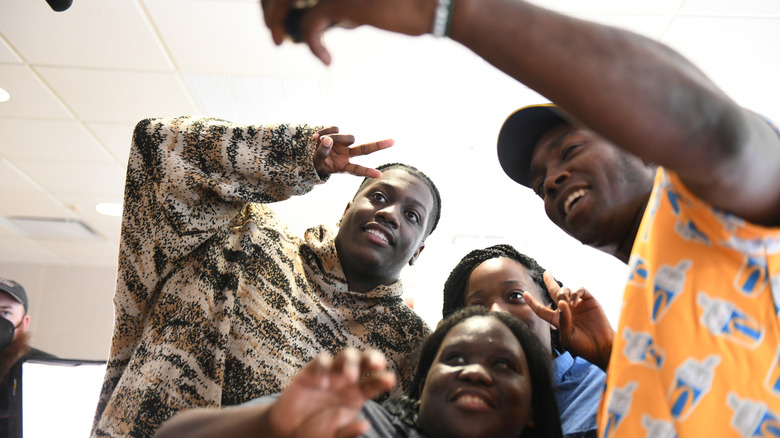 McDonald's
An April 20 press release from McDonald's corporate HQ introduces the franchise's "Thank You Crew" initiative, which aims to show gratitude to "stand-out McDonald's employees" across the country. In addition to inviting customers nationwide to shout out their local McDonald's crew members in person and on social media, the company is also inviting public figures to show their love for the chain's workers. Lil Yachty was the first celeb to kick off the program. 
Based on the photos like the one above, the crew members of the Atlanta McDonald's where Lil Yachty used to clock in look like they're having the best time hanging with their hometown hero over McChicken sandwiches and fries. Per the press release, Lil Yachty told the company that he "learned a lot working at McDonald's" before rising to fame, adding that his visit "brought those memories right back." 
A video of the surprise begins with the rapper ordering a chocolate shake from the location's drive-thru, and his pickup is met with a quietly stunned expression from the employee at the window. He then heads inside and proceeds to assemble a McChicken, admitting to being "a little rusty." The rapper ended the video by thanking the staff for their hard work. "Appreciate you hard and heavy," he said.