Why You Should Cool Cakes Upside Down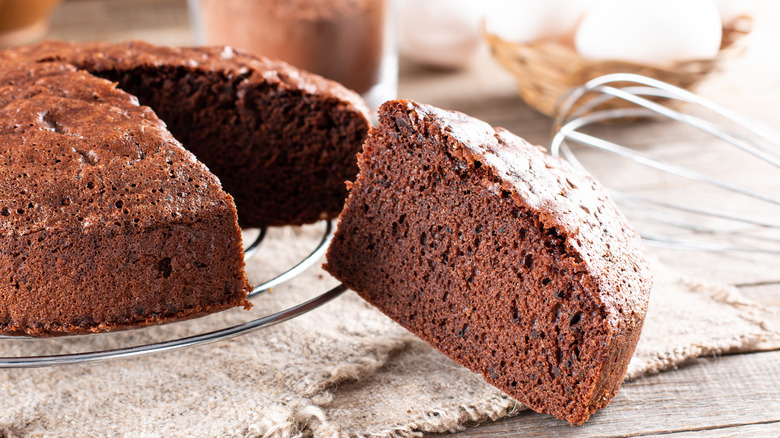 Ahanov Michael/Shutterstock
Be it a birthday or just surviving a crappy day at work, nothing tops off a celebration like a delicious cake smothered in buttercream icing. It's easy to stop by a bakery or a grocery store and grab a treat, but it can be much more fun to channel your inner Betty Crocker. With a boxed cake mix, a few simple ingredients, and some canned frosting, you can become a cake boss in no time. To kick it up a notch, use one of these hacks to make your boxed cake mix taste homemade. If you're more of a Martha Stewart type, wow your guests by making one of the best cake recipes suitable for any occasion.
With how busy life is, it's tempting to speed through the whole baking process. Don't! You could wind up with the cake sticking to the pan, cracking down the middle, or sinking in the center (via Wilton Cake Decorating). And you'll be setting yourself up for a decorating disaster if you don't let your cake cool down before decorating, according to Betty Crocker. Spreading frosting on a warm cake could cause breakage, melted frosting, and crumbs in your buttercream. There's even a specific way you should be cooling your cakes.
How to cool a cake upside down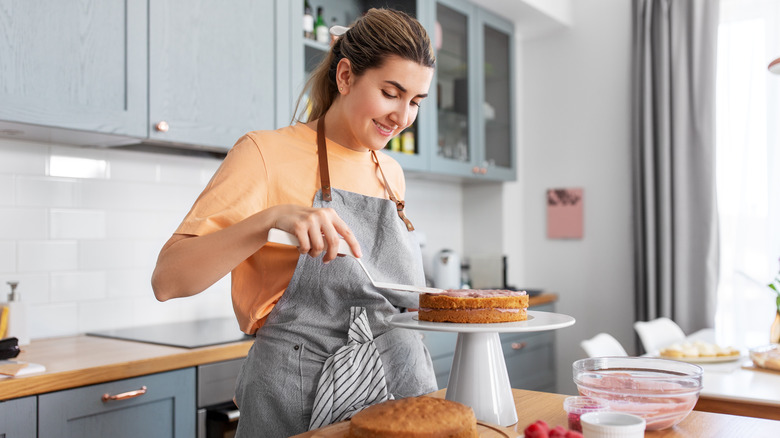 Syda Productions/Shutterstock
When baking a cake, aim to avoid a domed top — especially if you're making a layer cake. Piecing those uneven layers together will make for a lopsided mess. If your cake has a dome, no worries; this happens from the batter rising in the oven. You can level it out by using a thin serrated knife to cut slices of the dome off until the cake's height is even (via Wilton Cake Decorating). If you want to MacGyver it, Southern Living recommends using dental floss, a knife, and some toothpicks.
But what if there's a way to have a perfectly flat cake without all the eyeballing and slicing and buttercream spackling? Try cooling your cake upside down.
This technique used to cool angel food cakes and keep them from collapsing also works for regular cakes by flattening out their tops without the need for a knife (via Real Simple). Simply place a baking rack on top of the cake plan and flip. The weight of the cake will fix the dome. Before decorating your perfectly even cake, Martha Stewart recommends letting it cool for several hours, applying a crumb coat (aka a thin first layer of frosting), and chilling the cake again. Even if you're using a boxed mix, these methods will have you baking like pro.