7-Eleven Is Now Serving Taquitos For Breakfast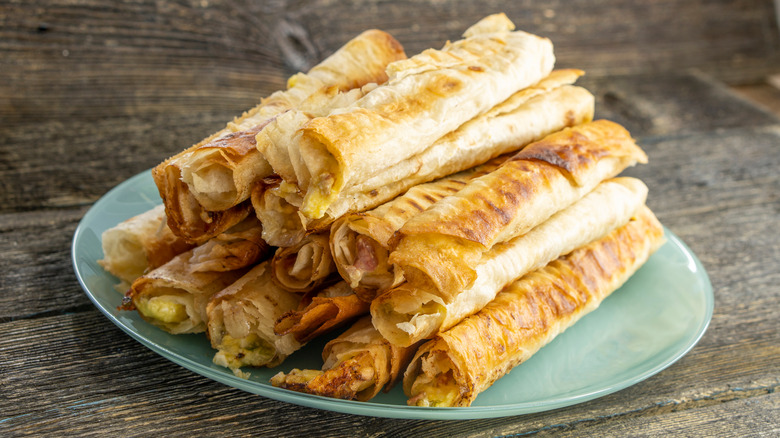 HungryCat/Shutterstock
Whenever you drop into your local 7-Eleven, it's hard to miss the taquitos rolling in place in their warming rack. These snacks have a long history that stretch back to Mexico. According to Fine Dining Lovers, taquitos originated in Central and Southern Mexico and distinctly get wrapped in a corn tortilla. Cooks stuff these tortillas with beef or chicken and some grated cheese before shallow frying them in oil. Traditionally, taquitos get served with guacamole or sour cream, and they get eaten as a quick snack when you don't have time to enjoy a proper meal.
Over the years, more and more flavors of taquitos have popped up, and 7-Eleven currently sells a variety of the products that come loaded with Monterey Jack Chicken, Jalapeño Cream Cheese, Steak and Cheese, Buffalo Chicken, or Taco and Cheese fillings. While these options can please anyone who needs to grab a midday bite, some patrons might want to start their day with something a bit more breakfast-oriented.
Anyone who has wanted to grab a breakfast taquito now has the unique opportunity to do so at 7-Eleven, and the selection has the potential to reinvent the very idea of a taquito.
7-Eleven's new take on taquitos
According to Chewboom, 7-Eleven now plans to sell a distinct Maple-flavored Sausage, Egg, and Cheese Taquito. The item features eggs, pork sausage, and cheddar cheese surrounded by a maple-flavored batter coating. 7-Eleven, Speedway, and Stripes convenience stores plan to sell these taquitos for $1 each with the purchase of an iced coffee, and 7-Eleven rewards members earn 100 points with the purchase of this new item.
The introduction of a breakfast taquito marks a significant moment for this snack food. Prior to this 7-Eleven offering, home cooks had to make this item from scratch at home by wrapping sausage links, eggs, cheese, and spinach in corn tortillas, per Tastes Better From Scratch. Even Martha Stewart had a signature recipe for breakfast taquitos that relied on a similar ingredient list.
Now, home cooks no longer have to struggle to make these items at home. They have the chance to see how 7-Eleven's offerings stack up against the made-from-scratch taquitos you could whip up in the comfort of your own kitchen.