The Best Hell's Kitchen Finale Pair, According To Reddit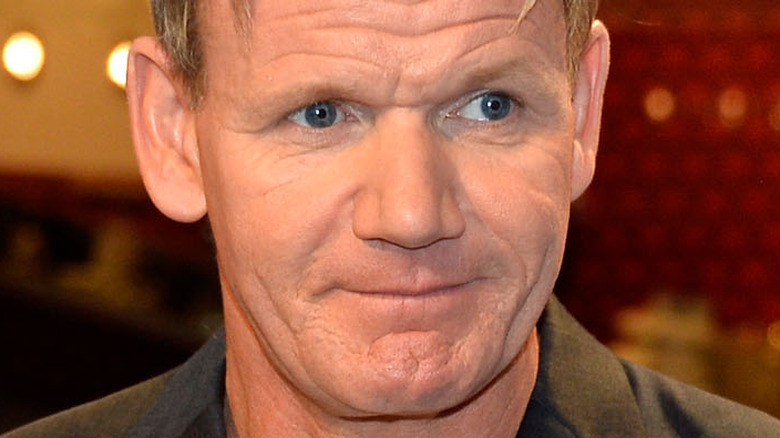 Frazer Harrison/Getty Images
"Hell's Kitchen" is Chef Gordon Ramsay's gauntlet of both team and individual cookery. In a show that brings the heat, culinary skills are displayed alongside emotional outbursts and outright rivalry. As The Coldwire explains, while these reactionary moments are not directly scripted, much careful planning goes into designing and explaining the challenges as well as choosing the right mix of skill and personality for each season. Redditors reveal why there's so much drama on "Hell's Kitchen," which, admittedly, is part of the reason viewers like us stay engaged up to each season's heart-stopping finale. Reddit has opinions on this, too.
In a Reddit social media poll with over 340 votes, there's a strong and clear favorite for the "Best Finale Pair" of "Hell's Kitchen." Season 6 takes the cake with 150 votes. The next closest finale pairs were Season 14 with 73 votes and Season 18 with 56 votes. Also mentioned were Season 12 with 35 votes and Season 5 with 32 votes. 
One fan shares a detailed explanation of why the seaon 6 finale is the best, stating "S6 is the all time greatest HK season IMO. Evenly matched teams, had the most memorable incident in the show's history (Joseph), Louie's ejection, Van vs. JP, Tennille vs. Suzanne and Tennile vs. Gordon sparking her massive improvement, and a dead heat final with two of the toughest competitors ever on the show."
If you're struggling to remember Season 6 of this reality-competition food series, here is what you need to know.
Two of the toughest competitors on Hell's Kitchen
In the finale of "Hell's Kitchen" season 6, David "Dave" Levey competed against Kevin Cottle for the position of Executive Chef at Araxi Restaurant in Whistler, British Columbia (per IMDB). As Reddit fans describe the episode, "Both Dave and Kevin (Season 6) has to fight through their own injuries to get to that point. They were destined for that final 2 placing." Indeed, fans of the show may remember that both of these contestants injured themselves on a firetruck cleaning punishment in episode 2 of that season, with Dave injuring his arm and Kevin injuring both ankles (per Fandom Wiki).
In fact, Dave has been listed as one of Screenrant's most memorable winners to have ever been on the show, having come through the entire season with that same fractured wrist that led to Ramsay nicknaming him the "one-armed bandit." And while Dave may have ultimately taken home the coveted win, chef Kevin is well remembered too as another Screenrant writer recalls, "Kevin's calm focus on the show made him a compelling opponent to Dave in the finals."
It's reported that both chefs are still cooking, as Dave has been spotted at Mara's Café & Bakery in Denville (per Screenrant), and Kevin reappeared on Hell's Kitchen Season 18 via IMDB.