The Reason Country Time Lemonade Is Facing A Lawsuit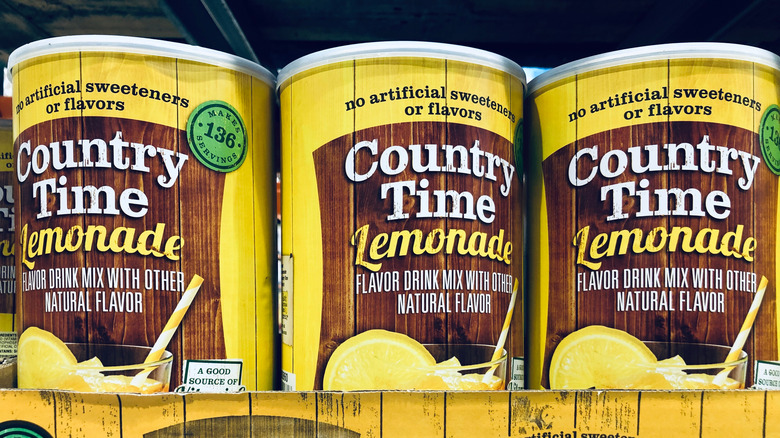 melissamn/Shutterstock
Country Time lemonade. It's a phrase that may conjure up mental images of rocking chairs on creaky old porches, with a kindly old grandfather looking out over the pines on the lake as beads of condensation trickle down the sides of his ice-cold glass of freshly squeezed juice. Maybe something inside you feels an inexplicable urge to pronounce "lemonade" with all the urgency of creeping molasses and an inkling that maybe a slower, happier way of living is just a sip or two away.
Alas, the Country Time beverage you can find at the grocery store isn't your grandpa's porch juice, but an electric-yellow powder that comes in a plastic tub (with nary a quaint rocking chair in sight). And for some customers, the lemonade might just be downright sour. The powdered drink mix brand has found itself in hot water (sorry) in the past, according to the FDA. Kraft Heinz initiated a voluntary recall on some of its drink mix brands, including Kool-Aid and Country Time, last year due to the possible inclusion of glass and metal fragments in the packages (which, you know, yikes). And now, the company is facing a lawsuit out of Alabama, according to Food & Wine, because a customer alleges that those tiny plastic barrels of almost-lemonade aren't quite delivering what they've been promising.
When life hands you less powdered drink mix than promised, make a legal complaint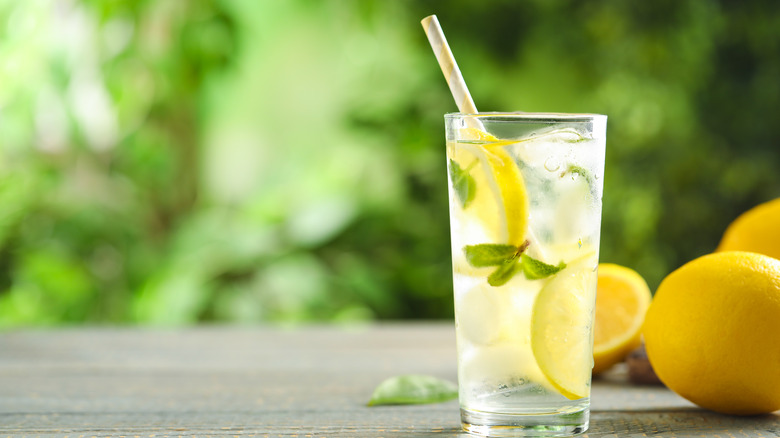 New Africa/Shutterstock
Country Time's website claims that its products yield eight quarts of lemonade, provided that customers follow the recipe on the packaging to reconstitute the powder into a citrusy drink. But Food & Wine reports that DeMarcus Rodgers and Gathings Law filed a complaint in Northern Alabama's U.S. District Court this month because, as their 27-page document puts it, Rodgers "began noticing that the lemonade and pink lemonade tasted diluted" after measuring and mixing the required portions. While the complaint acknowledges that Country Time instructs consumers to "add more or less to taste," it argues that the lemonade and pink lemonade products guarantee enough powder for eight quarts of juice, while actually providing only enough powder for a six-quart drink.
As WBRC points out, if Rodgers and co. are found justified in their claim, Kraft Heinz will be guilty of violating the Alabama Deceptive Trade Practices Act, not to mention a warranty act put in place by the Federal Trade Commission aimed at protecting consumers from false advertising. Still, whether or not the argument will hold water (again, sorry) remains to be seen. Food & Wine says that Kraft Heinz isn't exactly shaking in its boots, telling the outlet, "We are aware of the lawsuit, but believe it lacks any merit. We will strongly defend against the allegations." That said, we wouldn't be surprised if that kindly old grandfather has now left his rocking chair and gone inside to find his lawyer's business card.