How McDonald's McNugget Personality Quiz Could Save You Money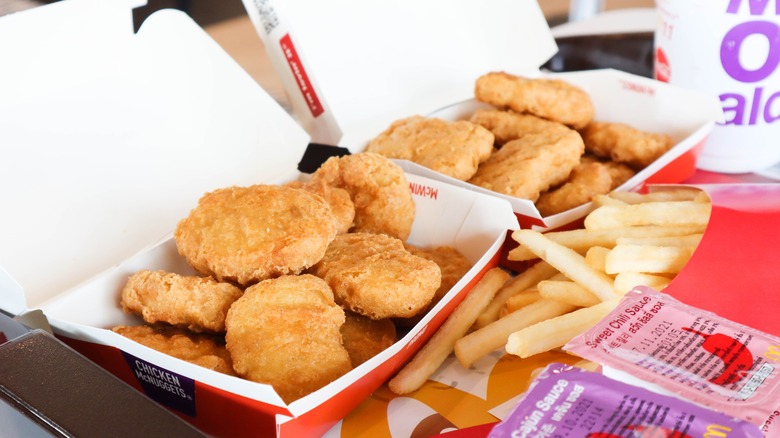 bbearlyam/Shutterstock
Personality and food preferences have a closer connection than you might expect. According to Reader's Digest, people who love spicy food like to take risks and seek out adrenaline-pumping adventure, while anyone who loves a simple dish of meat and potatoes most likely seeks out simple comforts and values tradition. A scientific study published in Current Research in Food Science even connected nervousness with pickier eating habits and a preference for salty food with thrill-seeking personalities.
Particular diets can also affect how you think. New Brain Nutrition found that a nutritious diet correlates to thoughtfulness and a disciplined lifestyle. While experts continue to uncover more links between favorite types of food and personality, McDonald's has a different food personality quiz that not only reveals some deep insights about your McNugget habits, but ultimately has the potential to save you some money next time you head out to get an order of them.
McDonald's reveal diners' McNugget personas
According to a press release, McDonald's believes you can't go wrong when you order some McNuggets and found that diners fall into four personality types. Some share their nuggets with loved ones as part of their loved language, while others seek out particular McNugget shapes. Others prefer a slew of sauces to dip their McNuggets into, and others rank as creative types who think up their own nugget hacks and unique way to eat the meal. McDonald's even created a special flowchart to help guests figure out which category of eater they fall into.
Once you figure out your particular nugget persona, McDonald's wants to reward you for exploring your own fast food psyche. The chain wants to see if their study results hold up and test if you actually fall into your recommended group by getting $1 off of a six-piece McNugget order on April 27th when you use the McDonald's app. While this new personality quiz might not have the same pedigree as food studies that pair personality types with food flavors, McDonald's plans to break new McNugget ground with this special deal.