KFC's Bizarre Mother's Day Bouquet Is A Two-In-One Gift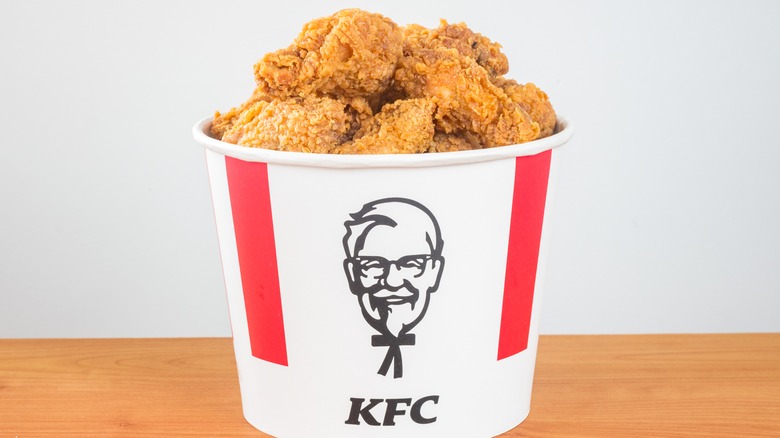 Robson90/Shutterstock
When you think of a bouquet, a bundle of brightly colored flowers springs to mind. Anyone who wants to put a new spin on this traditional flower arrangement has a ton of concepts to play around with. According to Rock N Roll Bride, folks have used sheet music, origami fabric, pom poms, and even vintage cameras as bouquets. Others have found tastier twists on the standard bouquet. Trendhunter discovered some folks have created bacon bouquets, while certain stores have mastered the art of creating bouquets out of fruit, per Fruit Bouquets.
Some restaurants may have realized that diners crave a more savory take on this collection of flowers. One restaurant swapped floral arrangements for a set of chicken tenders, herbs, and dressing for Valentine's Day back in 2021 (via KSDK). Diners loved this fun take on a classic bouquet, so it seems only inevitable that a larger chain might take notice and create their own take on this arrangement just in time for Mother's Day. Enter KFC and their over-the-top poultry creation that promises to honor mothers the only way they know — with a bunch of fried chicken.
A chicken-centric way to honor mothers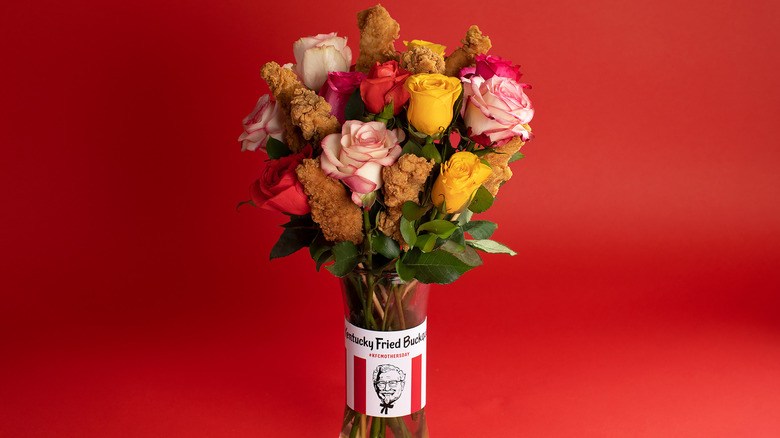 KFC
Many diners may walk away scratching their heads wondering why KFC rolled out their latest Mother's Day promotional item: a bouquet of fried chicken and flowers, per Food & Wine. The chain has offered romance novellas centered on the restaurant, chicken truffle candies, and "Chickendales dancers" for Mother's Day in the past. The restaurant now plans to partner up with Proflowers to offer a Kentucky Fried Buckquet with the purchase of a KFC Sides Lover Meal on the restaurant's app or website between May 1 and 3. Your purchase comes with a special code to use at Proflowers that scores you a vase, a dozen roses, eight skewers, a KFC sticker, and a special card. Once you get your flower arrangement supplies, you can skewer pieces of fried chicken and arrange them around the flowers in the vase and apply the KFC sticker for an unforgettable yet strange gift your mother won't ever forget.
While this deal sounds bizarre, it isn't the first time the chicken chain has flirted with fried chicken flower arrangements. The Irish Post reports that KFC rolled out a similar 2019 promotion for Valentine's Day that mixed and matched red roses with chicken tenders, popcorn chicken pieces, and more in a KFC bucket. These surreal floral arrangements might not immediately scream love for one's mother, but they will guarantee an unforgettable reaction when you watch your mom approach a glass vase filled with roses and lukewarm chicken pieces.