Aldi Shoppers Can't Get Enough Of Its Cinco De Mayo Offerings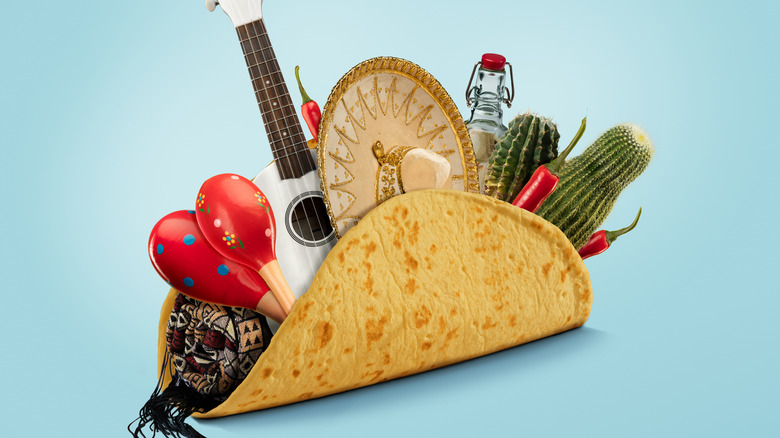 Master1305/Shutterstock
Cinco de Mayo originated as a small festival celebrated in the Mexican state of Puebla to acknowledge the victory of the Mexican army over the French in the Battle of Puebla on May 5, 1862 (per History). Just to be clear, the Battle of Puebla was not the battle that won Mexico its independence. In fact, Mexico broke free from Spain a full 41 years earlier, after a decade of revolution. 
Nor was it even the battle that ended the Franco-American war that it was fought so valiantly in the name of (via History). What the Battle of Puebla accomplished, however, was to deliver a well-earned shot-in-the-arm to Mexico's army as it fought to remain independent even as France was starting to sincerely entertain ideas that a civil war in the U.S. (which was going on at the time) would serve as the perfect opportunity to go wrest some land from our neighbor to the south. And so, Cinco de Mayo has always been celebrated annually in Puebla. But it never spread much beyond that — well, except northward to the U.S., including Alaska. And boy did it ever.
Whatever your particular reason(s) may be for celebrating Cinco de Mayo, and even if you don't, you're going to want to know about Aldi's impressively multi-cultural approach to its own Cinco de Mayo offerings. 
Instagram is all about Aldi's creative Cinco de Mayo meals
Just in time to celebrate the wonderful mash-up of cultural love that is the Americanized version of Cinco de Mayo, Aldi is serving up its own mash-up of cultural references in the form of frozen taco-flavored beef and cheese meatballs, chicken meatballs in chili Verde sauce, smoky cheese ravioli in queso Blanco sauce, and chorizo ravioli in a sofrito sauce. The popular Instagram fan account, aldi.mademedoit (not affiliated with the German-based grocer), shared the finds and stated, "My favorite is when they bring all the Mexican fun foods out." 
Aldi-loving Instagram is here for it. At least, that's what we're gathering from the 704 likes this Instagram post has garnered in just a few days, not to mention the enthusiastic comments. "Can't wait to find those in my store!!" exclaimed a fellow Aldi superfan Insta-account, @AldisBuys, and another said "These look so good," with a heart-eyes emoji. 
It's possible that one, or all of these, will make the list of Aldi foods you need to try before you die. The only thing we find somewhat perplexing is the fact that the original poster captioned the post, "I had to fight everything in me to not buy it all!" — before ultimately copping to having bought it all. Some battles are just not worth fighting and in this case, for the poster anyway, the only real way to win is to just give in!