Alex Guarnaschelli Revealed To TikTok How She Really Learned To Cook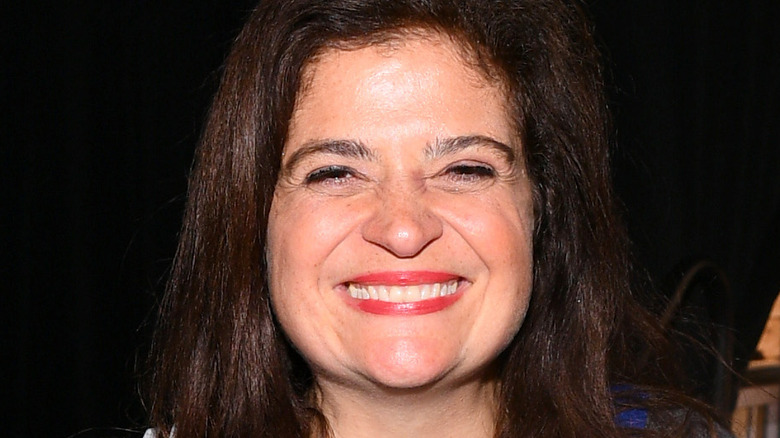 Dave Kotinsky/Getty Images
When we watch world-famous chefs compete on TV, it's easy to feel like we could never cook the way they do. Yes, some professional chefs started cooking at a young age or studied at prestigious culinary schools, but that isn't every chef's story.
Ree Drummond, for example, credits her mother and her mother-in-law with teaching her how to cook (via The Pioneer Woman). Gordon Ramsay earned a degree in hotel management and Guy Fieri studied hospitality management before going on to become industry idols, and some might argue that some celebrity chefs aren't chefs at all.
Our beloved "Iron Chef" Alex Guarnaschelli may have attended a cooking school in France before taking on the restaurant world, but she shared with her TikTok followers that school wasn't the whole story of how she came to be the chef she is today. In fact, her advice makes the average American's culinary dreams seem all the more possible to achieve. 
Repetition is the way to honing your cooking skills
When one TikToker asked Alex Guarnaschelli, "Did you learn most of your skills in culinary school or by trial and error?" the chef had a surprising response. Although Guarnaschelli notes in her caption that culinary school and trial and error are "amazing" ways to learn, she says learned the most from repetition (via TikTok).
"I spent a lot of years working in restaurants, doing the same things over and over again," she says in the clip. "I think that is probably where I learned the most about cooking, and about life."
Dozens of fans flocked to the comment section to thank Guarnaschelli for her advice. One wrote, "Alex, you inspire me," and another said, "Love watching you cook!" Several others credited Guarnaschelli as the reason they got into cooking. One mom commented that her daughters love watching Guarnaschelli cook because she empowers women by proving they too "can be great in the kitchen" and thrive in the restaurant industry.