Shake Shack Just Dropped A New Bourbon Bacon Burger
The popular dining chain Shake Shack, which now boasts almost 400 locations, first got its start as a bare-bones outdoor hot dog stand in New York City's Madison Square Park, per Investopedia. The chain has come a long way from its early days, with a greatly expanded menu that now includes burgers, chicken, fries, and, of course, their famous hand-spun shakes (via Shake Shack).
Now, Shake Shack has just announced it will be adding even more variety by launching its new Bourbon Bacon Cheddar Menu. This menu's main star is a new bourbon bacon jam, which is made with aged Maker's Mark Kentucky bourbon and hardwood applewood smoked bacon, according to Chew Boom. The bourbon brings sweet "notes of vanilla, caramel and oak," which is complemented by the savory bacon to deliver a complex, smoky yet sweet kick of flavor to the jam. Shake Shack will be releasing two new sandwiches to showcase the new jam: the Bourbon Bacon Cheddar Burger and the Bourbon Bacon Cheddar Chicken Sandwich. The new items are scheduled to reach participating locations on May 6, although they will be available for purchase three days earlier through the Shack App.
The new burger will feature Shake Shack's bourbon bacon jam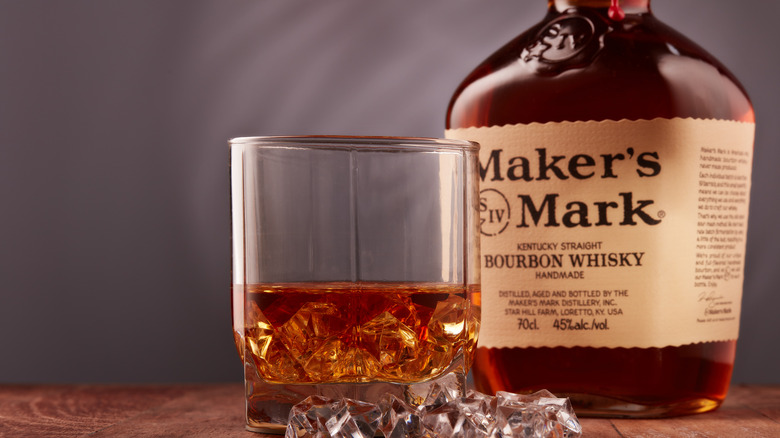 Dmitry Melnikov/Shutterstock
While both of these new offerings will feature the bourbon bacon jam as a central ingredient, the Bourbon Bacon Cheddar Burger also includes an Angus beef patty, topped with shallots, white cheddar, and the chain's signature ShackSauce, all loaded onto a toasted potato bun. The Bourbon Bacon Cheddar Chicken Sandwich adds white meat chicken breast, white cheddar cheese, and pickles to the flavorful jam, via Chew Boom. The cost may vary by location but the price for the first item will start at $8.49, and the suggested price for the second is $8.09.
This newest Shake Shack menu seems like it was designed with bacon bourbon fans in mind. But if this isn't enough bacon and bourbon to satisfy the most die-hard fans, they can kick the flavor up a notch by making their own homemade bacon-infused bourbon. According to The Baconer, bacon-infused bourbon can be made from scratch pretty easily. Simply cook one package of maple sugar bacon strips, strain the leftover bacon fat through a cheesecloth, combine it with a bottle of bourbon, and pop the mixture into the freezer overnight. Then, simply let it defrost, remove the top layer of fat, strain it once more, and voila — the perfect bacon-infused beverage to pair with Shake Shack's newest sandwiches.