Trader Joe's Is Discontinuing A Beloved Pasta Sauce And Instagram Is Shocked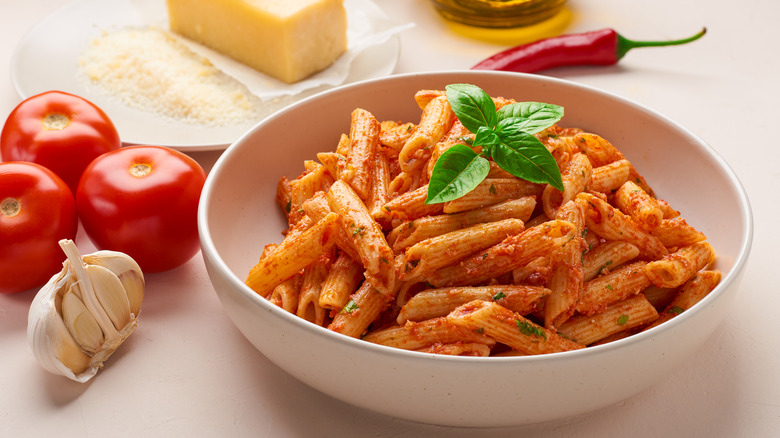 SerPhoto/Shutterstock
Whether your Italian nonna agrees or not, you have to admit that keeping a few jars of pasta sauce in your kitchen is mighty convenient for the nights you need a quick and easy dinner or are simply craving a bowl of warm comfort food. Prego, Ragu, and Rao's are a few popular brands that come to mind when thinking about the pantry staple, the latter of which is Ina Garten's favorite store-bought pasta sauce. However, if you ask a Trader Joe's enthusiast, they may tell you that the best jarred pasta sauce is from the grocer's personal brand.
Trader Joe's has been home to more than a dozen jarred pasta sauces that, just like its TJ's selection of wines, consist of the red and white variety, and everything in between. (Five-minute cacio e pepe, anyone?) Per The Kitchn, TJ's even offers a couple of spicy sauces for pasta lovers that like a little bit of heat with their noodles, though it looks like one of its fiery pasta sauces was fated to be extinguished. According to Instagram user @traderjoestobediscontinued, who alerts shoppers of Trader Joe's products that are on their way out of the store, the grocer's beloved Arrabiata Sauce is one of several TJ's products getting the ax in 2022. "The Arrabiata Sauce is soon to be discontinued," the Instagrammer wrote in a post on January 8, much to the dismay of fans.
Some shoppers are confused about Trader Joe's decision to discontinue its Arrabiata Sauce
Trader Joe's shoppers with a jar of the grocer's Arrabiata Sauce in their pantries may want to hold off on popping the top off of the product any time soon. Described by blogger Becoming Betty as a spicy red sauce that might "make your belly happy," the product has become a favorite over the years for several TJ's fanatics, which is why news of its discontinuation has come as a bit of a shock.
"So surprised. One of our favorites. Disappointing," one Instagrammer said in response to @traderjoestobediscontinued's January post about thee sauce. "I don't understand how they could discontinue the sauce, it's one of their best," another follower commented, while user @biogeobrooke went as far as declaring that they "won't be buying pasta sauce at TJs anymore." The decision was also mourned on Reddit, where one shopper offered a possible reason for the product getting nixed. "TJ's is having a lot of supply chain issues right now and it's likely a problem with the vendor," u/Fantasybackwash shared.
For regular eaters of TJ's Arrabiata Sauce, Instagram user @jillmcgu suggested mixing crushed red pepper flakes into the grocer's roasted garlic sauce for a potential substitution, though they could find a copycat recipe online, as well. Additionally, those seriously feeling the loss have the ability to share their thoughts via Trader Joe's website.