The Hotspot Bobby Flay And Christina Pérez Say Is A Must-See In Louisville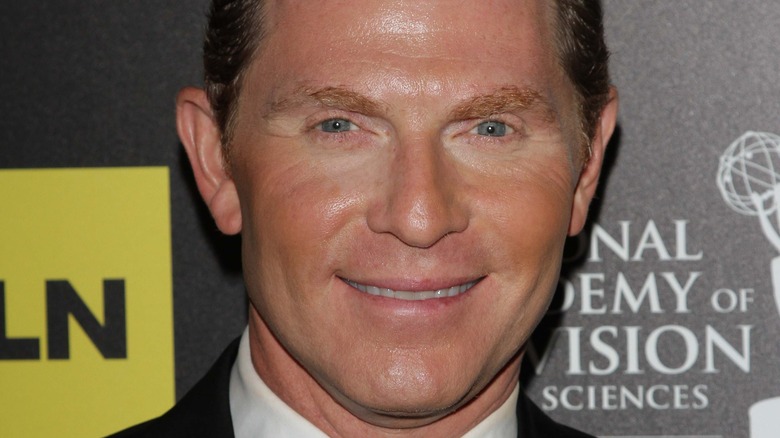 s_bukley/Shutterstock
The Kentucky Derby, which has been held at the Churchill Downs racetrack in Louisville, Kentucky, since 1875, is by far America's favorite horse race (via Kentucky Derby). Thoroughbred horses (20 of them), speed down a 1.75-mile track for a $2 million dollar purse, as well-heeled, incredibly well-dressed onlookers bet, cheer, and down mint juleps like they're going out of style. (Which, ostensibly, they have.) But it's not just the horses that people have their eye on during Derby day, it's the attendees ... and this year, People magazine was watching as celebrity chef Bobby Flay and his newly unveiled partner, Christina Pérez, bopped around Louisville before the big day.
Through a series of Instagram stories posted by Pérez, People was able to report that the couple, who revealed their relationship in November of last year, have a mutual love of food and horses bringing them together and inspiring trips like these. According to the magazine, it was at the Breeders' Cup World Championship — a horse race in which Flay's filly finished first — that the pair confirmed their couplehood. And while it remains to be seen whether Flay and Pérez will go for the Triple Crown, and attend the Preakness and Belmont races in the coming months, one thing is for sure: While in Louisville, wild horses couldn't drag them away from the food scene.
Hold your horses; there's food in Kentucky, too?
So, how does one eat like a horse in Louisville, Kentucky? While the area no doubt offers many dining options, our betting money would be on the writer-and-professional-chef couple, who — in addition to having their Derby outfits on point — stopped at Barn8 restaurant (via People). They also spiced things up with sriracha honey pecans. After cooking a Derby Day breakfast composed of soft scrambled eggs and pimento cheese, and cinnamon French toast with a bourbon blackberry syrup, Bobby Flay donned a brilliant blue suit and accompanied Pérez to the race itself where, as the song goes, her horse naturally won. (This, by the way, is based on Pérez's Instagram Stories, which — though temporary — will live on in our hearts forever.)
According to Pérez, the best way to finish a Derby Day was to dine at Decca, a Louisville hotspot that even boasted a bespoke menu in honor of the 148th Kentucky Derby (to the tune of $92 a plate, per Instagram). With items like grilled asparagus and stracciatella, crab risotto, and a New York strip on offer, we're guessing Italophile and New York native Flay was happy as a clam, and one has to assume that Pérez (who posted pics of scallops and jukeboxes from the restaurant) was, too. With the Kentucky Derby done and dusted for the duo, will their eyes be set on the Preakness Stakes (and possibly steaks) at the end of the month?