Why Duolingo Is Opening Its First Restaurant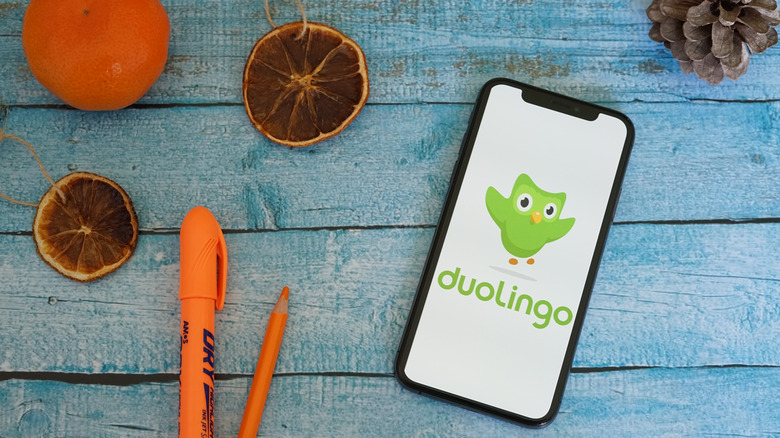 Sulastri Sulastri/Shutterstock
Yep, you read it right. Duolingo, that language-education company whose app you downloaded during lockdown to teach yourself Mandarin, is opening a "restaurant with an educational component," in Pittsburgh, Pennsylvania, according to Next Pittsburgh. Duolingo headquarters are in the East Liberty neighborhood of the city, so it's only natural that the language-learning group's next step is to open a restaurant.
Wait, what?? No, it's not! Has this ever happened before? Is there a precedent for a language-learning app that decides to get into the food business? Opening a travel agency, sure; we might not be surprised. But a restaurant? A piece by the BBC shows that Duolingo boss and co-founder Luis von Ahn has long been a think-outside-the-app kind of person. A native of Guatemala, von Ahn learned the value of dual-language learning at a young age, when his parents placed him in a private school where the instruction provided was in English. Von Ahn didn't stop there; he was interested in the language of computers from the time he was a child, too. Which is perhaps why he went on to study computer science at Carnegie Mellon in Pittsburgh, before earning a MacArthur "genius grant," becoming a multimillionaire, and selling two of his companies to Google. So to be honest, if the man's company wants to open a restaurant that doubles as a language-learning facility, who's to say it wouldn't work? And what languages would they say it in?
Tacos with a side of education, por favor
"I wanted to do something that would give equal access to education to everyone," Luis von Ahn told the BBC of his Duolingo motivations. "I focused on languages because growing up in Guatemala I saw that everyone wants to learn English." In June, von Ahn will double down on his investment in the world's multi-linguistic potential with Duo's Taqueria, a takeout taco window with an educational twist, according to Next Pittsburgh. Funded by Duolingo, Duo's Taqueria will operate independently of the company and focus primarily on food (at least, if chef Marcella Ogrodnik has anything to say about it), but there will be no question that the taco shop and the language-learning app share some DNA. A short, Spanish-language challenge can be issued to the customer upon reviewing their order (pulled from Duolingo's extensive curriculum) and, if the hungry language-learner is able to ace the "Español Challenge," they will be rewarded with 10%-20% off their meal or even some free food.
"We wanted to give back to our city with amazing food and discounts," Duolingo's senior experience designer explained, before revealing the not-so-ulterior motive behind Duo's Taqueria: "to show people that learning a new language can be fun and rewarding." Maybe not as rewarding as it's been for von Ahn, whose company was valued at over $4 billion last year, according to Inc. But if you have to start somewhere, a taqueria in Pittsburgh seems as good a place as any.