The Unexpected Reason Frozen Pierogies Were Recalled In 4 States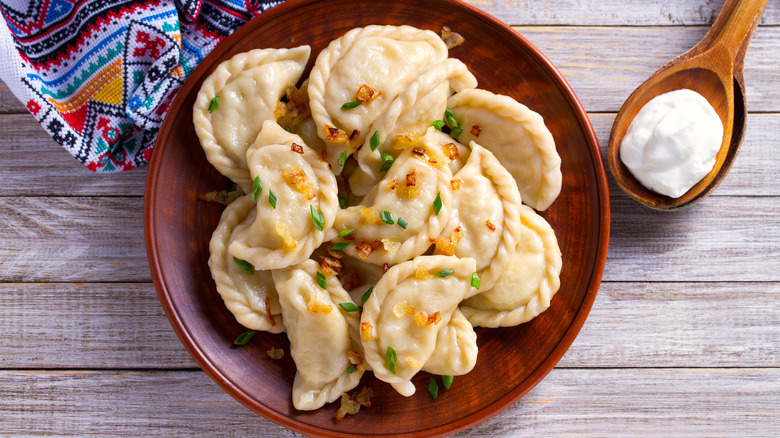 freeskyline/Shutterstock
Foods get recalled for a variety of reasons. According to the Cleveland Clinic, harmful bacteria sometimes find their way into food, surprise "foreign objects" are found inside the packaging, or an allergen goes unnoticed and the manufacturers don't list the proper warning on the product. Ranker reports that items like pet food, flour, beef, and frozen produce face this particular issue the most, so when another type of food faces a recall, shoppers tend to take notice.
The most recent subject of a food recall is Dymski Pierogies, reports the FDA. On May 6, the brand recalled several varieties of frozen pierogi — including potato and cheddar, spinach and feta, and sweet cheese — sold under the Grandma's Cuisine, Bernat's, and Golden Eagle labels. In this case, the cheesy Polish dumplings were not found to contain a dangerous pathogen or foreign object, but one undeclared allergen that might appear incredibly obvious to the average shopper.
An obvious allergen was undeclared on the packaging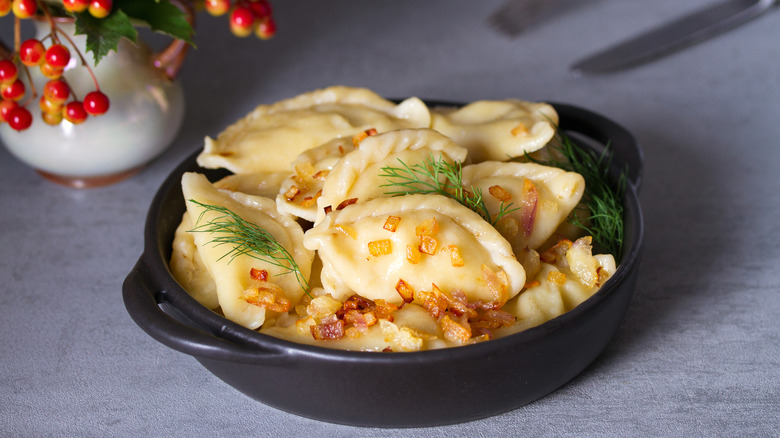 freeskyline/Shutterstock
According to the FDA, Dymski Pierogies issued the recall on its more than 20 affected products because the manufacturer forgot to list milk as an allergen on the packaging. These cheese-packed dumplings, of course, could trigger an allergic reaction in anyone sensitive to dairy. The recall notice affects 1- and 3-pound bags of the products that hit stores in New York, New Jersey, Pennsylvania, and Massachusetts.
So far, no one has fallen ill after consuming the dumplings, but consumers have been instructed to return the pierogi back to the stores where they came from for a refund. The brand also set up a helpline at (570) 421-0102 that customers can reach between 8 a.m. and 4 p.m. Eastern from Monday to Friday. In the meantime, those who suffer from milk sensitivities may be hard-pressed to find cheese-less pierogi in stores — though users on Reddit revealed a few places where they've scored them.