Caribbean Fufu Recipe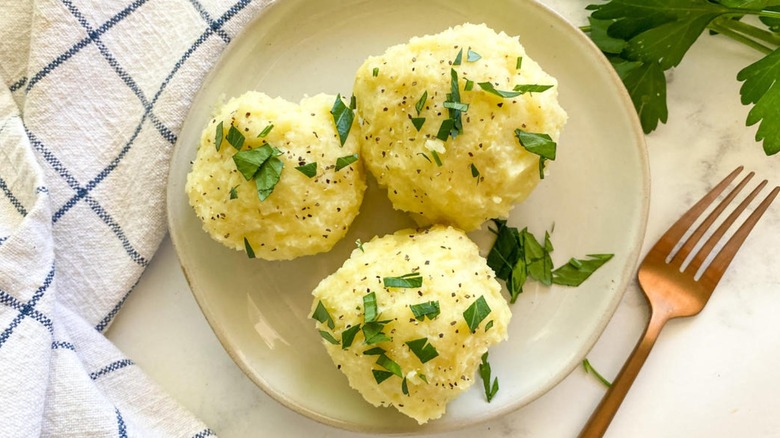 Miriam Hahn/Mashed
If you're not familiar with fufu, recipe developer Miriam Hahn explains that it is a common African food that basically consists of what she describes as "a dough made out of either yams, plantains or potatoes." The word "fufu," she explains, "comes from the African Coast [and] means to mash or mix." Fufu is also known in the Caribbean, which is where Hahn first experienced the dish.
Hahn calls fufu "a twist on mashed potatoes," although she says "the olive oil will give them a savory taste instead of [a] buttery" one. She also uses yams, as opposed to white potatoes, which provides health benefits, as well. According to Hahn, "Yams are loaded with fiber, antioxidants, potassium and manganese." A note about the yams called for here: while yams are actually not the same vegetable as sweet potatoes, the two are often confused for one another and the terms are sometimes used interchangeably. Hahn does say that "You can make the fufu with sweet potatoes or even a mix of yams and sweet potatoes." Good thing, too, since there's a good chance that the "yams" sold at your local grocery store may well be sweet potatoes in disguise! 
Gather the ingredients for Caribbean fufu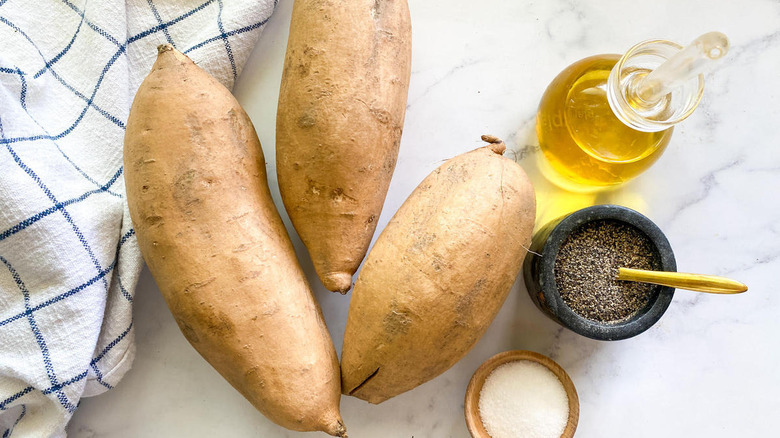 Miriam Hahn/Mashed
To make fufu, you'll need yams, olive oil, salt, and pepper. "I like to add fresh herbs like parsley or cilantro to jazz them up a bit and add some color," Hahn suggests, if you want to add a little something extra.
Prepare the yams
Miriam Hahn/Mashed
Peel the yams, then cut them into chunks to help them cook faster. Hahn says her yam chunks are about 1 inch to 2 inches in size, but you don't really need to measure them since they're just going to get mashed anyway.
Boil and mash the yams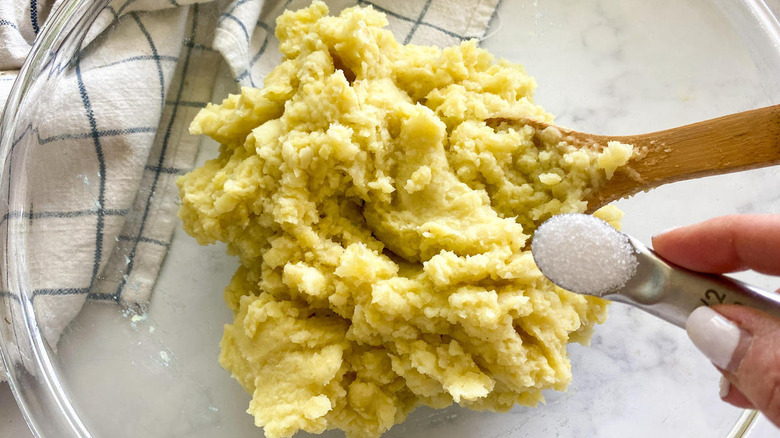 Miriam Hahn/Mashed
Put the yams into a large pot and cover them with water. Boil them for about 10 minutes or so until they are tender. At this point, Hahn says a "fork comes out easily when [the yams are] pierced." Drain the yams and then mash them. Hahn likes to use a food processor to do the mashing, but you could use a potato masher as well. She says you want the mash to be fairly smooth, but still a little bit chunky.
Form the fufu balls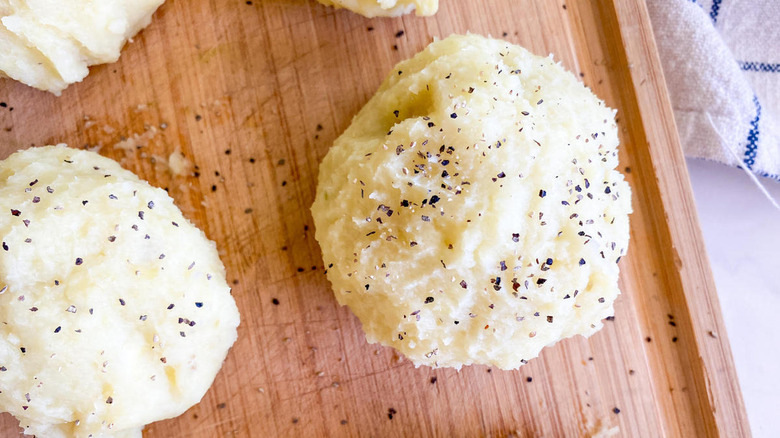 Miriam Hahn/Mashed
Mix the oil and salt into the yams, then roll the mixture into balls. Hahn says she gets about 10 balls per batch, but you can make them larger or smaller as you wish. Sprinkle the fufu with pepper and, if you'd like, a little chopped parsley or maybe some cilantro or chives.
Hahn says you can "either eat [the fufu] as a side dish or add [it] to soup or stew." She says the stew pictured here is made with white beans and carrots, but suggests that a chicken or beef stew would also work nicely with fufu "dumplings." If you want to try something a little different, you could even use them in chili.
Caribbean Fufu Recipe
If you're looking for a new way to prepare yams or potatoes, give this Caribbean fufu recipe a try.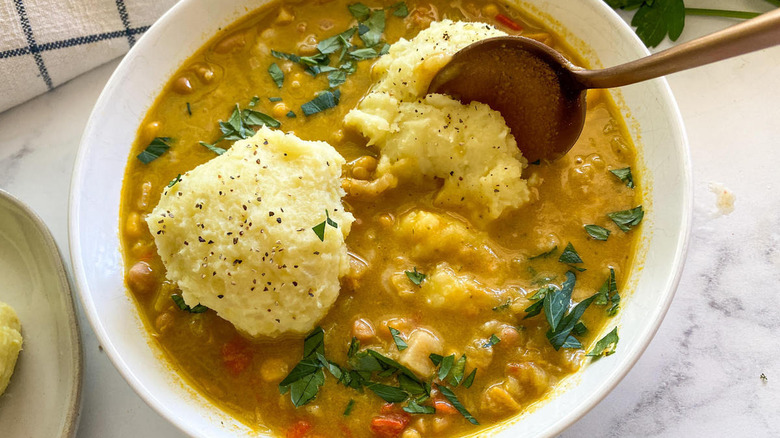 Ingredients
3 large yams
1 teaspoon olive oil
½ teaspoon salt
¼ teaspoon pepper
Optional Ingredients
Directions
Peel the yams and cut them into 1- to 2-inch chunks
Put the yams into a large pot and fill it with water. Bring the water to a boil and cook the yams for 10 minutes, or until they are tender.
Drain the yams and then mash them or puree them in a food processor. Mash the yams until they are fairly smooth and yet retain some chunkiness.
Transfer the mashed yams to a bowl and mix in the oil and salt.
Form the yam mixture into about 10 balls.
Sprinkle with yam balls with pepper and garnish with parsley, if desired.
Nutrition
| | |
| --- | --- |
| Calories per Serving | 123 |
| Total Fat | 1.1 g |
| Saturated Fat | 0.2 g |
| Trans Fat | 0.0 g |
| Cholesterol | 0.0 mg |
| | |
| --- | --- |
| Total Carbohydrates | 27.3 g |
| Dietary Fiber | 4.0 g |
| Total Sugars | 0.5 g |
| Sodium | 229.2 mg |
| Protein | 1.5 g |