Goan Fish Curry Recipe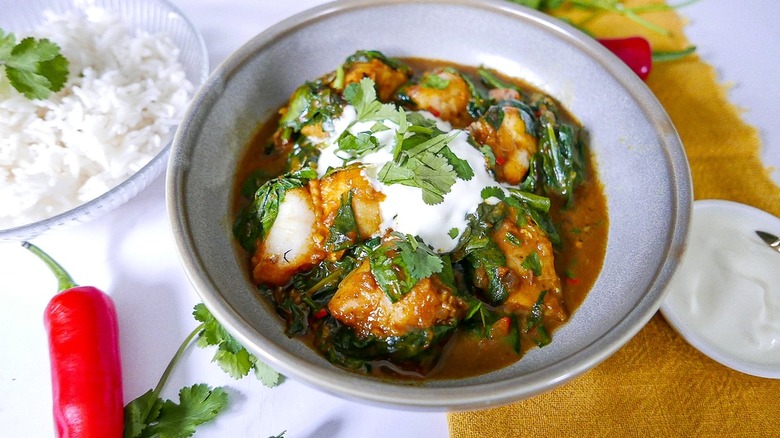 Ting Dalton/Mashed
Of all the types of curries out there, seafood curry is among the less common. We all know and love a good chicken curry, and vegan curries (usually chickpea-based) are also quite popular, but why not give fish a chance to shine? With this Goan fish curry recipe, you'll do just that. Recipe developer Ting Dalton walks us through the process of making it.
Goan fish curry isn't actually named for a type of fish, but rather a region in India — Goa. Like many other types of curry, Goan fish curry has gained popularity across the globe, but it still reminds Dalton of her time in the region. "This takes me back to when I spent several months in Goa," she says. "I ate fish and seafood curries every night." So, what exactly is Goan fish curry, and what does it taste like? "This is a fiery, hot curry, and with a real heat," she explains, but rest assured: "The delicate fish really balances it out." Speaking of fish, any type of firm white fish — like tilapia, basa, or cod — works here. Something like sea bass, on the other hand, would be far too delicate.
Gather the ingredients for Goan fish curry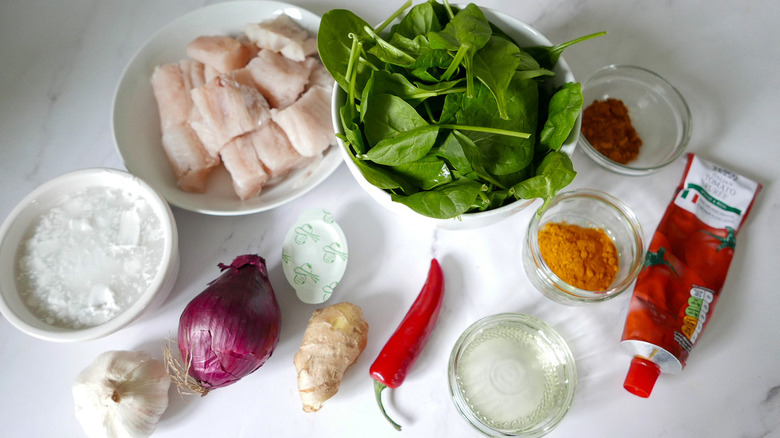 Ting Dalton/Mashed
As Dalton has pointed out, any type of firm white fish will work here, and you'll need four fillets. Other necessary ingredients include coconut milk, vegetable broth, vegetable oil, a chopped red onion, minced garlic, a chopped red chile, fresh grated ginger, turmeric, curry powder, fresh spinach, and tomato paste.
"If you don't like heat, then leave out the chile all together," Dalton suggests. Also, if you want to add a bit more vegetable bulk to the recipe, Dalton recommends including beans or chopped potatoes. There is plenty of creaminess in this recipe thanks to the coconut milk, but you could up that with a few tablespoons of yogurt.
Begin building the curry in a skillet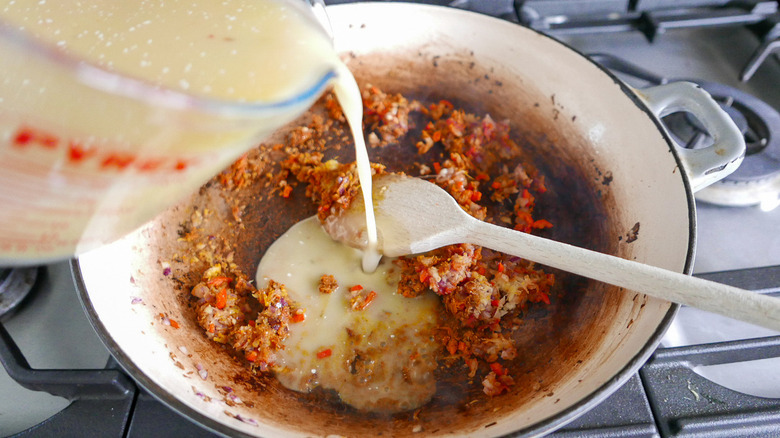 Ting Dalton/Mashed
Before you do anything else, mix the coconut milk and vegetable broth together in a bowl; set that aside for a bit. Now, place a large skillet on the stovetop and begin heating the vegetable oil. Add the chopped red onion and cook until it begins to soften (3 to 4 minutes). Next, add the minced garlic, grated ginger, and finely chopped chile. Let these aromatics cook for 30 to 40 seconds, stirring constantly. 
Next, add in the turmeric, curry powder, and tomato paste. Allow everything to cook for another minute. Finally, pour the coconut and broth mixture into the skillet and stir it thoroughly into the other ingredients. Allow the dish to simmer for about 2 minutes.
Add the spinach and fish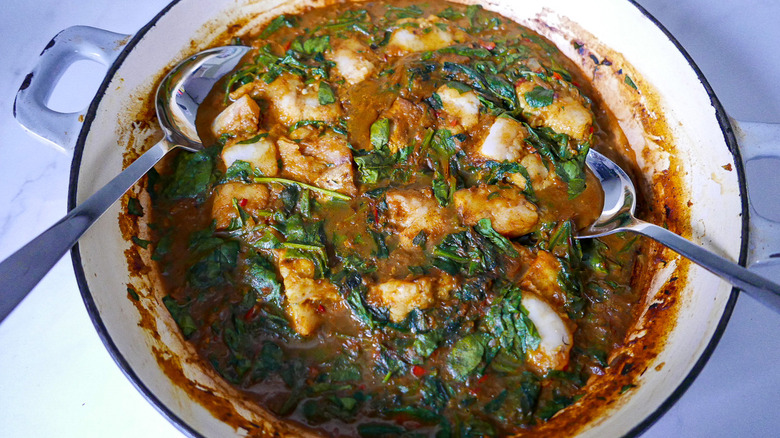 Ting Dalton/Mashed
After the curry has simmered for about 2 minutes, add the spinach and stir until it begins to wilt. Add the fish fillets, then cover the skillet and let everything cook for 10 minutes. Make sure that the fish is cooked all the way through before you remove the curry from the heat. 
Garnish and serve your Goan fish curry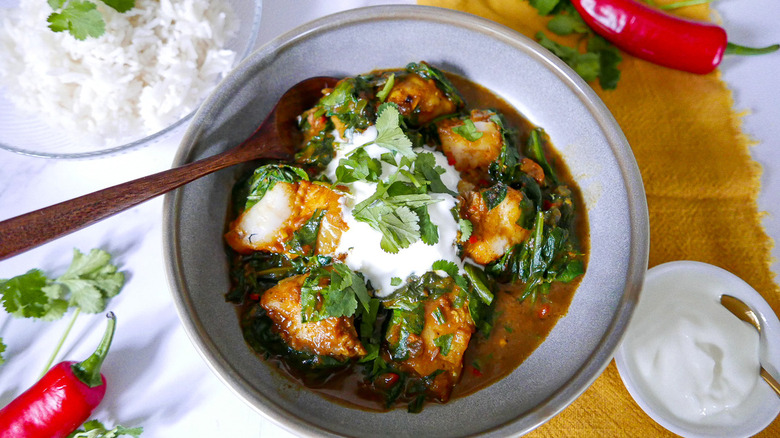 Ting Dalton/Mashed
Once the fish is cooked through, you're ready to serve up the curry. "This is best served with rice and naan to mop up all the sauce," Dalton suggests. And, if you want more of a "zesty hit," you could "squeeze some lime over the curry before serving, as well as sprinkle some [cilantro]." Dalton also recommends serving the dish with a dollop of yogurt on top, which will help offset some of the spiciness. 
It's possible that you'll have some leftovers with this recipe, but that won't be a problem. "This is fine to freeze in a suitable container for up to three months or keep leftovers in the fridge for three days," Dalton notes. 
Goan Fish Curry Recipe
This fish stew, hailing from the Indian state of Goa, has a fiery kick with chile and curry powder, but coconut milk offers some cooling, refreshing relief.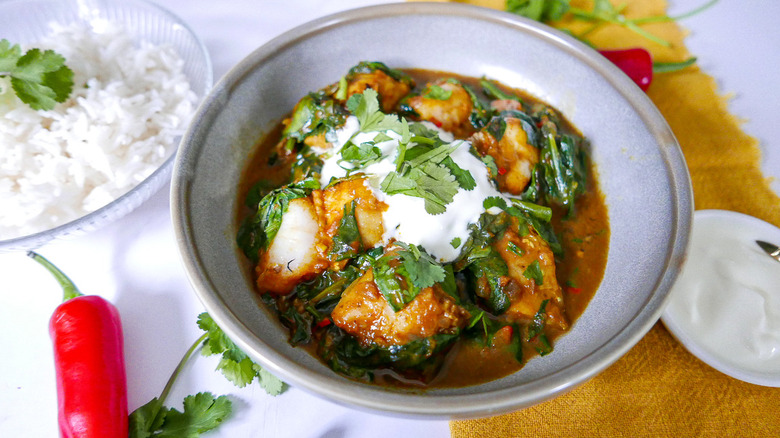 Ingredients
1 cup coconut milk
1 cup vegetable broth
1 tablespoon vegetable oil
1 red onion, finely chopped
1-inch knob fresh ginger, grated
2 cloves garlic, minced
1 red chile, finely chopped
1 teaspoon turmeric
1 tablespoon curry powder
2 tablespoons tomato paste
3 cups fresh spinach, roughly chopped
4 basa fish fillets (or any white fish such as hake or cod), cut into pieces
Optional Ingredients
Cilantro (for serving)
Lime (for serving)
Plain yogurt (for serving)
Directions
In a bowl, mix the coconut milk with the vegetable broth. Set the mixture aside.
In a large skillet, heat the vegetable oil. Add the chopped red onion. Cook until the onion begins to soften, 3 to 4 minutes.
Add the ginger, garlic, and chile. Cook, stirring constantly, for 30 to 40 seconds.
Add turmeric, curry powder, and tomato paste. Cook for another minute.
Add the coconut-broth mixture and give it a good stir. Simmer on medium heat for 1 to 2 minutes, then add the spinach. Stir until the spinach begins to wilt.
Add the fish fillets to the curry and cover. Cook until the fish has cooked through (about 10 minutes).
Top with cilantro, a squeeze of lime, and a dollop of yogurt if desired.
Nutrition
| | |
| --- | --- |
| Calories per Serving | 373 |
| Total Fat | 25.5 g |
| Saturated Fat | 13.1 g |
| Trans Fat | 0.1 g |
| Cholesterol | 87.5 mg |
| | |
| --- | --- |
| Total Carbohydrates | 10.5 g |
| Dietary Fiber | 2.7 g |
| Total Sugars | 3.2 g |
| Sodium | 257.2 mg |
| Protein | 27.4 g |