The Important Reason Panda Express Is Selling Clothes
From time to time, our favorite restaurant chains team up with local charities to raise money and awareness for a particular cause. Wendy's, for example, is offering free drinks on its app through the end of May to benefit the Dave Thomas Foundation for Adoption (via Chew Boom). And just within the last year, Red Lobster has partnered with two national charities: the Make-A-Wish Foundation and the World Wildlife Foundation. Another well-known partnership is that of McDonald's and the Ronald McDonald House Charities (RMHC). In 2021 alone, McDonald's donated more than $126 million to support the families of hospitalized children, says the RMHC website.
And now Panda Express is joining in. This chain's fundraiser of choice is a limited-edition clothing line, according to a press release. The proceeds will benefit those in Asian American and Pacific Islander communities facing food insecurity. The line was designed by 3.1 Phillip Lim, so you know it's going to be something special.
Panda Express battles food insecurity with its latest fundraiser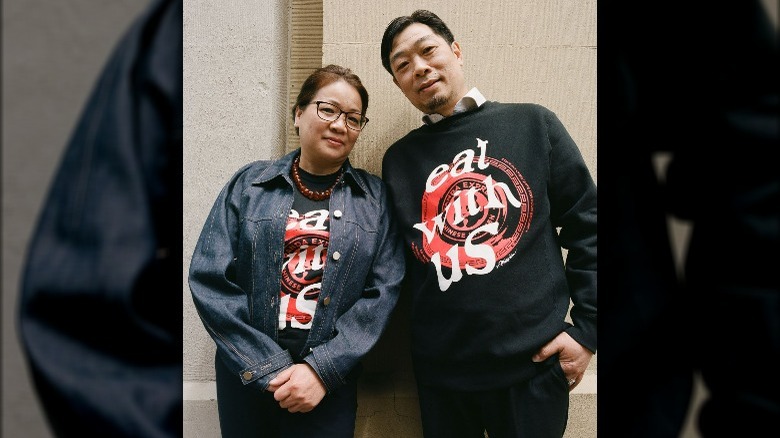 Panda Express x Phillip Lim
Starting May 10, Panda Express is selling its limited edition "Eat More, Share More, Love More" clothing collection. According to PR Newswire, the launch coincides with Asian American and Pacific Islander (AAPI) Heritage Month, with 100% of the proceeds going to half a dozen community organizations that provide food assistance. The Panda Express x 3.1 Phillip Lim collection includes a t-shirt, a crewneck sweatshirt, and a baseball hat, all emblazoned with the Panda Express logo and the phrase "eat with us." If you're looking for some Panda Express swag, now is the time to buy.
In addition to the clothing line, Panda Express and 3.1 Phillip Lim have started a Go Fund Me for donations. Panda Express got the fundraiser going with a donation of $20,000. The fundraiser has a goal of $100,000, but however much is raised will be divided up among organizations like Welcome to Chinatown, Heart of Dinner, More Than a Meal, Respect Your Elders, OCA-Greater Houston, and Radical Family Farms. No one should have to worry about having food on their table, and the restaurant chain is helping to raise money for that cause.