Coors' Unexpected New Beverage Is Made For The Breakfast Table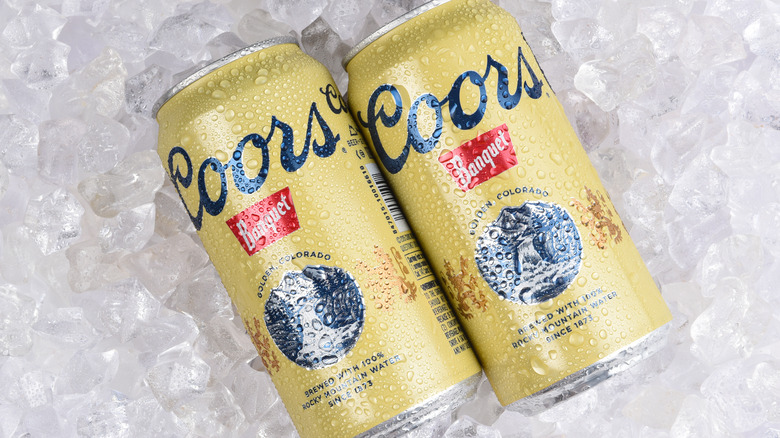 Steve Cukrov/Shutterstock
The ever-growing field of dairy alternative products is, well, constantly growing! GlobeNewswire reports that the global industry is expected to reach $47.95 billion in 2028, which is up from $19.79 billion in 2020. This is a growth of 11.7%. This includes sales of all types of alternative products, like cheese, milk, yogurt, and ice cream options featuring oats, coconut, soy, rice, almond, and hemp. The truth about oat milk and other options is that they're healthy for you, too. These alternatives are ideal for people whose bodies either can't tolerate dairy or those who've adopted a vegan lifestyle for other reasons.
Milk alternatives are the leaders of the dairy-free industry, and 2019 alone saw $2 billion in sales of these kinds of milk in the United States. According to Glanbia Nutritionals, the current category frontrunner is almond milk, but they also note that oat milk is growing exponentially. In fact, oat milk product sales skyrocketed 686% from 2018 to 2019! Best of all, a new Coors product is undoubtedly much better nutritionally for a person than any of their primary beer options. It's even more nutritious than plain old milk, with 60 percent less sugar, twice as much vitamin D3, and 50 percent more calcium to its credit. But just what is it?
Coors is entering the dairy-free market
Coors Brewing is known for its beer products, but the alcohol giant is also known for its barley. You know, the main ingredient in beer. So, we shouldn't be all that surprised that Coors has figured out a new way to get barley in the marketplace, this time in the form of Golden Wing, a plant-based barley milk, per FoodBeast. One important point can't be stated enough, though: Golden Wing is non-alcoholic. So, you can pour it guilt-free into your morning bowl of cereal or serve it alongside pancakes for the kiddos. No one will judge you — or even have cause to.
Golden Wing's grocery store debut is now happening at Whole Foods and Sprouts, which are both known to champion natural products. It's also available on Golden Wing's website. This dairy alternative only has a handful of ingredients, starting with barley milk, which is composed of barley, water, and barley malt. It also contains calcium carbonate, sunflower extract, shiitake mushroom extract, and pink Himalayan salt. It's not a good option for people with gluten problems, as the barley itself contains the protein. It is a non-GMO product, which is likely to make many people pretty happy. According to FoodBeast, the milk's taste "is likened to a malty sweetness, similar to cereal milk."