Why Country Crock Just Teamed Up With An Unexpected Beverage Company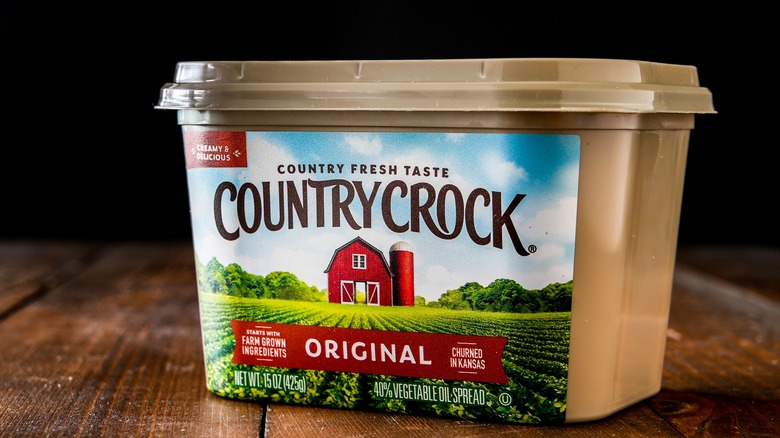 Miro Vrlik Photography/Shutterstock
You might not necessarily think breakfast spreads and whiskey have anything to do with each other, but Country Crock is about to change that. The popular butter substitute brand, which was founded in Johnson County, Kansas, has been producing plant-based spreads made from farm-grown ingredients like soybean oil, avocado oil, olive oil, and palm fruit oil, for over three decades, according to Country Crock's website. After all, what margarine is really made of isn't much of a mystery at all despite some thinking as such. Now, Country Crock teaming up with the ad agency Ogilvy and J. Rieger & Co., a Kansas City-based distillery, to launch its first-ever whiskey, according to Adweek.
However, this isn't any ordinary whiskey. As a company that relies on farm-grown ingredients, Country Crock is all too aware of the many struggles modern farmers face, with one of the biggest challenges being soil fatigue. When farmers plant the same crops over and over each year, the soil can erode and nutrients can deplete, making it more and more difficult to cultivate healthy harvests. So, Country Crock has decided to bring awareness to this growing problem by launching its new Cover Crop Whiskey (via Food & Wine).
Country Crock wants to bring awareness to sustainable cover crops
Cover Crop is not simply a catchy name; it is actually an important sustainable farming practice that can help reduce soil fatigue. Cover crops are planted in between harvests to help return nutrients to the soil, while protecting it from extreme conditions and rendering it less susceptible to pests and diseases, per Food & Wine. The new, plant-based Cover Crop Whiskey includes whiskey that has been distilled with cereal rye, an important cover crop that can help make farmlands more sustainable.
Each bottle features a 46.5% alcohol by volume and a "buttery smooth" flavor, according to Cover Crop Whiskey's website. Country Crock and J. Rieger & Co. have released just 500 bottles of this sustainable, limited-edition distilled beverage, which is being sold exclusively online at Mash & Grape for $40 per bottle. The whiskey is being launched in conjunction with the company's new Cover Crop Project, which aims to "improve soil health by returning nutrients, minimizing pests, and increasing water retention" by "educating farmers and.. providing financial support to the farmers involved," according to Country Crock. Ultimately, when you drink whiskey every day, it can't hurt to purchase some that are environmentally friendly, too.