The Odd Thing Customers Are Supposedly Finding On Aldi Shelves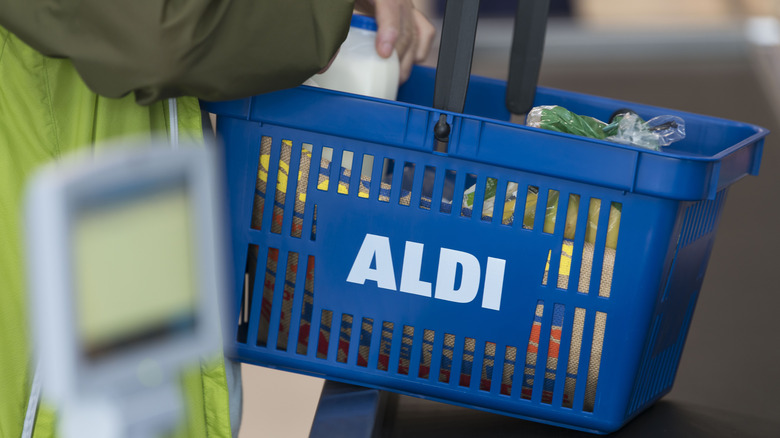 Matthew Horwood/Getty Images
It seems like Aldi shoppers are always in for a surprise when they step foot inside the German grocery store. Though probably best known for its budget-friendly fridge and pantry staples, the chain has also become famous for its seasonal items, like advent calendars, which have become so popular with customers that the grocer has dubbed the products' annual release on the first Wednesday in November National Advent Calendar Day. 
However, even when there isn't an upcoming holiday to prepare for, Aldi keeps its loyal patrons on their toes with its rotating assortment of Aldi Finds – a weekly selection of blink-and-you-may-miss-them products that range from food and drink to furniture and home decor.
Needless to say, you never know what you're going to find on your next Aldi run. Lately, however, the talk of the supermarket's fandom has been more about what its members haven't been finding — and not just due to supply-chain issues, either. In a post shared to the Aldi Reddit page in April, user u/sew_busy shared a photo of the odd thing they allegedly spotted during a recent trip to their local Aldi location: A package of the chain's Happy Farms Pepper Jack Cheese slices that, despite appearing to be sealed, was missing all of its contents inside. "Oops they missed the cheese in this one," the Redditor wrote, which we can probably all agree is a bit strange no matter how you slice it.
Reddit's got jokes about this empty package of Aldi cheese
Aldi shopper and Redditor u/sew_busy caught the attention of more than a few fellow Aldi fans after sharing the oddity they claimed to have spotted during a recent visit to the chain. "Found this empty sliced cheese, it was still factory sealed," they explained in a separate comment on their recent post in the Aldi subreddit page last month. "We turned it into an employee so nobody had any issues. Just thought it was interesting," they added, though we personally think that "strange" is a better word to use to describe their find. As if the cheeseless package wasn't weird enough, another Aldi shopper chimed in claiming that they recently found themselves in a similar situation after placing an Instacart order from the chain stating "One of my taco seasoning packets was completely empty yet factory sealed."
As of this writing, there's no explanation in the comments for why these seemingly untampered with Aldi products are coming up short. However, they did have plenty of wisecracks to make at the empty cheese package's expense. "Less fat and calories that way," one Redditor quipped, while another joked that there was some "shrinkflation" at play. Someone else teased that there actually wasn't a problem with the bizarre find at all, declaring the item "Oxygen Cheese."  
While many think Aldi can do no wrong, if we're spending our hard-earned cheddar on groceries, we'll take our slices with more cheese and less air.