Classic Lemonade Recipe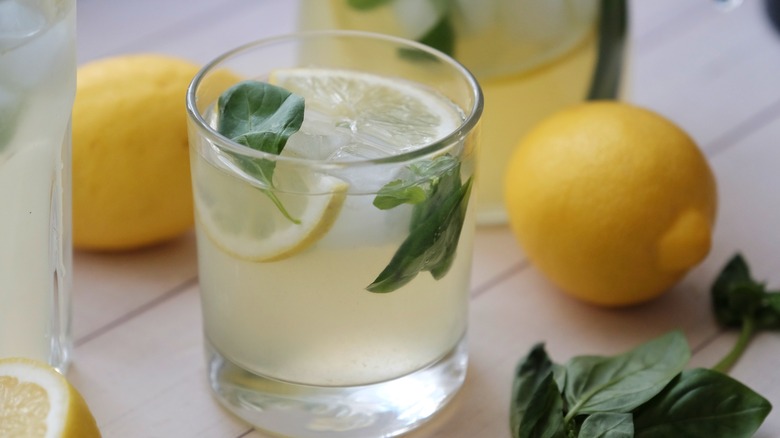 Eric Ngo/Mashed
If there's one drink that absolutely screams "summer," it has to be lemonade. Have you ever had a glass of lemonade that wasn't completely refreshing? If you have, we apologize for the experience, but can guarantee that it won't happen again if you make recipe developer Eric Ngo's classic lemonade recipe. Ngo keeps things sweet and simple, and the results really speak for themselves.
Now, you may be asking yourself: Why not just buy a carton of lemonade from the store? While this may be slightly more convenient, store-bought lemonade won't have the same freshness as homemade. And, as it turns out, Ngo has a few reasons of his own for preferring homemade lemonade. "What I like the best is being able to control the amount of sugar that goes in," he explains. "Also, you get to hand-pick your lemons!" If you've ever taken a swig of store-bought lemonade, then you know just how sugary it can get — to the point where it's cloying and no longer refreshing. With Ngo's recipe, only the simplest and freshest ingredients go in, and the touch of sweetness won't be overbearing; it really is the perfect summer drink.
Gather the ingredients for classic lemonade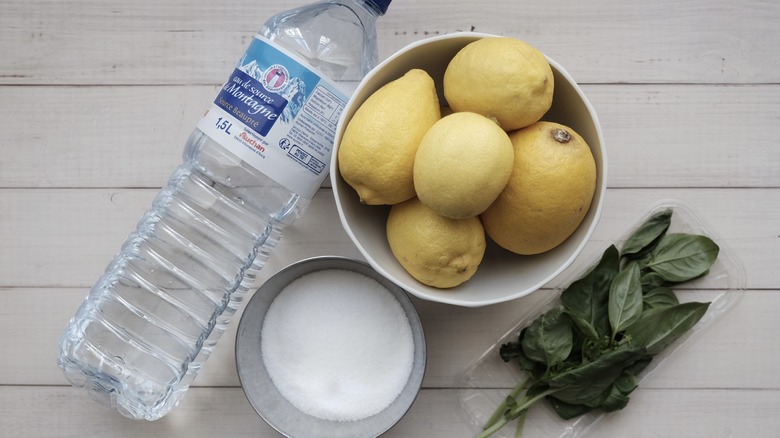 Eric Ngo/Mashed
Another perk of making homemade lemonade is that there won't be a bunch of added preservatives or unknown ingredients — in fact, you really only need three ingredients here: fresh lemons, water, and sugar. Ngo likes to garnish his lemonade with herbs for an extra level of flavor. "Fresh basil or fresh mint will bring additional 'freshness' to your lemonade and will elevate your recipe to the next level," Ngo says. He also notes that you could swap the lemons for any other type of citrus — fresh limeade, anyone?
Make the simple syrup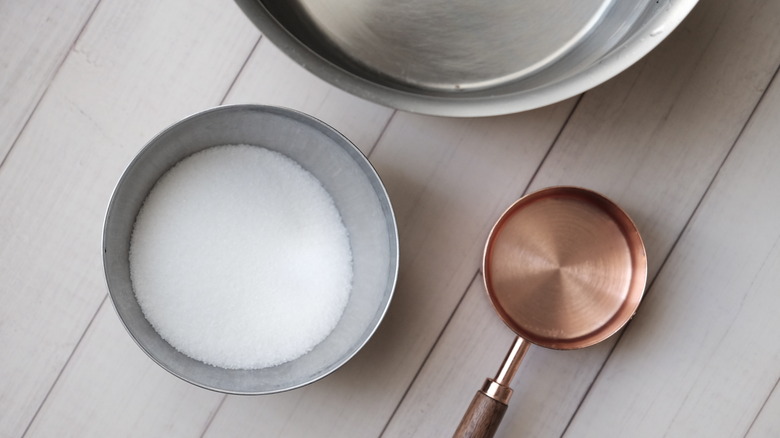 Eric Ngo/Mashed
Instead of adding straight sugar into the mix, you'll break it down into a simple syrup, ensuring a smooth sipping experience. "The key to making good lemonade is making the simple syrup," Ngo explains. "If this step is skipped, then the sugar will remain grainy." And "grainy" is not a word we like describing our lemonade.
To make the simple syrup, add ¼ cup of water and the sugar to a saucepan, and bring the ingredients to a boil. Be sure to mix throughout, and once the sugar fully dissolves into the water (which should only take a couple of minutes), you've got yourself some simple syrup. Be sure to remove the syrup from the heat and set it aside to cool down.
Juice the lemons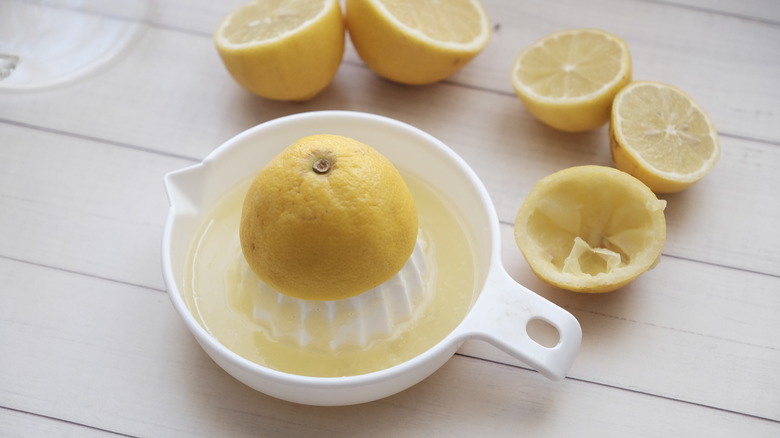 Eric Ngo/Mashed
The sweet part of this recipe is ready to go, but now it's time to focus on the sour, AKA the lemons. Cut each lemon in half, then either squeeze them by hand or use a juicer to get all of the lemon juice out. Be sure to strain the juice as well, ensuring that any seeds are separated and discarded. In total, you'll need 1 cup of lemon juice, which should require about 5 large lemons. 
Mix the lemonade in a pitcher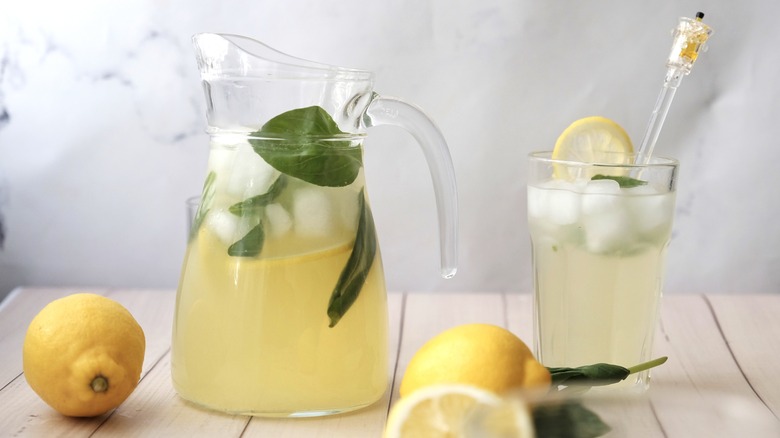 Eric Ngo/Mashed
In a pitcher, pour in both the lemon juice and simple syrup. "Add or subtract the amount of simple syrup to your lemonade according to your taste," Ngo says. It's a good idea to add only a little simple syrup at first, taste, and add more if you want more sweetness.
Top everything off with 2 cups of water. Add some basil or mint if you like, throw in some ice, give your lemonade a stir, and it's ready to go! As you can see, it doesn't take a whole lot of effort to make lemonade from scratch, but the results really are worth it. And if you have some leftover lemonade, you can simply pop the whole pitcher into the fridge and keep it for up to a week. Summer heat has no chance against this simple and refreshing beverage!
Classic Lemonade Recipe
Nothing is more refreshing on a hot day than a cool glass of lemonade. Homemade will always beat out store-bought varieties; learn how to make a perfect batch.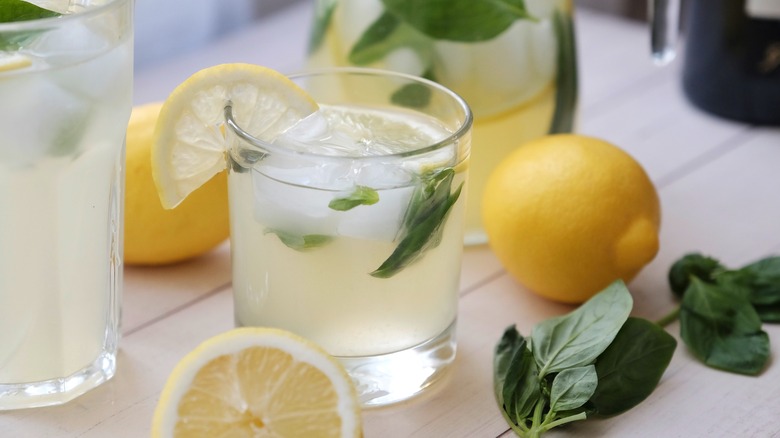 Ingredients
¼ cup sugar
2 ¼ cup water, divided
1 cup fresh lemon juice (from approximately 5 large lemons)
Optional Ingredients
Directions
Add the sugar and ¼ cup water to a saucepan. Simmer, stirring occasionally. Once the sugar has fully dissolved, set the simple syrup aside to cool.
Halve the lemons, then squeeze them by hand or with a juicer. Use a strainer to separate the juice from pulp and seeds.
Mix the lemon juice and simple syrup together in a pitcher.
Pour 2 cups of water into the pitcher. Optionally add fresh basil or mint.
Add ice to fill the rest of the pitcher, stir, and serve.
Nutrition
| | |
| --- | --- |
| Calories per Serving | 62 |
| Total Fat | 0.1 g |
| Saturated Fat | 0.0 g |
| Trans Fat | 0.0 g |
| Cholesterol | 0.0 mg |
| | |
| --- | --- |
| Total Carbohydrates | 16.7 g |
| Dietary Fiber | 0.2 g |
| Total Sugars | 14.0 g |
| Sodium | 6.1 mg |
| Protein | 0.2 g |