Best Rice Cookers Of 2022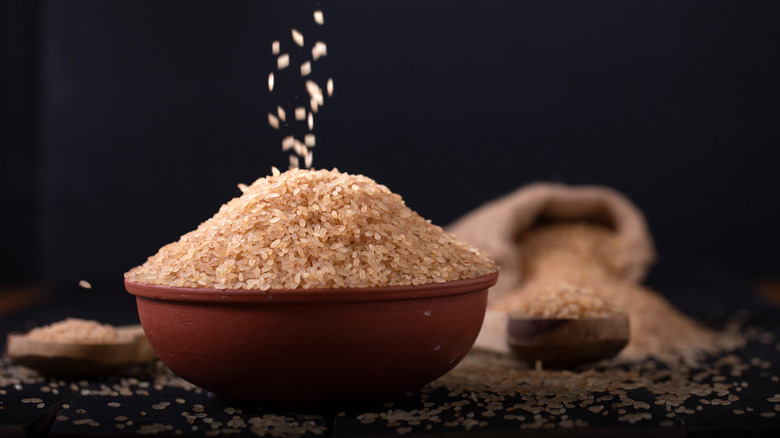 AALA IMAGES/Shutterstock
We may receive a commission on purchases made from links.
Cooked rice is one of the world's most popular foods, and one-fifth of all the calories consumed around the world come from rice. Anyone can make rice in a regular pot, but even hardcore chefs prefer the ease and reliability of a good rice cooker, according to HuffPost. At the flip of a switch, the rice and water steam together perfectly without having to be constantly watched for burning or overcooking. 
Most modern rice cookers have an automatic shutoff that switches from a cook mode to a warming mode when the machine detects that the rice is done cooking. These machines take all the guesswork out of making perfect rice, and many can be used for other kitchen tasks as well. Of all the ways to cook rice, we consider the rice cooker method to be in the top three. So whether you want to just make a plain bowl or jazz your rice up with some mix-ins, we have the right rice cooker for your needs. 
How we chose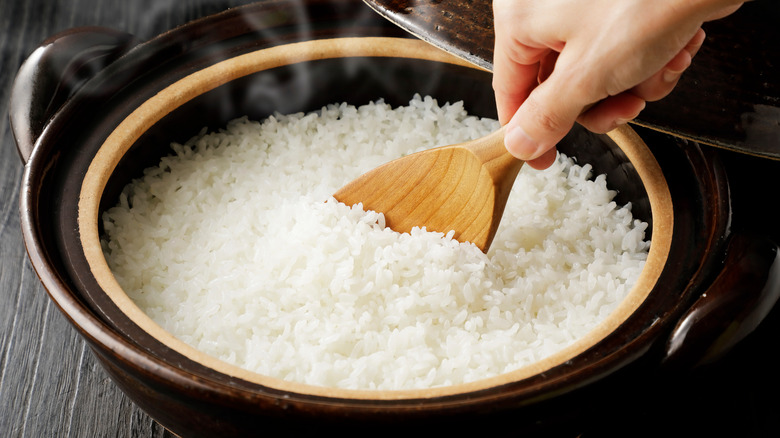 Nishihama/Shutterstock
We analyzed the market for the best models across multiple brands, keeping in mind everyone's unique needs when it comes to appliances, budget, and space. Many of today's consumers have reservations about single-use appliances crowding their cabinets and rice cookers (which aren't just single-use but single-ingredient-use) are no different. But for those that need a quick meal and aren't able to be constantly watching a pot on the stove, rice cookers are essential. 
Some of the models we chose are capable of cooking more than just rice or are specifically designed to be space-saving. Many models have thousands of reviews across multiple online retailers, and that's the first place we looked when deciding which were considered the best. After sifting through reviews and expert testimonies, we rounded up the top choices from a multitude of categories chosen to fit the needs of every type of buyer. All the prices listed were accurate as of mid-May 2022.
Best overall rice cooker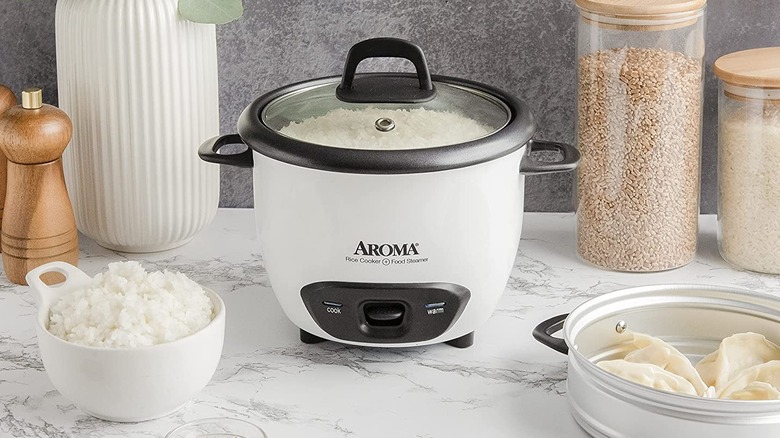 Aroma
27,000 people on Amazon can't be wrong, where the Aroma Housewares 6-Cup Rice Cooker is one of the most popular models on Amazon, with over 80% of buyers rating it 4 stars and above. This model comes with an aluminum steamer basket that can fit on top of the rice cooking basket, which is great for steaming fish, dumplings, or vegetables along with your rice. The ease of cooking is enough to make you feel like "a chef at a 5-star restaurant," as one reviewer stated. This machine can cook anywhere from two to six cups of quality white, brown, or wild rice perfectly without constant tending. Just add dry rice, and water and set to cook. The machine will automatically switch to a warming mode when the rice is done, so you never worry about burning or overcooking. 
The Aroma Housewares 6-Cup Rice Cooker was available for sale on Amazon for $37.49.
Best affordable rice cooker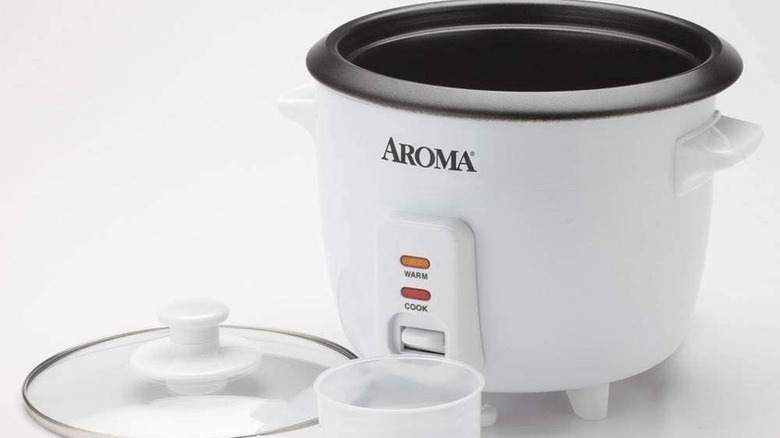 Aroma
The Aroma One Touch Rice Cooker is a tried-and-true cooker with hundreds of positive Amazon reviews, and it's easy to see why. It's dead-simple to use, dirt cheap, and lasts for years. This is one of, if not the, cheapest rice cookers available anywhere. But the low price doesn't come at a sacrifice of quality. This rice cooker will perfectly make up to 6 cups of rice — just don't expect it to do much else besides cooking grain. It's perfect for those that have no need for extra features and functions and don't want to pay for them. That being said, it's still capable of making white rice, brown rice, quinoa, farro, bulgur, or couscous. One reviewer even said that this $17 cooker was "worth $5000" for how easy it makes life. 
The Aroma One Touch Rice Cooker is available for sale on Amazon for $17.63.
Best small-space rice cooker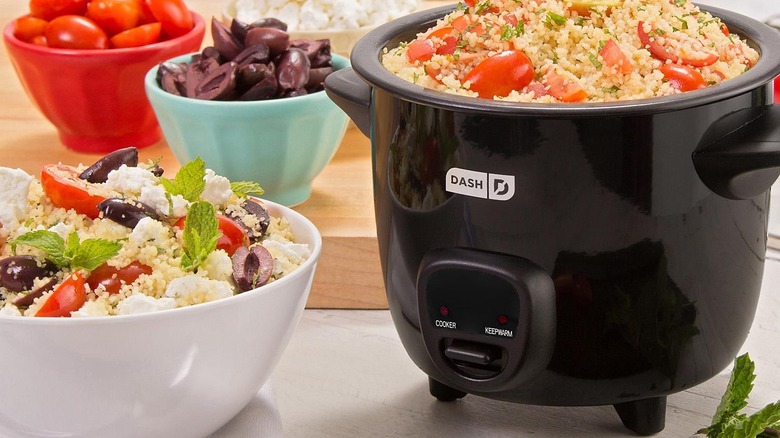 Dash
Some people have small kitchens, while others find themselves cooking a single serving of rice at a time. Either way, cooking stovetop rice can be a chore. The Dash Mini Rice Cooker takes care of that, and makes a perfect portion of rice for one or two people. The finished, cooked rice capacity is about 2 cups, which is just enough to have little to no leftovers. This product ships with a handy recipe book and a link to a recipe database full of ideas for what to make in the rice cooker beyond just rice. Everything from macaroni and cheese to chicken noodle soup can be made all in an appliance smaller that's less than 9 inches wide. Some people even use this item as a warming crock for things like queso or fondue. Even after a year of use, one reviewer says it cooks and "looks as good as the day [they] got it". 
The Dash Mini Rice Cooker can be purchased on Amazon for $24.99. 
Best combo rice cooker/steamer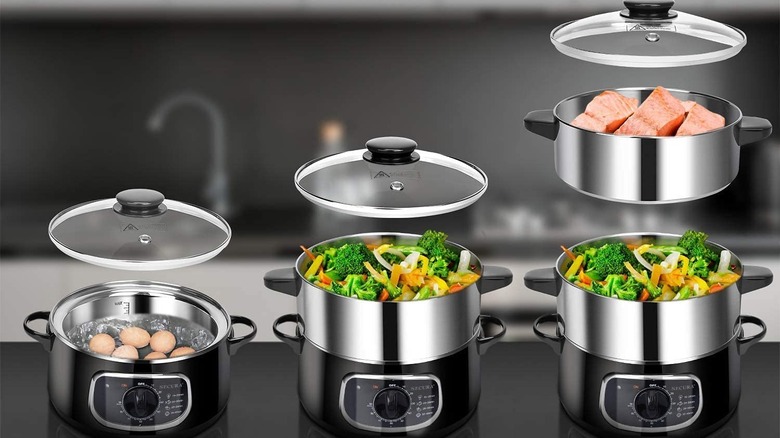 Secura
For ease and flexibility, multi-tiered steamers are great for those who find themselves needing to steam multiple types of food at once. Not only can the Secura 2 Stainless Steel Double Tiered Food Steamer make rice, but you can steam meat, fish, and vegetables in another layer simultaneously for a complete meal. The versatility of this combo food steamer can't be understated, as it can boil ingredients such as eggs on the bottom layer while steaming on the upper two. You can fill the deep layers with tons of food and the stainless steel construction will last for years. Users praise it for being the "right size, easy to clean, and more durable" than plastic versions that can warp and stain over time. You can also set this cooker to start on a delay, so you can load it up with food and water, go out and do something, and then return to perfectly cooked food.
The Secura 2 Stainless Steel Double Tiered Food Steamer is listed for sale on Amazon for $85.99.
Best large capacity rice cooker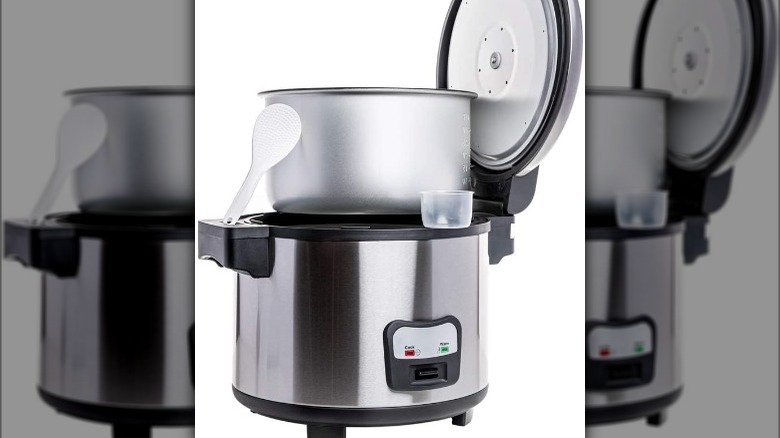 Sybo
Whether you make food professionally, or just have a really big family, if you're looking for a huge capacity rice cooker (capable of making up to 60 cups of rice at a time), look no further than the Sybo Commercial Grade Rice Cooker. The high-quality stainless steel construction can stand up to the daily wear and tear of a commercial kitchen, or even just regular use for big gatherings like church functions and backyard barbecues. While it can make up to 60 cups of rice, it can also make as little as 10, and various increments in between. The heavy-duty locking lid seals in heat, so it can make rice from raw in just 20 minutes. That speed doesn't come at the cost of taste, either, as one reviewer states that the flavor of the rice cooked in the Sybo is better than rice cooked in a pot. 
The Sybo Commercial Grade Rice Cooker can be purchased on Amazon for $209.99.
Best splurge rice cooker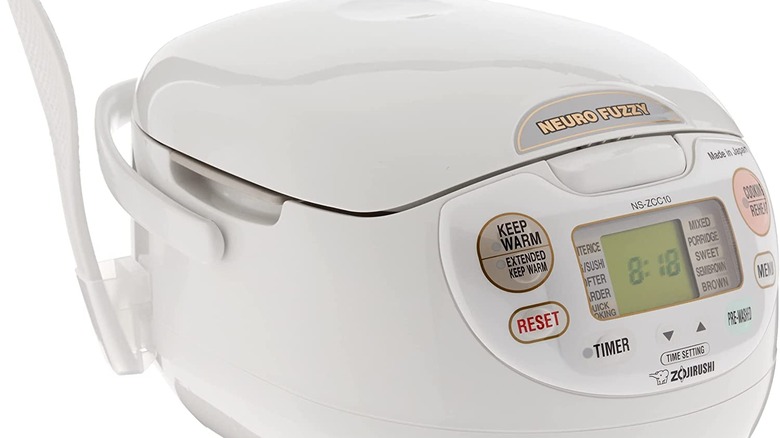 Zojirushi
For serious rice enthusiasts, the quality of the rice cookery matters. The Zojirushi Neuro Fuzzy Rice Cooker uses cutting-edge technology and has multiple settings for making white rice, sushi rice, porridge, brown rice, and more. It's like the Cadillac of rice cookers, and one of the most expensive on the market. It might seem excessive to spend over $200 on a rice cooker, but this model justifies the price. Many people swear by rinsing their rice before cooking to remove extra starch, but owners of the Neuro Fuzzy say that even starchy brown rice comes out perfect without rinsing. The Food Network declared this rice cooker to be the best one it tested. Even die-hard non-believers were forced to admit that it produced an "immediate, explicit difference in the quality of cooked rice." Curious about upgrading from so-so to mind-blowingly delicious? Give the Zojirushi a whirl.
The Zojirushi Neuro Fuzzy Rice Cooker is available on Amazon for $230.99. 
Best aesthetic rice cooker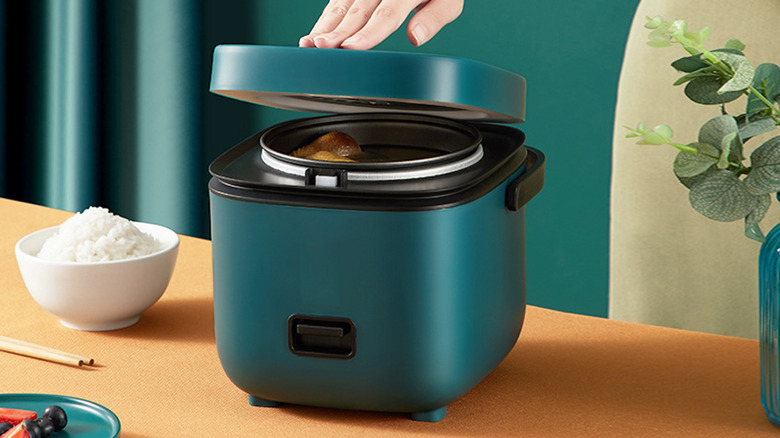 Anjielo
Some consumers make rice so often that their rice cooker becomes a permanent fixture on their countertop. For those people, the aesthetic appeal of the cooker is important, and this cute model comes in multiple colors for any style of kitchen. The Anjielo Smart Rice Cooker is offered in three chic colors: teal, magenta, and chocolate brown. No matter the color, this cooker has a minimalist, stylish design. The 4-cup capacity is large enough for a family dinner, but small enough to still be compact. One user says that because of the size, it's "quick and efficient for one person."  The Anjielo also features a convenient handle to take your cooked rice on the go, perfect for taking lunch to work. This model has been designed to be versatile and comes with recipes to make things like pasta and chiffon cake.
The Anjielo Smart Rice Cooker is available on Amazon starting at $41.99.
Best portable rice cooker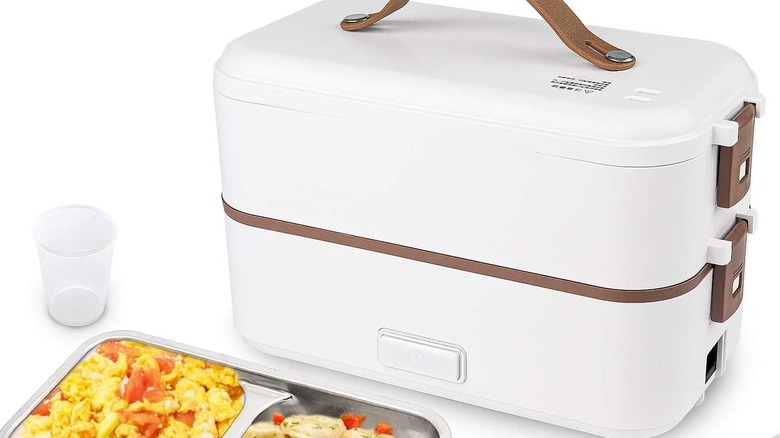 CTSZOOM
If portability is the most important feature to you, then we've found the rice cooker for you: the CTSZOOM Self Cooking Electric Lunch Box. This appliance cooks grains, but it can also do so much more. It comes in a handy lunch-box style-case with multiple layers that you can take on the go and plug in anywhere for a fresh, hot meal. Imagine prepping your lunch ahead of time and being able to enjoy it hot right at your desk. One top reviewer on Amazon said the unit has more than paid for itself from the savings of not going out to eat for lunch. This electric lunch box has multiple layers, one full size and the other broken into two compartments for versatility. Each compartment comes with its own lid for storing leftovers. The whole thing locks in place inside a cute exterior package so you don't have to worry about spills while you travel.
The CTSZOOM Self Cooking Electric Lunchbox is available for sale on Amazon for $37.99.
Best non-electric rice cooker
Staub
Some people can't rely on an electric rice cooker for one reason or another. For these folks, Staub has hand-crafted a beautiful pot that's made specifically for cooking rice on the stove. The Staub Petite French Oven has a specially-designed lid that helps ensure rice stays moist. The underside of the lid has spikes that drip condensation over the rice as it cooks. One buyer find that the design yielded "light, fluffy rice" that was as good as their local Asian restaurants. This pot uses the power of your regular stove, whether that's gas or electric, and features the durable cast iron design that all Staub pots are known for. Without electric controls to break, this pot could easily last decades in your kitchen. This pot looks classy too, so it's perfect for going from stove straight to your dinner table — just don't forget the trivet.
The Staub Petite French Oven is available on Amazon for $209.95.