Classic Pickled Eggs Recipe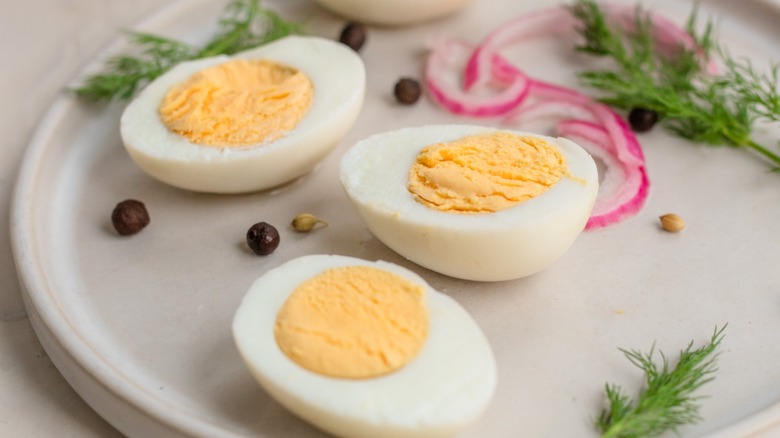 Jaime Shelbert/Mashed
You may know pickles as those tangy spears of cucumber that come in a jar — maybe you've even pickled your own. But did you know there's a whole universe out there of food items that can be pickled? It's not just vegetables, either, as evidenced by this recipe for pickled eggs by Jaime Shelbert of Wholly Nourished. These are soft, creamy hard-boiled eggs that get submerged in a luxurious brine full of tasty spices, where they sit and pickle until it's time to enjoy. You may not see them everywhere these days, but back in the late 1800s, pickled eggs were a common sight at bars, where they'd serve as a filling snack for boozed-up patrons.
Of course, there's no need to imbibe to enjoy these tasty little snacks. If you're a fan of deviled eggs and other such dishes, you're sure to appreciate the unique tang of a pickled egg. Plus, they're very simple and quick to make, so let's get right into it.
Prep your pickled eggs ingredients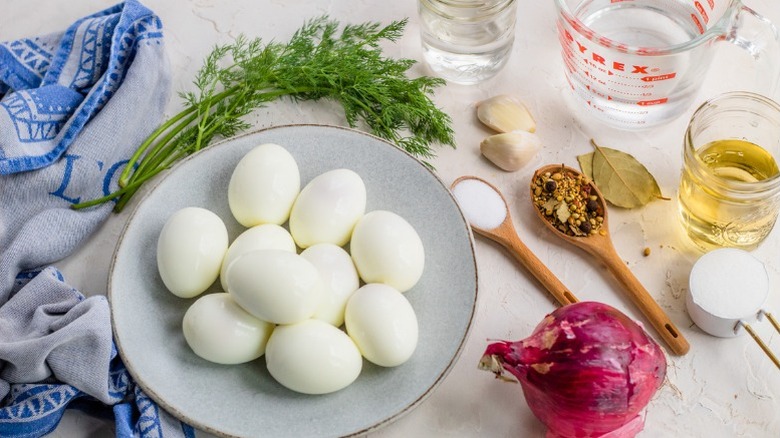 Jaime Shelbert/Mashed
In addition to gathering and measuring out your ingredients, there's one important step you must do before you get pickling: Boil your eggs! Don't have a go-to method? No problem. "The tried and true method I use for boiling eggs is to bring water to a boil before gently adding the eggs," Shelbert says. "Once the water boils, add the eggs, remove from heat, place a lid on the pot and let the eggs sit for 10 minutes. After 10 minutes put the eggs in a water bath."
In addition to the eggs, you'll also need fresh dill, thinly-sliced red onion and garlic, bay leaves, salt, sugar, rice and white vinegars, a little water, and pickling spice. "You can buy pickling spice premade or you can make your own using coriander, peppercorns, mustard seed, allspice, bay leaves, cloves and red pepper flakes," adds Shelbert.
Make the brine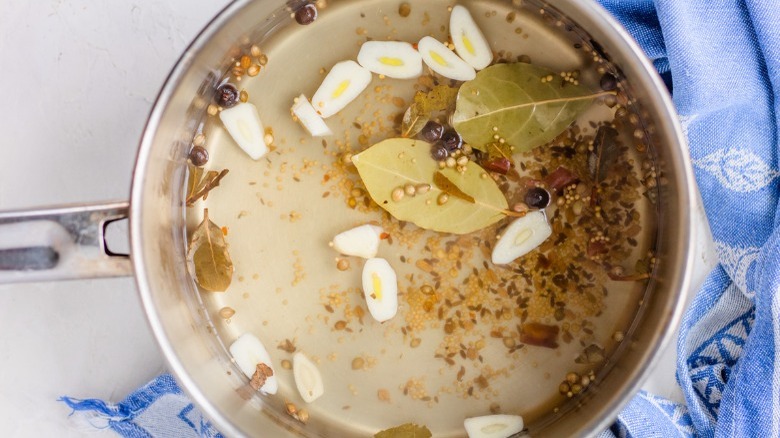 Jaime Shelbert/Mashed
Good pickles start with good brine. Making this brine is simple: Just put the sugar, salt, pickling spice, water, and vinegars in a small pot and let it come to a boil over medium-high heat. Once it boils, lower it to a simmer and stir until the sugar is fully incorporated. Put the garlic and bay leaves in and take the pot off the heat.
Put everything in a jar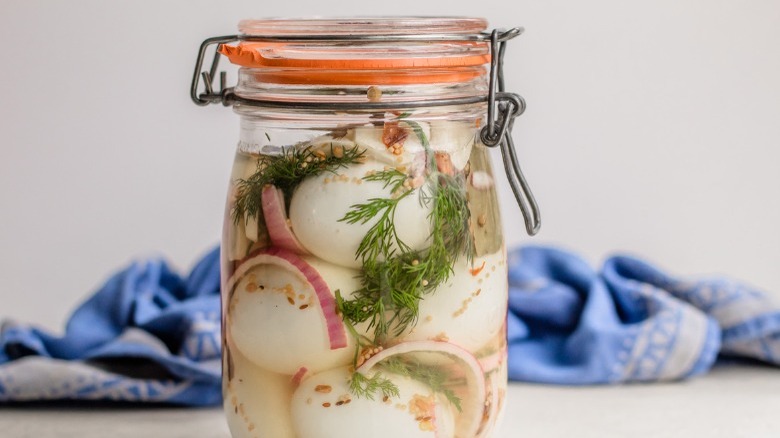 Jaime Shelbert/Mashed
Next, get out your glass jar — "Mason jars or old pickle jars work great," Shelbert says, just make sure it's thoroughly clean — and add the eggs, onion, and dill to it. Once the brine has cooled down a bit, pour it in the jar so everything's submerged. Then, seal the jar. Your work here is done!
You have officially pickled eggs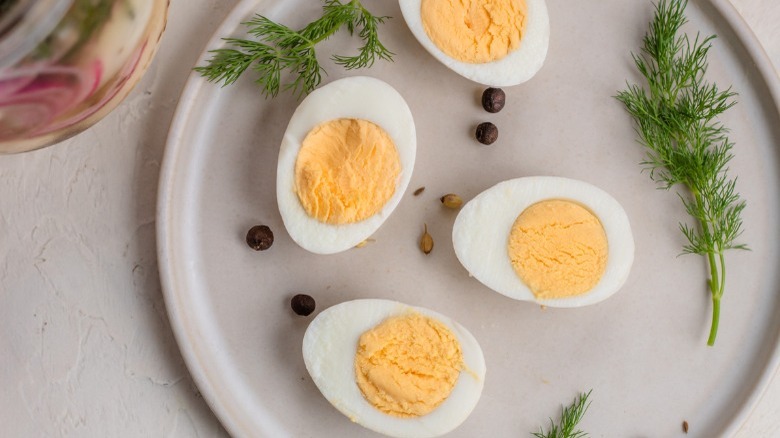 Jaime Shelbert/Mashed
Your final step is to put the jar in the fridge and wait for at least a few hours, but for extra-flavorful pickles, wait a few days. "You can enjoy these as is with a bit of salt and pepper as a snack," Shelbert suggests. "You could also slice them and top avocado toast or put on a salad."
If you whipped up a batch of these in your one-bedroom apartment and don't necessarily feel up to consuming 10 whole eggs in a short period of time, fret not. Your pickled eggs will last up to a month in the fridge, Shelbert says.
Classic Pickled Eggs Recipe
If you love hard-boiled eggs, then give these pickled eggs a try for a tangy, flavorful experience.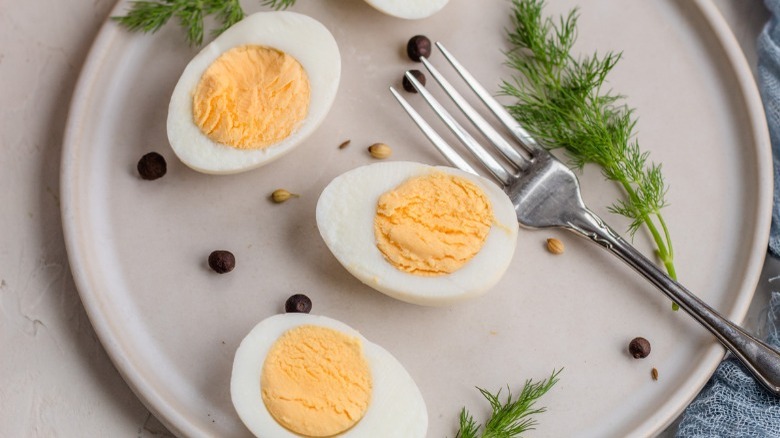 Ingredients
10 hard-boiled eggs
½ cup distilled white vinegar
½ cup rice vinegar
¾ cup water
¼ cup granulated sugar
1 tablespoon pickling spice
1 teaspoon salt
2 bay leaves
2 cloves garlic, sliced thin
¼ red onion, sliced thin
3 sprigs fresh dill
Directions
Peel the hard boiled eggs.
Add the vinegars, water, sugar, pickling spice, and salt to a small saucepan. Heat over medium high heat and bring to a boil stirring often. Reduce heat and simmer until the sugar is dissolved. Stir in the bay leaf and garlic. Remove the mixture from heat, and allow it to cool slightly.
Add the eggs to a clean, large glass jar.
Add the onion and dill to the jar.
Pour the pickling brine over the eggs. Seal the jar.
Refrigerate to allow the eggs to pickle. They can be eaten hours later, but for best results wait 2 to 3 days or longer for more intense flavor.
Nutrition
| | |
| --- | --- |
| Calories per Serving | 87 |
| Total Fat | 4.3 g |
| Saturated Fat | 1.3 g |
| Trans Fat | 0.0 g |
| Cholesterol | 149.2 mg |
| | |
| --- | --- |
| Total Carbohydrates | 5.8 g |
| Dietary Fiber | 0.1 g |
| Total Sugars | 5.5 g |
| Sodium | 206.1 mg |
| Protein | 5.1 g |