The Internet Can't Stop Roasting Kourtney Kardashian's Wedding Food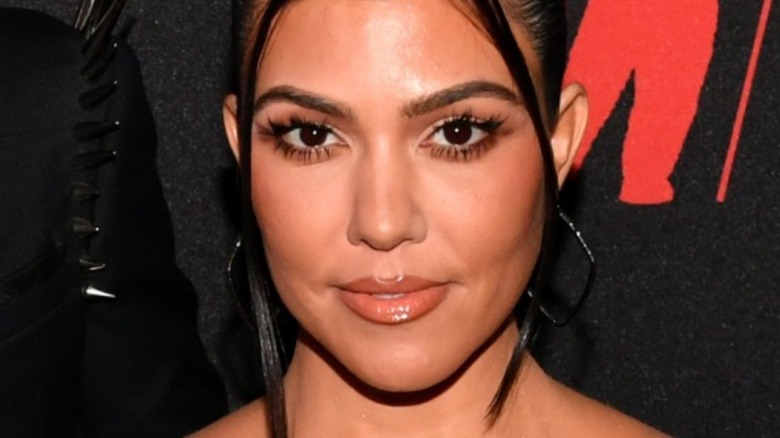 Jeff Kravitz/mtv Vmas 2021/Getty
The first time Kourtney Kardashian, who is famous mostly for being a Kardashian, appeared to marry Travis Barker, who – until his relatively recent association with Kardashian – had been famous primarily for his prowess on the drum set for pop-punk's Blink-182, was on April 4. You'd be forgiven for having missed it. After all, it was at a wedding chapel in Vegas and wasn't legally binding for lack of a marriage license, per People. The next time was at a Santa Barbara, California courthouse in mid-May. This wedding included all the legal trappings, according to Rolling Stone. What it did not include, however, was a lavish party. 
Not to worry, of course, since the third time was, as they say, the charm. For Kravis' third wedding celebration, the couple decided to go with a destination wedding, bringing the pomp and circumstance to a gothic castle in Portofino, Italy, per The New York Times. Although small (there were a mere 35 guests), this one was lavish, according to Life & Style, which estimates the total cost upwards of $2 million. 
Just to be clear, when we say "lavish," we're referring to the fashion, which NYT describes as being so dominated by Dolce & Gabbana that the wedding might as well have been staged as "an ad campaign." And even more to the point, what we are not referring to is the food, which the internet has been roasting, so to speak, ever since.
Pasta? Blink, and you might have missed it!
The third wedding celebration of the newest Kardashian marital merger – i.e. Travis Barker and Kourtney Kardashian, aka, Kravis, was a lavish spectacle that took place over a period of many hours and various meals. "The breakfasts, lunches, dinners, they all had their own Italian style and flair, all had music, either live or a DJ, and the wine and champagne was flowing nonstop," one source told Life & Style. "There wasn't one detail overlooked," the source added. Well, source, the internet apparently begs to differ.
"The pasta portion size at Kourtney Kardashian's wedding is the one of the saddest things I've ever seen," tweeted one critic about the reception's pasta stations, which were viewable through videos posted to Kylie Jenner's Instagram story, per People. There were cannoli stations too, but we need to talk about the pasta, apparently, because that's what seems to be freaking the most people out. A single portion is pictured above, although "single portion" may be redundant from the looks of this bite-size serving. (Though a user insisted, "That's not even a bite.) To paraphrase Twitter user @NathanLewisWV, it kind of makes one wonder why it wasn't just straight-up served in a shot glass.
Nevertheless, there's a lot to be said in favor of a moderate portion of pasta such as this, particularly when cannoli is being served as well. And as Twitter user @HainingMary points out, small portion sizes are "normal in Italy."