Easy Jungle Juice Recipe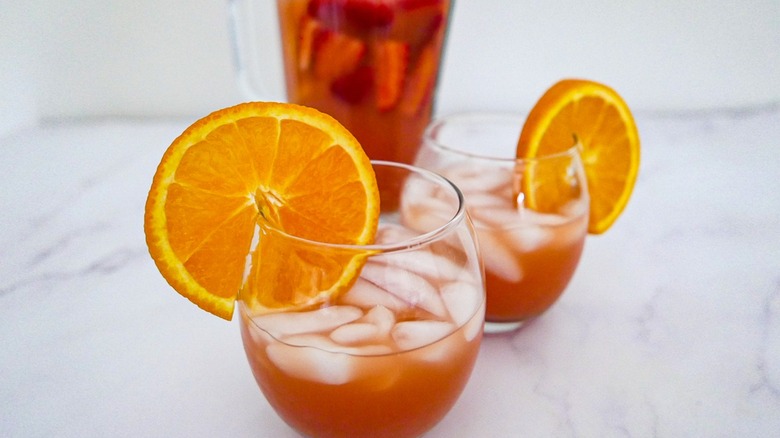 Ting Dalton/Mashed
Jungle juice is a drink that may have started out as a frat party concoction, made from every kind of booze in the dorm plus whatever fruit juices or other mixers were on hand. Recipe developer Ting Dalton's jungle juice, on the other hand, is something we'd describe as a more adult version of the drink — and not so much adult in the "adult beverage" sense, although it does contain booze. This a beverage meant for those who are grown up enough to enjoy a drink that actually tastes good, instead of prioritizing its ability to get them wasted in a hurry; that being said, there is a good amount of vodka in this, and we're certainly not stopping you from topping it off with a little more.
Dalton describes her jungle juice as "fruity and tropical," evoking visions of "palm-tree fringed beaches and long hot days." She calls it a perfect summertime drink that is really easy to put together, adding that "because the key ingredients here are relatively cheap, you can have a great cocktail punch that won't cost the earth." Who said jungle juice has to maintain its frat party reputation? Follow this recipe for an elevated, classier version of the drink.
Gather the ingredients for easy jungle juice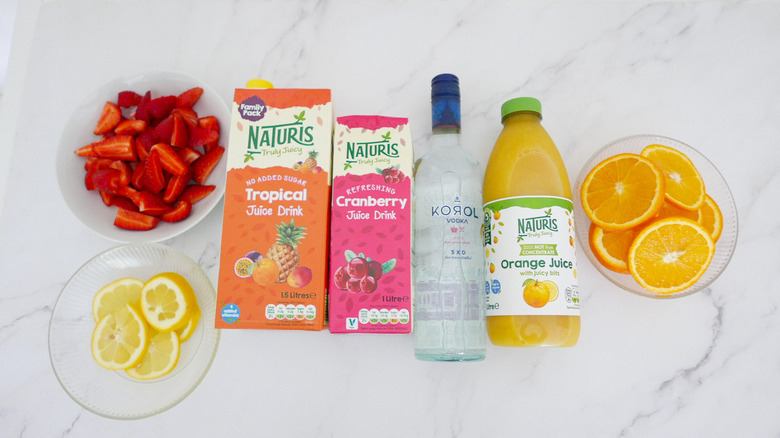 Ting Dalton/Mashed
Dalton makes her jungle juice with three kinds of fruit — strawberries, oranges, and lemons — and three kinds of juice: cranberry, orange, and fruit punch (or tropical juice). The only spirit she uses is vodka, though, as she prefers this to be a drink that's moderately alcoholic "without tasting the booze." She does say that you can make it with rum as well, or perhaps combine both rum and vodka, and you can, of course, add more liquor for a stronger drink. If you'd rather go the other direction and turn this jungle juice into a mocktail, Dalton notes that you can simply leave the liquor out altogether.
Prepare the fruit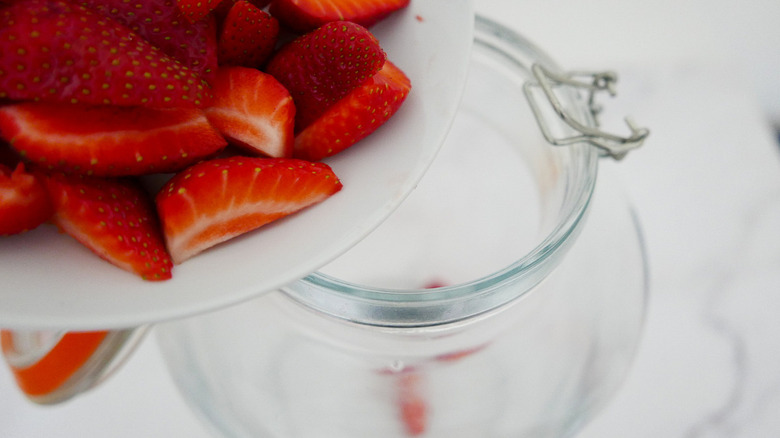 Ting Dalton/Mashed
Cut the stem ends off the strawberries, then slice them up. The oranges and lemons do not need to be peeled, but you'll be slicing these, as well, into rounds or wheels. If the citrus fruits have seeds, you may want to remove these before mixing the slices into the drink.
Combine the ingredients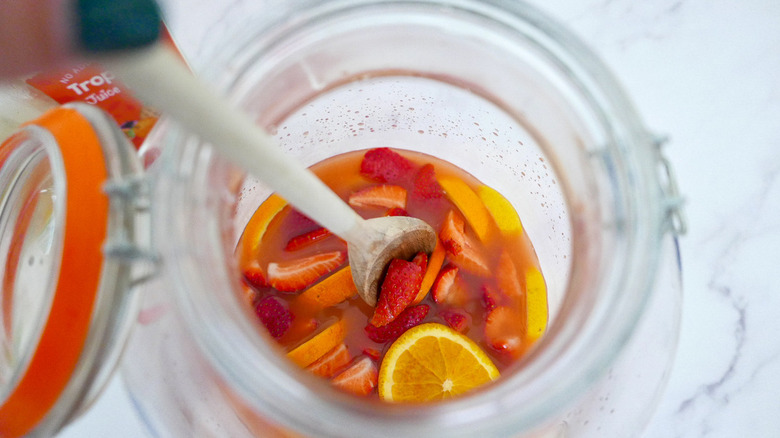 Ting Dalton/Mashed
Put the strawberries into a pitcher or drink dispenser and cover them with the vodka. Stir the mixture, then add the citrus and stir that in, too. Add the juices and — you guessed it — stir once more. If you add any of these ingredients in the wrong order, don't worry too much about it, as there isn't anything particularly crucial about the sequence in which everything is combined.
Serve the jungle juice and garnish with orange wheels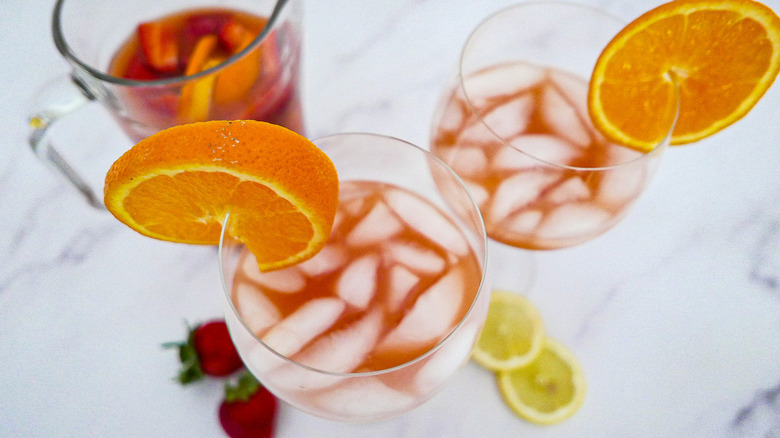 Ting Dalton/Mashed
You can serve the jungle juice over ice or, for a lower ABV version (one that would stretch the drink out farther, as well), you can mix it with club soda. If you want a garnish, you can use additional strawberries and/or citrus slices, or perhaps go super-fancy with a paper umbrella.
As Dalton's drink recipe contains no carbonated beverages, she says "you can even make this ahead of time and keep in the fridge for up to three days." If you do so, however, be aware that citrus peel tends to become mushy and bitter after soaking for that much time. You may wish to just mix the liquids in advance, then add the fresh fruit at the time of serving.
Easy Jungle Juice Recipe
This sweet and fruity jungle juice is quite a bit more elevated than what you were sipping in college.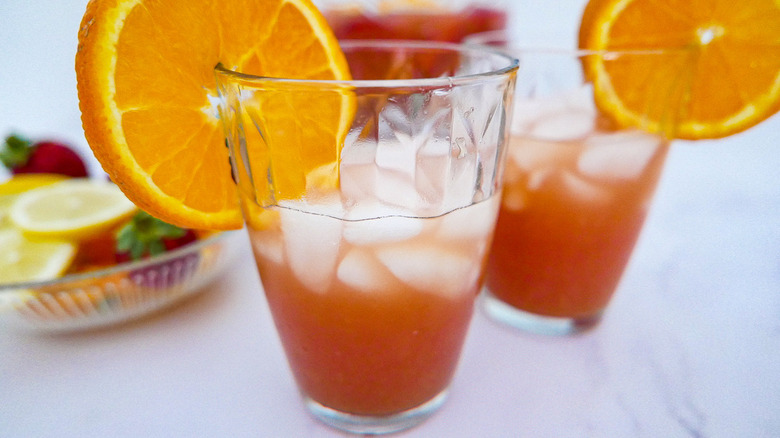 Ingredients
2 cups sliced strawberries
3 cups vodka
2 oranges, sliced
1 lemon, sliced
2 cups cranberry juice
2 cups orange juice
2 cups fruit punch
Directions
Put the strawberries in the bottom of a punch bowl or drink dispenser.
Add the vodka to the strawberries and stir to combine.
Stir in the orange and lemon slices.
Add the juices and punch to the fruit and vodka mixture, and stir to combine.
Serve the jungle juice over ice. Garnish with fruit, if desired.
Nutrition
| | |
| --- | --- |
| Calories per Serving | 265 |
| Total Fat | 0.2 g |
| Saturated Fat | 0.0 g |
| Trans Fat | 0.0 |
| Cholesterol | 0.0 mg |
| | |
| --- | --- |
| Total Carbohydrates | 34.3 g |
| Dietary Fiber | 1.5 g |
| Total Sugars | 12.0 g |
| Sodium | 5.9 mg |
| Protein | 0.8 g |