16 Types Of Pasta Sauce And When You Should Use Them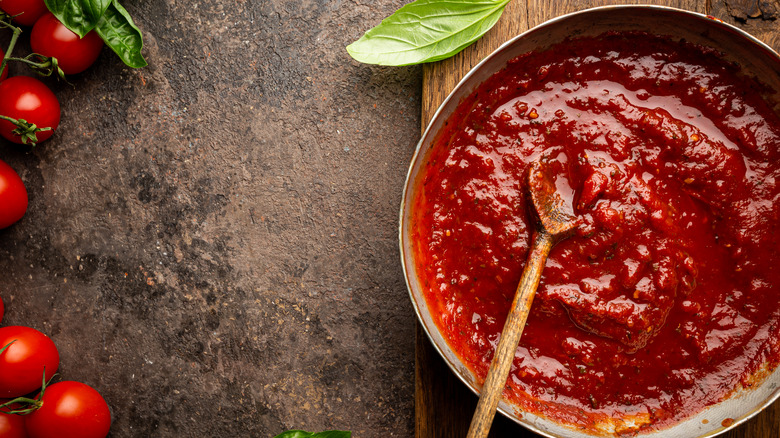 Goskova Tatiana/Shutterstock
Italy boasts one of the most robust cuisines in the world, not only for its hefty cured meats and starchy pasta but simply because of the sheer number of dishes. Each of the country's 20 regions has its own gastronomic heritage, from Umbria's famous black truffles to Calabria's feisty chili peppers. And they all have their own local traditions when it comes to pasta shapes and sauces.
According to Italy Magazine, there are at least 350 types of pasta. Some pasta shapes are imitations of the natural world, like orecchiette (little ears) and lumache (snails). Others such as casarecce and busiate are hand rolled around wooden pins to achieve their form. There are also various textures from smooth (lisci) to ridged (rigate). Shape, size, texture, and origin all play a part in how each type of pasta is served in regional dishes.
Here are some of the most common and iconic Italian sauces, as well as the pasta types that will pair best with them.
1. Cacio e Pepe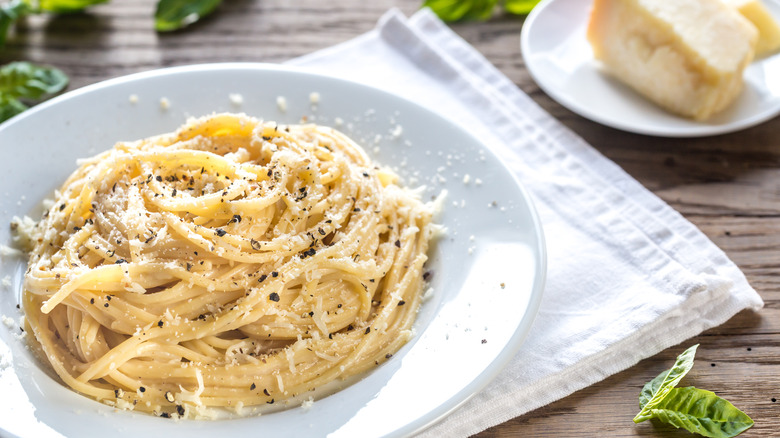 Alexander Prokopenko/Shutterstock
Cacio e pepe, literally cheese and pepper, is one of Rome's four cardinal pasta dishes. It is an incredibly simple sauce in terms of the ingredient list, but getting the smooth, creamy texture just right takes a practiced hand.
To be considered authentic, the dish must be made with black pepper and Pecorino Romano. As for the pasta, culinary tour guide and author Elizabeth Minchilli tells BBC that long noodles like spaghetti or tonnarelli are traditionally used since they are easier to coat with sauce. The secret to the creamy consistency, however, is the addition of pasta water. When you are straining the cooked pasta, be sure to save some of the water to pour back into the saucepan with the cheese. It is the slow, precise addition of this starchy water that perfects the dish.
Cacio e pepe embodies the essence of Italian cuisine: simple quality ingredients and masterful techniques. For presentation's sake — and to make this dish extra cheesy — some Italian restaurants serve the pasta in a hollowed-out Pecorino Romano cheese wheel!
2. Carbonara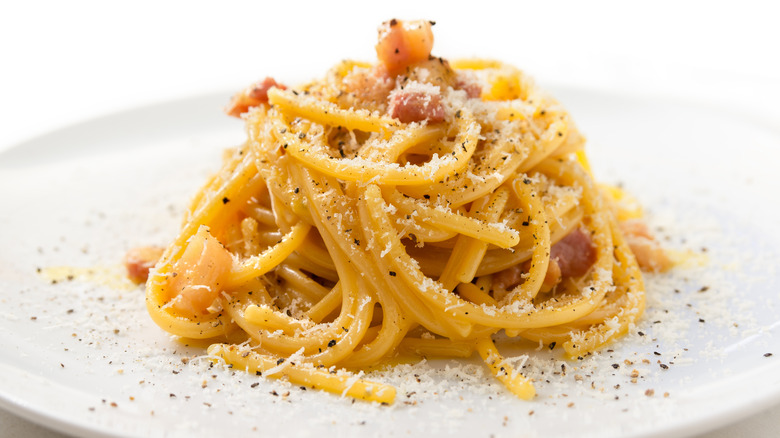 Alessio Orru/Shutterstock
Outside of Italy, people sometimes use cream in carbonara pasta dishes. It is important to note, however, that an authentic carbonara recipe does not make use of cream or milk; the smooth consistency of the sauce comes from egg yolks. This is also how the noodles get their distinctive golden color.
The only other ingredients for the sauce are guanciale (cured pork jowl), Pecorino Romano, and black pepper. Oftentimes, pancetta (cured pork belly) or even bacon will replace guanciale in carbonara recipes, but for the sake of authenticity strive for guanciale. Ultimately, the rendered fat from the pork gives the traditional sauce so much of its flavor.
Like cacio e pepe, a proper carbonara also uses the starchy cooking water gathered after straining the pasta. In this case, the type of pasta used is typically spaghetti, bucatini, or rigatoni. Remember, the trickiest and most essential part of preparing creamy sauces is nailing the texture!
3. Fra Diavolo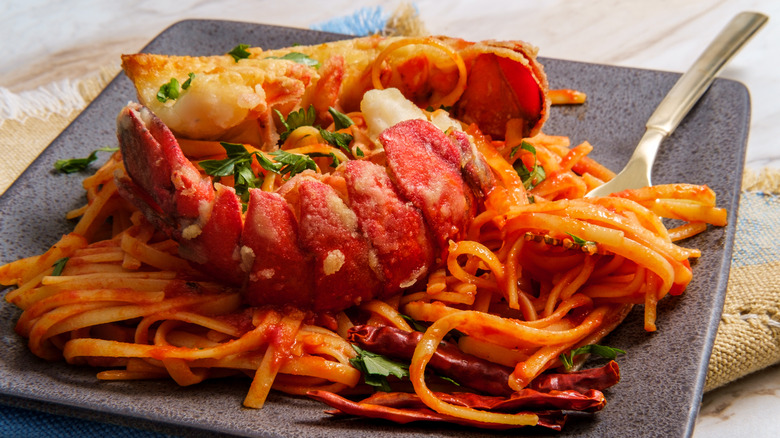 Ezume Images/Shutterstock
According to The New York Times, most chefs believe that fra diavolo — a spicy tomato sauce that typically accompanies seafood pasta dishes — is the creation of New York-based Italian immigrants. However, the publication does note that quite a few descendants of those early immigrants swear that their ancestors brought the sauce from the old country. Interestingly, the historical bandit-turned-warrior Michele Pezza was an Italian with a fiery nature that earned him the nickname Fra Diavolo (Brother Devil). However, there doesn't appear to be a tangible connection between the man and the sauce.
Whatever the story behind it, fra diavolo has become a popular way to enjoy spaghetti or linguine with seafood. In restaurants, it is usually made with lobster but many recipes choose to include shrimp or mussels instead. The seafood is served in a sauce made with tomatoes, crushed chili pepper, onion, white wine, garlic, and a few other basic ingredients.
4. Arrabbiata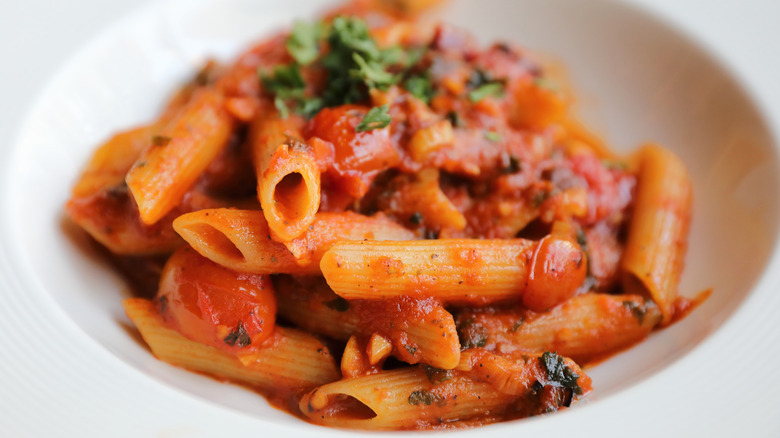 Piyato/Shutterstock
Perhaps the progenitor of fra diavolo is the unquestionably authentic Italian arrabbiata sauce. Italy Magazine pegs this spicy tomato sauce as a Roman dish, though the heat often comes from Southern Italy's Calabrian chili peppers. If you don't have access to Calabrian peppers, crushed red pepper flakes will suffice. In Italian, the name of this recipe translates to angry, which is a good hint to express just how hot it can be!
Toss in some garlic, salt, and parsley, top with grated Pecorino Romano, and this easy-to-make pasta dish is complete. Because this sauce is so simple, other variations exist, such as the Food Network's recipe that includes red wine and fennel seeds. This hot sauce is most often paired with penne rigate, but bucatini and spaghetti are also common pasta shapes used. Unlike fra diavolo, arrabbiata doesn't incorporate seafood or any other type of protein. This can be a wonderful dish to make quickly on a weeknight after work.
5. Bolognese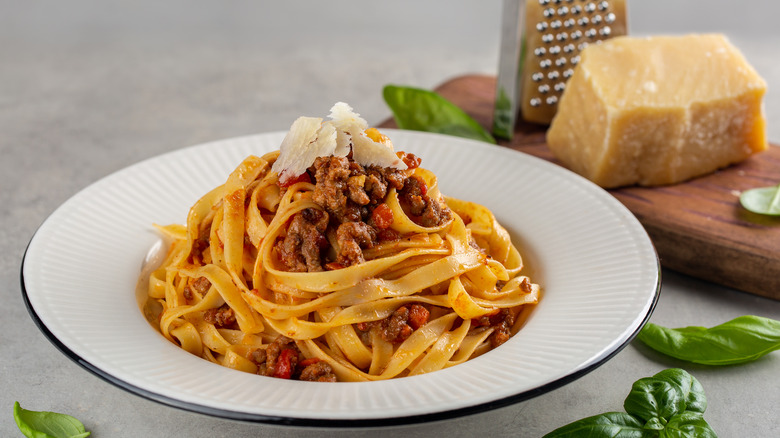 Olga Bombologna/Shutterstock
As far as Bolognese sauce is concerned, Americans tend to couple ground beef with tomato sauce and call it a day. But while that may be tasty and easy, the official recipe is a little bit more complex. In fact, the Emilia Romagna region's official travel site says that the first-ever written version of the recipe by Pellegrino Artusi published in 1891 doesn't even include tomatoes or beef — it called for veal instead.
Since then, the ingredients have slightly changed. While some people may still cling to veal, the official recipe codified by the Bologna Chamber of Commerce and the Italian Academy of Cuisine in 1982 has replaced it with ground beef, adding tomatoes to the ingredients as well. Pancetta (salt-cured pork belly) remains from the original recipe, as do vegetables like carrots, celery, and onions. Milk, broth, butter, and white wine are also present, which will probably surprise anyone who has only ever eaten the American version. Americans also tend to couple Bolognese sauce with spaghetti, but the official pasta for ragù Bolognese is tagliatelle. These flat noodles have more surface area to pick up the rich chunky sauce.
6. Puttanesca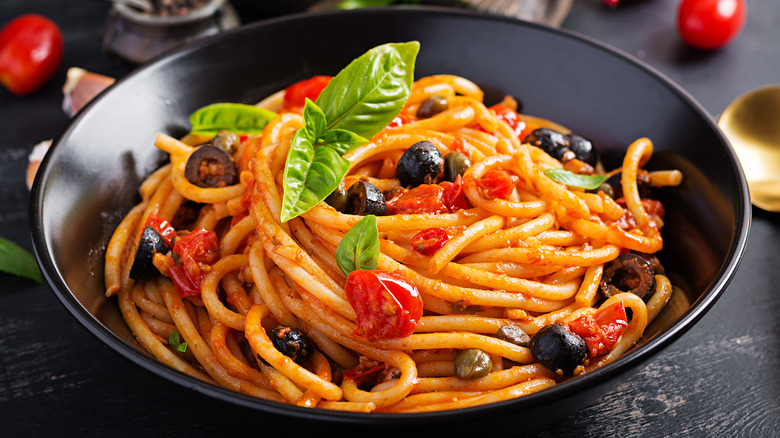 Timolina/Shutterstock
Puttanesca sauce is one of those everything-but-the-kitchen-sink recipes. Made with capers, olives, tomatoes, chili pepper flakes, garlic, and anchovies, it offers savory, spicy, tangy, and salty flavors all at once. Long pasta noodles like spaghetti are preferred for this dish. 
According to Italy Magazine, the origin of pasta puttanesca is murky and somewhat scandalous. Some think that the name for this sauce comes from the Italian word puttana, which means whore in English. This interpretation has led people to believe that the recipe was first served in Neapolitan brothels. Others suggest that the root of the name is actually the phrase "​​una puttanata qualsiasi," which translates to "any kind of garbage" or, as Vice succinctly puts it, "random s**t" — a request some late-night customers made of a chef on the island of Ischia off the coast of Naples. 
So while food historians can generally agree on the location of origin being in or around Naples in the Campania region, the jury remains out on the real story behind one of Italy's most popular pasta dishes. 
7. Pesto alla Genovese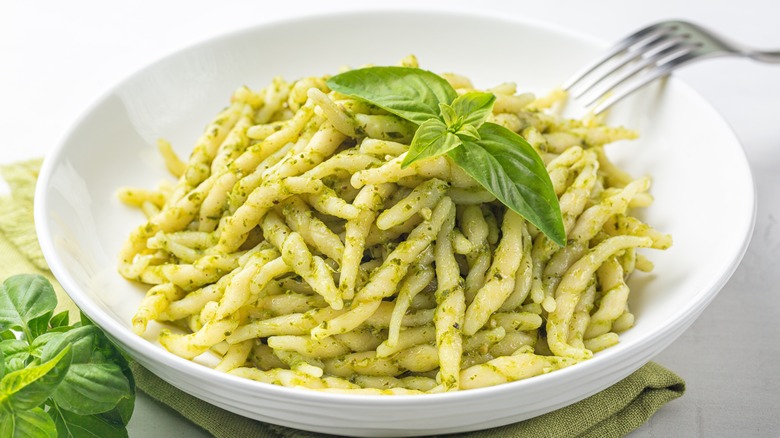 Olga Bombologna/Shutterstock
Much of what the international community knows of Italian cuisine comes from Central or Southern Italy, but the northern regions have their own unique and delicious culinary traditions too. One of the most famous is pesto, a green sauce made with fresh basil, pine nuts, olive oil, garlic, salt, pecorino cheese, and either Parmigiano Reggiano or Grana Padano (via Visit Genoa). Genoa prides itself so much on this recipe that the city registered its locally grown basil as a D.O.P. product, giving it protected origin status (via Genovese Storico Consortium).
The authentic way to prepare pesto alla Genovese is by grinding the ingredients with a mortar and pestle. In modern kitchens, a blender is often used instead to speed up the process. However, Genoa's official website argues that it alters the taste of the sauce, adding that the only way to properly enjoy pesto is by making it the old-fashioned way.
Choose a Ligurian pasta for this sauce, like trofie (a medium-length tightly coiled noodle) or trenette (a long flat noodle). Boiled potatoes and green beans are also often added to the final dish (via Taste Atlas).
8. Ragù al Cinghiale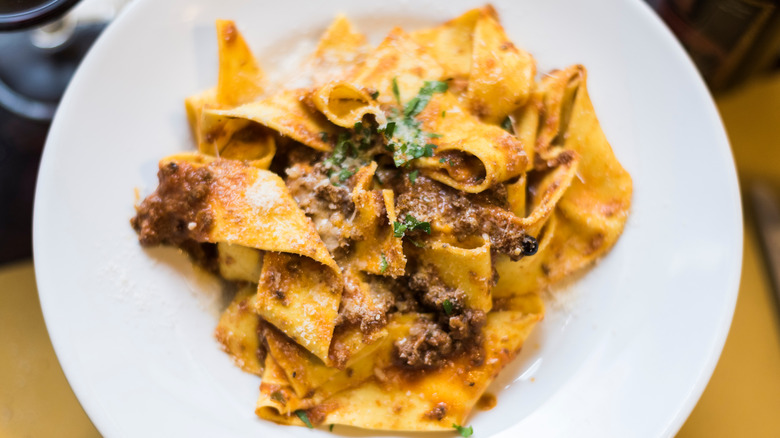 Door Zone/Shutterstock
It might be news to you, but meat sauce comes from a number of places other than Bologna. Just south of Emilia Romagna is the region of Tuscany, where wild boar is the meat of choice. Why is that? Well, they're everywhere! Tuscany's official tourism website reports that there are approximately 150,000 wild boars in the region. The game meat is so prevalent that there are several wild boar festivals that take place throughout the year, allowing people to gorge on this local delicacy.
To make Tuscan wild boar sauce, aka ragù al cinghiale, mix the meat with celery, juniper berries, bay leaves, and rosemary. This mixture will marinate overnight in a combination of water and vinegar. The next day, sauté celery and onion in a pan and add the meat with some additional seasonings, red wine, and tomatoes. The classic pasta to serve with boar ragù is egg pappardelle — a very wide, flat, long pasta noodle. Be sure to enjoy a nice glass of Chianti alongside it!
9. Aglio e Olio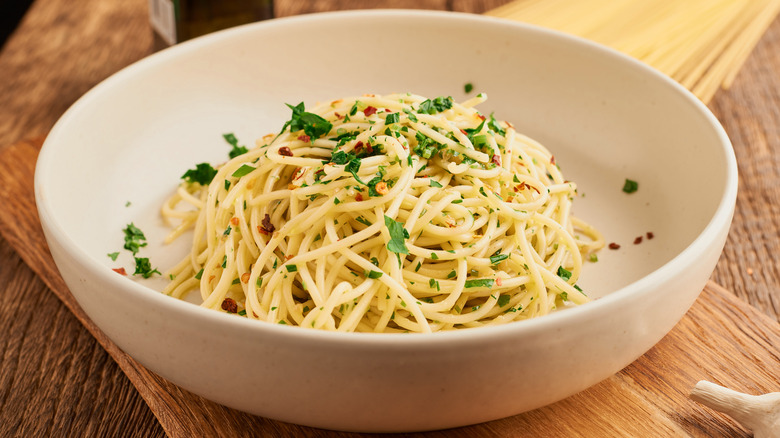 Ser Photo/Shutterstock
Garlic and olive oil are synonymous with Italian cooking, and that's what this dish is all about. Perfect for summertime, after work, or for anyone who is on a diet but still wants to get their pasta fix, aglio e olio is light, quick, and incredibly simple. Other than the two ingredients in the name (garlic and olive oil), it only calls for red pepper flakes (or fresh red chili pepper if available), parsley, and salt. Calling it a sauce may be a stretch, but this is one of the most common pasta preparations in Naples.
Most recipes for aglio e olio use spaghetti or other types of long, thin pasta strands. These are all basic ingredients that most people already have in their homes, which makes it easy to whip up this dish without any special preparation. Just finish it off with some freshly grated cheese, such as Parmigiano Reggiano or Grana Padano, and dig in.
10. Colatura di Alici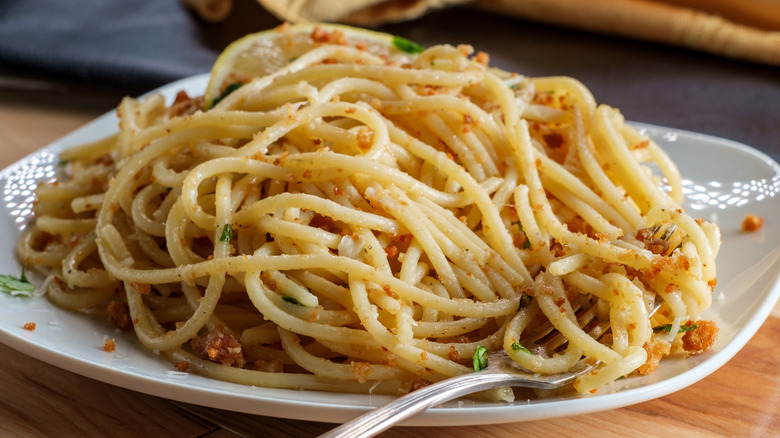 Ezume Images/Shutterstock
Colatura di alici is anchovy juice that hails from Cetara, a town located on Italy's famous Amalfi Coast. According to Italy Magazine, the practice of making colatura di alici by salt-curing, aging, and pressing anchovies is centuries old. Since the fish are caught in spring and summer and left to age for several months, the liquid is usually ready by the end of the year. Because of the timing, it has become a local Christmas tradition to serve spaghetti with colatura di alici. (Not to be confused with the Italian-American Christmas feast of the seven fishes — but do feel free to include it!)
This Italian fish sauce is packed with umami flavor, giving a seafood twist to basic pasta recipes like aglio e olio. Some people add bread crumbs to their recipe (via Italian Food Forever), or for a bright coastal flavor juice and zest some Amalfi lemons to mix in (via BBC Good Food).
11. Nero di Seppia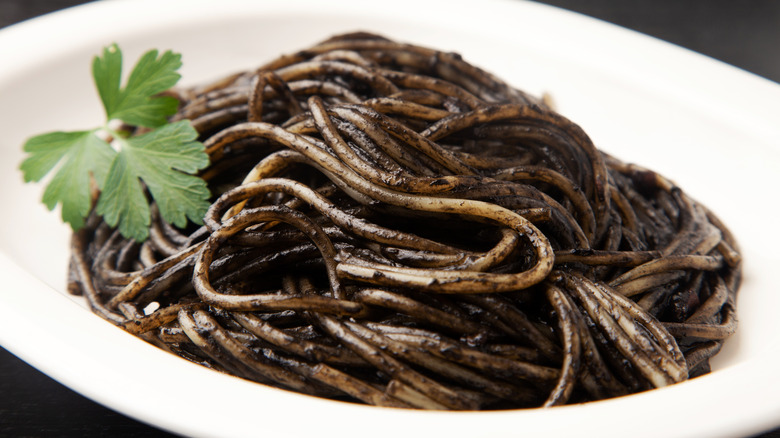 Sasazawa/Shutterstock
Did you know that black pasta was a dish? Nero di seppia (squid or cuttlefish ink) is used in a few different ways in Italian cuisine. Sometimes it is incorporated into the making of pasta dough, typically spaghetti. Another way to eat it is to combine the ink with a tomato-based sauce instead. Meanwhile, the watery city of Venice is renowned for its squid ink risotto (via Great Italian Chefs).
The use of squid or cuttlefish ink isn't just intended to create a striking visual. The substance brings a briny, umami flavor to pasta dishes that seafood lovers adore. Usually, nero di seppia sauce is coupled with actual squid as well, so as to experience the flavor on multiple levels and through various textures. Other than squid and tomato as mentioned, the recipe for nero di seppia sauce calls for white wine, garlic, olive oil, and a parsley garnish (via Serious Eats).
12. Butter and Sage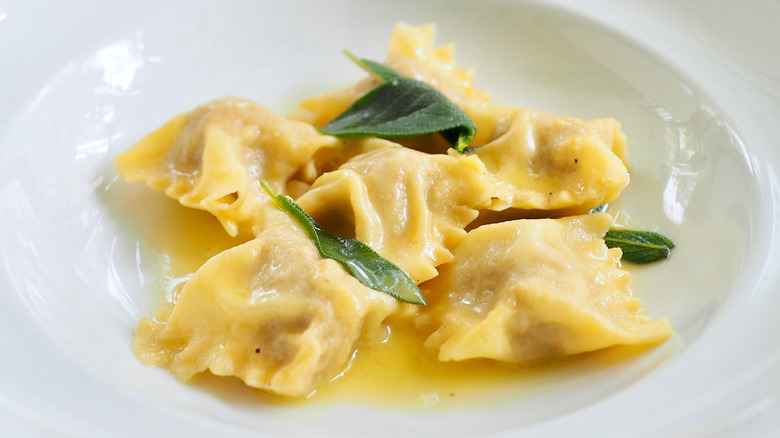 CTHB/Shutterstock
Butter and sage sauce is another simple creation that works wonders on the taste buds. When you brown butter in a pan, it takes on a nutty caramelized flavor. Paired with a fresh herb like sage, the delicious combination is especially satisfying during the colder months. Butter and sage is the sauce of choice for a traditional stuffed pasta dish from Piedmont, Italy, called agnolotti del plin. These small ravioli are pinched to form their pocket shape and stuffed with a filling made of cheese or ground meat and veggies. (Also try this sauce with potato gnocchi!)
In addition to butter and sage, the Eataly recipe for agnolotti del plin includes a generous portion of grated Grana Padano or Parmigiano Reggiano cheese. Finishing it off with some fresh white truffle shavings will really send this dish over the top, but this is an optional and admittedly expensive ingredient that can be difficult to obtain in the United States.
13. Truffle Cream Sauce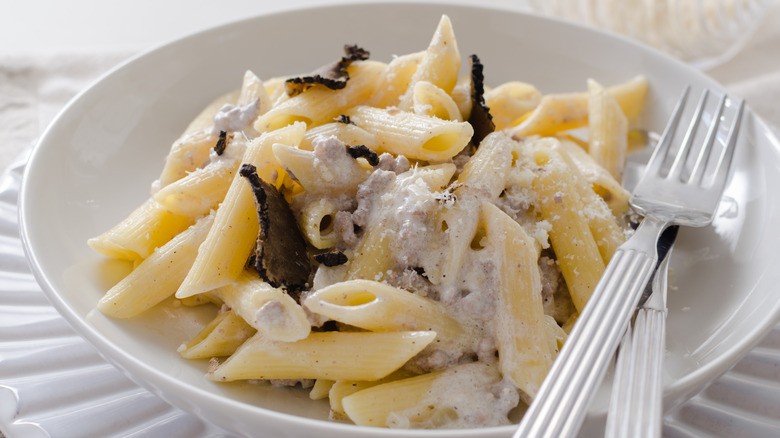 Olga Larionova/Shutterstock
Norcia and the Italian region of Umbria as a whole are world-famous for their meat and truffles (via Italian National Tourist Board). So it only makes sense that one of the most iconic dishes from the town — pasta alla Norcina — combines the two in one incredibly decadent truffle cream sauce. Chunks of Norcia pork sausage and fresh black truffle shavings come together for a meal that boasts a deeply savory flavor and an intoxicating aroma.
It must be said, however, that this exquisite dish isn't for the budget-conscious home cook. Fresh Italian truffles can be ordered via online specialty markets, but they are highly prized and therefore expensive. Importing authentic Norcia sausages also carries a decent price tag. So the original version might only be a dinner reserved for special occasions. For a more wallet-friendly recipe, find a high-quality pork sausage from your local meat shop and omit the truffle shavings. (Vegetarians can also omit the meat entirely and focus on the truffle instead.)
As per Taste Atlas, other ingredients in the Umbrian truffle cream sauce include white wine, cream, onions, and Pecorino Romano. Pasta alla Norcina normally uses rigatoni, penne, or another tubular pasta.
14. Clam Sauce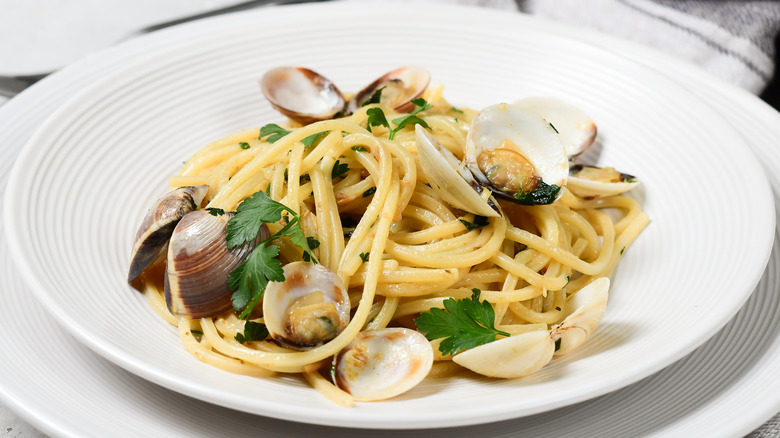 Elena Katkova/Shutterstock
Linguine alle vongole, aka linguine with clams, is probably the most well-known type of Italian seafood pasta. (The recipe can also be made with spaghetti or another kind of long pasta noodle.) There are two versions — bianco and rosso — and determining which one is better might spark a lively debate in your household.
The white sauce is made with white wine, olive oil, and garlic (via The Pasta Project), while the red sauce is made with San Marzano tomatoes (via Ciao Italia). There are also several recipes for linguine with clams in red sauce that add anchovies into the mix (via Food Network).
As for the clams, use a small variety such as Manila or littleneck. Fresh clams are preferred, not only for taste but also for the final presentation. When plating the dish, some of the clams are taken out of their shells and chopped, while others are left whole. 
15. Pesto alla Trapanese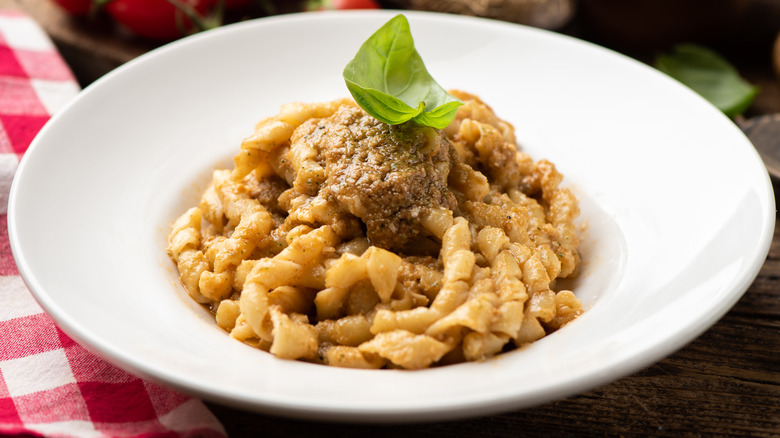 Fabio Balbi/Shutterstock
If it isn't part of your regular repertoire, you might not be aware that there is more than one type of pesto sauce. The green pesto from Genoa is the most internationally recognized, but there are various pesto sauces made from different ingredients like roasted peppers and sun-dried tomatoes. This Sicilian pesto from the city of Trapani is made with tomatoes and almonds, instead of basil and pine nuts as in a classic Genovese. For this reason, it takes on more of a pinkish-red hue. Pesto alla Trapanese also includes pecorino cheese, and you might even find toasted breadcrumbs in some recipes.
Just as pesto alla Genovese is usually paired with a local Ligurian pasta, pesto alla Trapanese tends to be served with a Sicilian pasta called busiate. This medium-length pasta is a spiral-shaped noodle that resembles an old telephone chord. Realistically though, pesto sauce can be enjoyed with a wide range of pasta types.
16. Nduja Sauce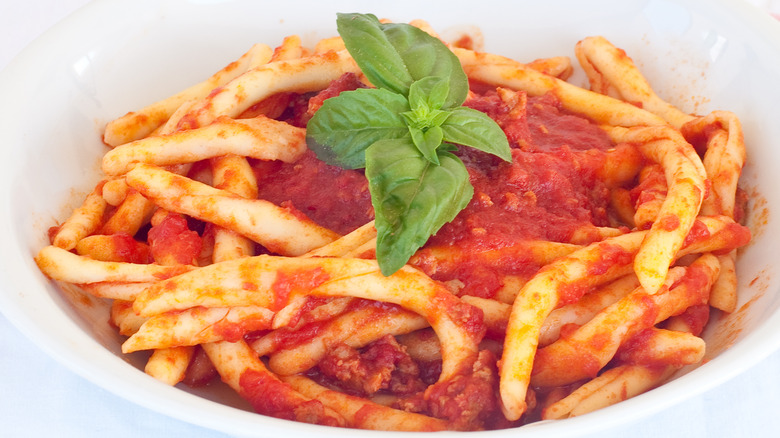 Ghische Forever/Shutterstock
If there is one element the Southern Italian region of Calabria is known for, it's spicy food. Calabrians live and die by their local chili peppers, which according to PepperScale rank at about 25,000 to 40,000 SHU on the Scoville scale, making them comparable in heat to cayenne peppers.
One way the people of Calabria utilize their hot peppers is in their salami, especially their signature 'nduja. 'Nduja is a unique type of pork salami because it has a very high fat content that makes it soft and spreadable, almost like a paste. This characteristic means that it is easy to cook it into a meaty pasta sauce. Red onions (in Calabria, the local Tropea variety is used) and tomatoes round out the base of this sauce.
The best pasta type to serve with this sauce is fileja, which originates from the same region of the country (via The Pasta Project). This is a rather doughy, medium-length, loosely twisted pasta that provides a nice, thick bite. It's certainly a niche pasta shape, so feel free to substitute with penne, fusilli, or ziti instead.