Noodles And Company Just Brought Back A Fan-Favorite Colorful Dessert
Pride Month is coming up in June, and there are a lot of ways for people to celebrate the occasion and support the LGBTQ community. Most people associate the month with the many Pride festivals, run/walk fundraisers, marches, and plenty of other events held around the world. While celebration is a big part of Pride Month, it actually started off as a more reflective affair. What's now a full month's worth of festivities began as Gay Pride Day, typically held the last Sunday in June. 
The original event held on June 28, 1970, was planned as a way to recognize the 1969 Stonewall Uprising, according to Today. Also known as the Stonewall Riots, the event protested the police raid of the New York City gay club, the Stonewall Inn. The six days of riots and protest that followed was a pivotal moment in the burgeoning gay rights movement, which continues to work to eliminate discrimination and inequality. It's also an opportunity for the world to remember and honor members of the LGBTQ community affected by hate crimes or HIV/AIDS, per the Library of Congress.
It is now the norm for companies to throw their support behind the gay rights movement, and Noodles & Company is doing just that by bringing back a fan-favorite dessert.
All the details on the Noodles & Company dessert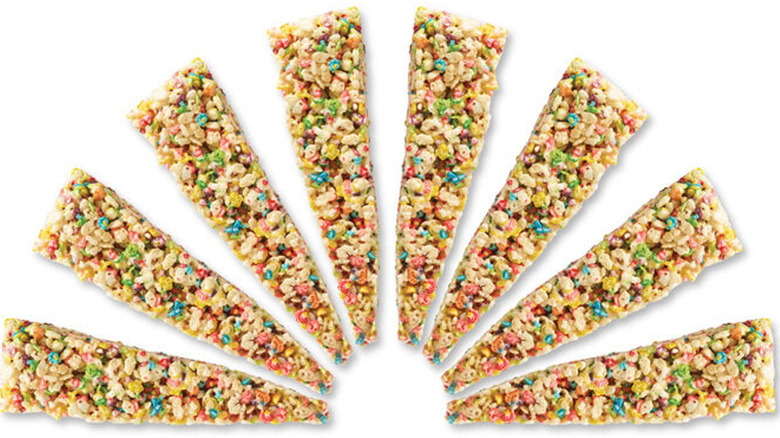 Noodles and Company
The fast-casual dining establishment is largely known for its noodle dishes, but they've been known to branch out into other food items, as well. With 458 locations in 31 U.S. states, there are plenty of opportunities for people to sample the Pride Crispy, back for a limited time starting on June 1, 2022, says Chew Boom.
Billed as a "rainbow rice crispy treat," the Pride Crispy features rainbow-colored crispy rice cereal to make it Pride appropriate. Other ingredients include marshmallows and melted butter. The treat will be available for the month of June at all participating Noodles and Company locations. The company is also pledging up to $25,000 in sales proceeds of the sweet item to benefit Out & Equal, an organization dedicated to promoting LGBTQ workplace equality.
Incidentally, the Pride Crispy is just one of a few new Noodles and Company menu items, as the company is in the testing phase of three Asian Broth Bowls at limited locations in Ohio, Illinois, and Colorado, says Brand Eating. If these options take hold, they'd be a significant expansion to the chain's existing Asian-inspired menu section. Yum!