The Best Electric Kettles Of 2022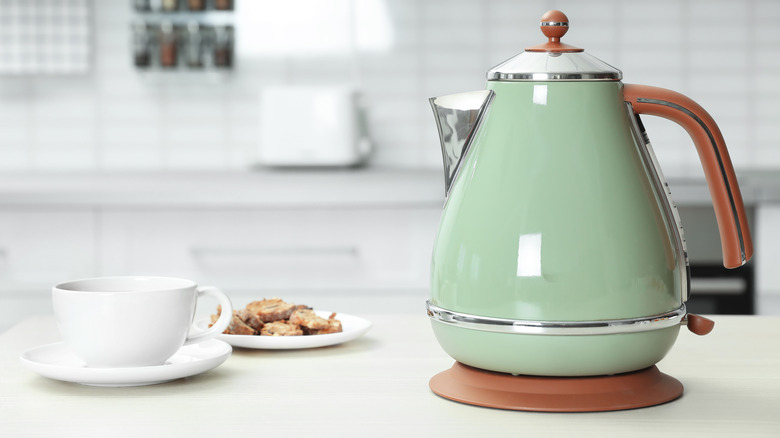 New Africa/Shutterstock
We may receive a commission on purchases made from links.
An electric kettle is pretty much exactly what the name implies — a vessel that heats water using electricity as opposed to a source of fire (like a gas range), conventional electric stovetop, or induction burner (via Explain that Stuff). The origin of the tea kettle can be traced back to the Bronze Age (circa 3500 B.C.) when the ancient Mesopotamians used teapots cast from bronze to boil water (via Electric Kettles Guide). According to Encyclopedia.com, kettles actually evolved from large pots that hung directly over an open flame — pretty much like a Dutch oven or cauldron. 
It wasn't until 1891 that Carpenter Electrical Company developed the first-ever electric teapot, and presented it at the Chicago World Fair exhibition two years later. But the credit for creating the electric kettle that we know today — with the auto shut-off feature that prevents unsuspecting tea drinkers from getting a nasty shock — goes to the UK-based company Russell Hobbs.
While the main purpose of a tea kettle is to boil water to brew tea, it can obviously be used for anything that requires high-temperature water (like instant oatmeal, cup o' noodles, pour-over coffee, blanched vegetables, or as a container to boil eggs). Just use your imagination and you'll find that the options are quite expansive.
How we selected these electric kettles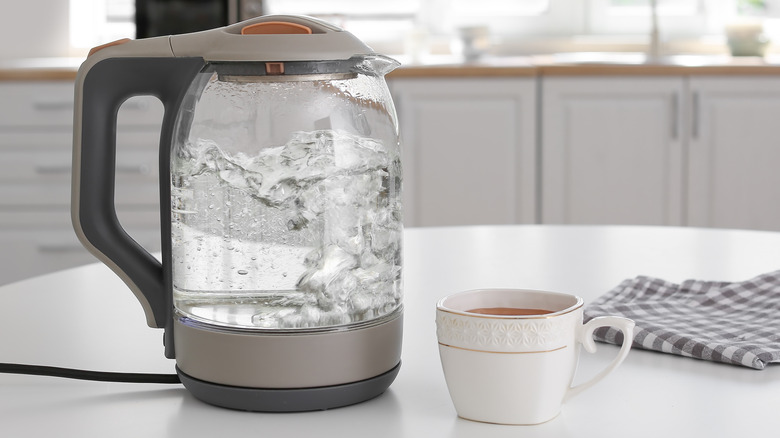 Pixel-Shot/Shutterstock
These electric kettles were selected in part because they had a favorable ranking overall among customers, independent businesses, and professionals who work within the beverage, food, and cookware industries. However, key features that make each of these kettles unique, aesthetics, affordability and price point, size and capacity, as well as the quality of customer support were also taken into consideration. (Because in the event that you might actually need to talk with a service rep, you want it to be a good experience, right?)
When it comes to choosing the right electric kettle for your home, you're the only person who can really make that decision. We know that there are a mind-boggling number of these gadgets on the market, and it's unbelievably easy to get swept away in the sea of kettle features, colors, sizes, and shapes. (And navigating through sometimes questionable reviews doesn't make it any less challenging!) That's why this guide will help you sift through the torrents of "looks cool" and "might work" to find what will really keep your cup full in the long run.
Best for pour-overs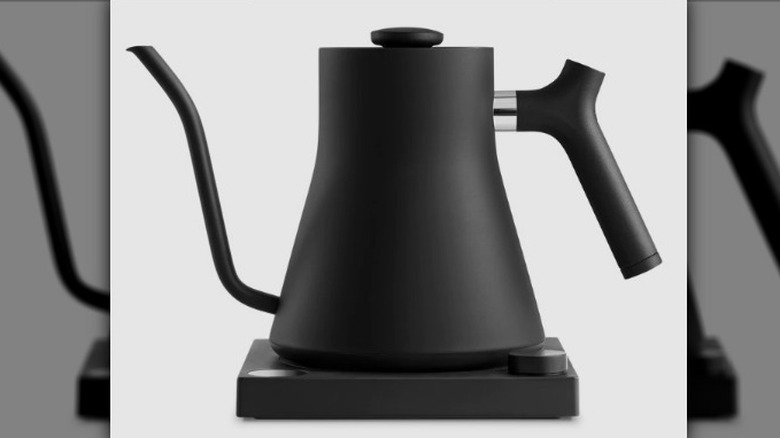 Fellow
Pour-over coffee needs an attentive, careful, and localized stream of water in order to taste absolutely perfect. You can't just go dumping an uncontrolled flow of hot water right over your coffee grounds. There's a science to it, and for science projects, you need special tools. That's why Fellow's Stagg EKG + Electric Gooseneck Kettle is the best choice for those who enjoy being in control of their java.
With an 80% overall approval and over 3,650 reviews on Amazon, Fellow's Stagg EKG + Electric holds 0.9 liters and is available in seven different color options. One independent reviewer on Wired notes that its sleek design, controlled pour, and ability to hold temperature for up to an hour are just a few of the favorable features. It's worth knowing that some Amazon customers expressed that the water overboils, as there's no signal when it reaches temperature (a mini issue that's also mentioned by The Spruce Eats).
The Stagg EKG's marketing is missing some important details; although there is no indication in the description or even on the manufacturer's website, this is actually a smart kettle. According to a review on BrewCoffeeHome, this gooseneck kettle is Bluetooth enabled, allowing users to turn it on from a different room. It also syncs up to an app where you can record coffee recipes. 
If you're looking to have maximum control over the way you start your day, Fellow's Stagg EKG + Electric Gooseneck Kettle starts at $133 on Amazon.
Best for tea drinkers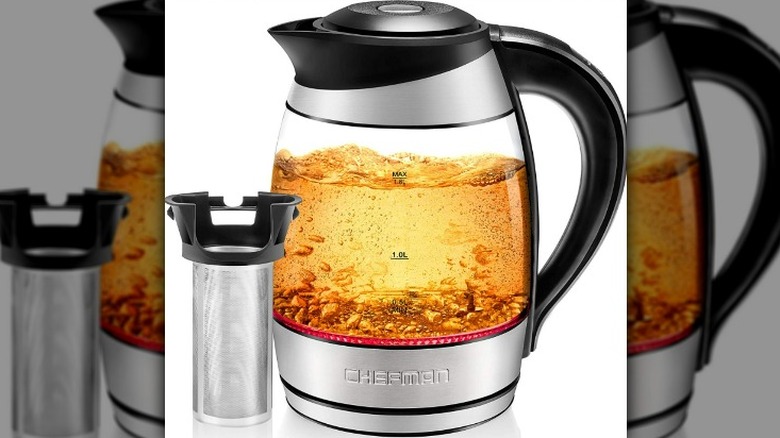 Chefman
There are two types of tea drinkers in the world: those who enjoy the occasional cuppa, and those whose blood type closely resembles Darjeeling. Luckily, the Chefman Digital Electric Glass Kettle is made for both. This electric kettle sports a borosilicate glass body and is available in a 1.8-liter capacity. It can be used to boil water or to make a large batch of tea thanks to the tea infuser that is included. The kettle even has built-in LED lights which cause the carafe to change colors depending on which of the five preset temperatures it's currently set to.
Over 4,200 customers have rated it an average of 4.6 stars with 78% overall satisfaction on Amazon. At least 90% of reviewers on Best Buy would recommend the Chefman Electric Glass Kettle to a friend. One minor setback is that it's a bit of a challenge to clean because the lid isn't removable, according to The Spruce Eats. An Amazon reviewer mentioned having issues with the kettle not staying on (though this might be easily fixed by resetting the actual outlet). While a number of critiques mention rust appearing at the bottom of the carafe, it appears to be a case of mistaken identity, according to a response by Chefman's customer support. It's actually just mineral deposits and stains from hard water.
If you drink more tea than water (and like pretty colors), Chefman's Electric Glass Kettle is available on Amazon starting at $34.
Best for multitaskers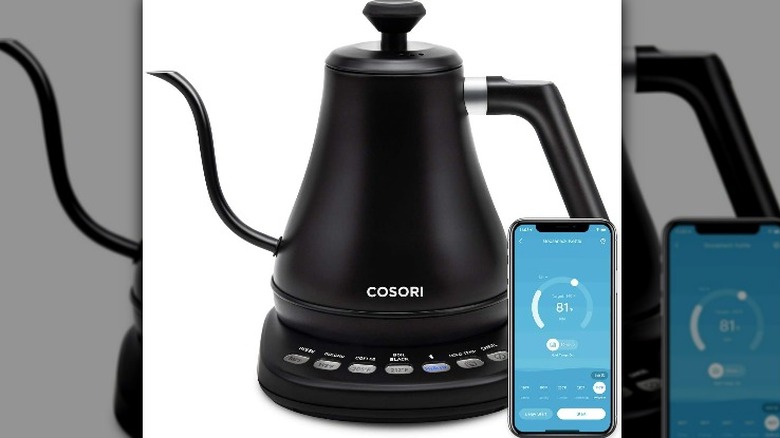 Cosori
If you feel like your to-do list never seems to shrink (or that having an extra three pairs of arms might benefit your I'm-doing-six-things-at-once personality), then it's time to check out the COSORI Electric Smart Kettle. With over 11,500 ratings averaging 4.7 stars and an 86% overall satisfaction score on Amazon, this Bluetooth-enabled tech kettle hovers around 5 stars in Target and Macy's reviews.
The COSORI Electric Smart Kettle is only available in a 0.8-liter capacity, featuring an auto shut-off function as well as five temperature presets (perfect for different varieties of tea). The Gadgeteer notes that there were some connectivity issues, however, a number of factors could be responsible for trouble pairing a device with the Bluetooth function.
On that note, one satisfied Amazon customer highlights that the best feature the COSORI Electric Smart Kettle offers is remembering its programmed schedule, even if you've lost Bluetooth connectivity. Some users still find it a bit of a pain that there's no recurring scheduling option, which means you have to set it manually every evening if you want warm water when you wake up. Nonetheless, that's relatively minor considering the overall functions.
Heating water will be one less item on your list to worry about. (Actually making your beverage is another story.) If you're happy to have fewer steps in your morning routine, the COSORI Electric Kettle starts at $78 on Amazon.
Best for the eclectic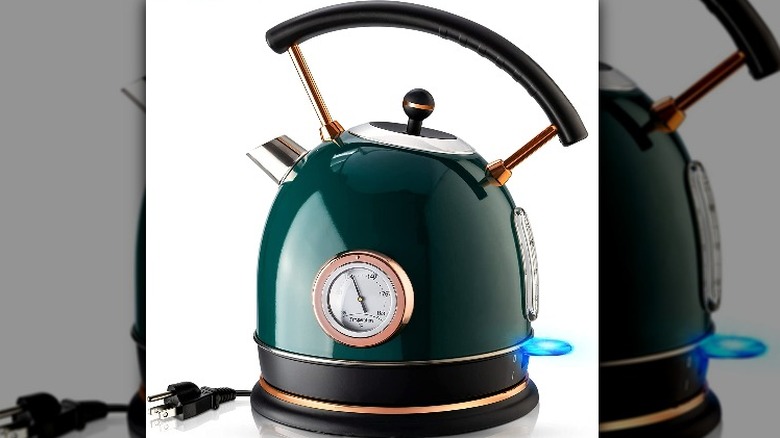 Pukomc
Have you ever been in a house that looks normal on the outside, but inside makes you feel like you're either on a movie set or have been transported to a strange museum specializing in one-of-a-kind oddities? Well, Pukomc's Electric Water Kettle would fit right into that type of abode.
This eclectic electric kettle sports a built-in thermometer, which gives it a scientific and vintage feel (and also displays the temperature, making it perfect for serious tea drinkers). Best Views Reviews rates Pukomc's Electric Water Kettle a 7.8 out of 10, citing superior temperature control, giftability, and customer support. Its ergonomic design and stainless steel body are another two major pluses for Amazon consumers. 
That being said, watch out when picking up the kettle as the exterior gets very hot. Be sure to use the handle or you'll get a nasty burn. A few reviews mention that the temperature gauge sometimes lets condensation inside, causing small leaks from the gauge. Even with these minor issues, this steampunk-like kettle has garnered over 1,700 Amazon reviews, with a 4.6 rating and 82% overall satisfaction. It's available in white, black, or dark green to match or contrast any interior.
If you're looking to add to your collection of kitchen oddities, you can buy the Pukomc Electric Water Kettle starting at $56 on Amazon.
Best ceramic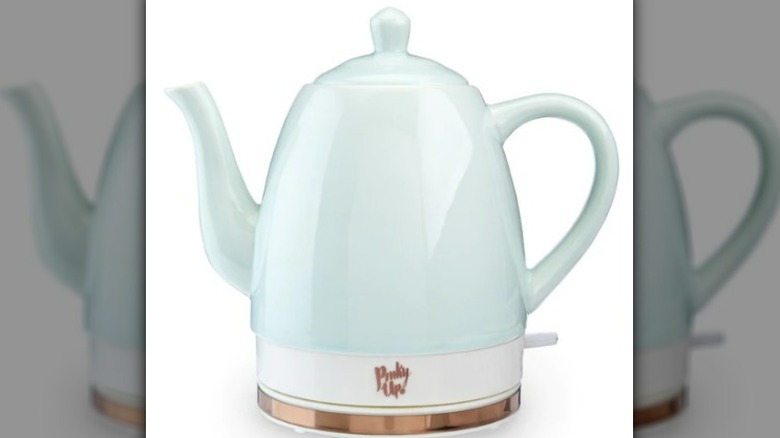 Pinky Up
Remember that when consuming tea (or coffee), you should do so with your pinky up as it will give you a sophisticated air ... or make you feel fancy in any case. That being said, the Noelle 1.5L Ceramic Electric Tea Kettle by Pinky Up will pretty much inspire you to live a life of simplicity (or perhaps reenact episodes of "Bridgerton").
With a 4.2 average rating and 625 reviews on Amazon, customers love that the Noelle Ceramic Electric Kettle makes kitchens feel comfy and cozy. It's worth noting that the kettle is a bit heavier than other models — it is ceramic, after all. Reviewers on Wayfair also love the hidden cord storage, which wraps tightly in the base of the heating element. Depending on where your outlets are placed, you might find that the cord could be a smidgen longer, as one Amazon customer pointed out.
It's important to note that the Noelle Ceramic Electric Kettle is not insulated, which means that the entire vessel including the lid can get pretty hot, as Amazon reviewers warn. This charming kettle takes up minimal kitchen counter space at about 10 inches tall and is available in three pastel colors.
If you're into hosting tea, finger sandwich, and Champagne parties, saunter over to Amazon, where Pinky Up's Noelle Ceramic Electric Tea Kettle starts at $46.
Best large capacity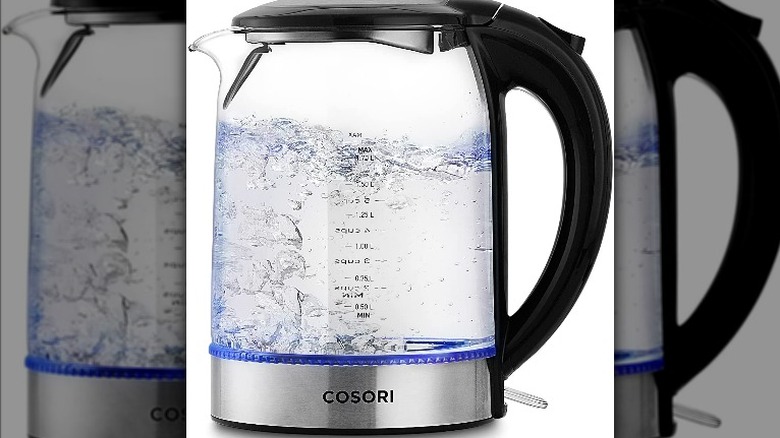 Cosori
The COSORI Speed Boil is made from stainless steel, BPA-plastic, and borosilicate glass, and reaches a rolling boil (for a full kettle) in just seven minutes. It's larger than some other electric kettles on this list, coming in at almost 12 inches tall. Unfortunately, the kettle has no cord storage at the base of its heating element. GearLab states that this kettle is affordably priced and perfect for individuals who don't need all the bells and whistles that similar appliances sometimes include.
This high-capacity electric kettle has LED lights embedded in the heating element which turn blue to signify that it is heating up. It's kind of like a meditative light show in your kitchen. Additionally, the COSORI Speed Boil shuts off on its own to prevent water from boiling over. It also has a boil-dry feature, which can detect if there is no water present in the carafe.
Some contributing Amazon reviews state that since the lid isn't removable, it's more difficult to clean (this issue is also the only negative point on Best Views Reviews). These individuals probably didn't read this particular review that goes into great detail about the COSORI Speed Boil and the exact cleaning process it requires.
If you're looking for an electric kettle that does one job and does it pretty darn well, you can purchase the COSORI Speed Boil starting at $39 on Amazon. It even sets you up with a 2-year warranty.
Best space saver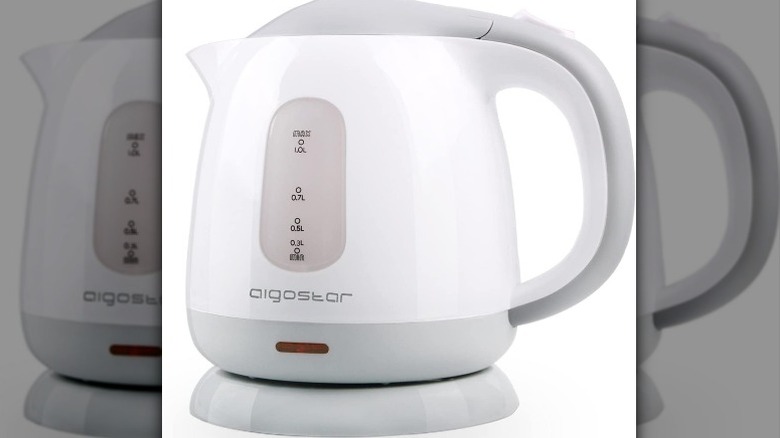 Aigostar
Described as "small but mighty" by one Amazon reviewer, Aigostar's Juliet boils water within only a few minutes — a convenient feature that you'll wholeheartedly appreciate. This little cutie is made with BPA-free plastic and is only 8 inches tall and 6 inches wide, meaning it takes up minimal space on your kitchen counter. The size is what makes Aigostar's Juliet perfect for small space living, like dorm rooms, motorhomes, or single-person dwellings. It also has cord storage in the base, which makes it even easier to tuck away when not in use.
While calcium and lime deposits are noted by some consumers, that's usually due to local water quality. The manufacturer states that the kettle needs to be cleaned after use, so if you are the type of person who likes to leave the water to sit for a few days (or hates cleaning in general), then maybe rethink this model for a second. (Keep in mind though, that cleaning and descaling are necessary with any kettle — electric or otherwise). Although a number of individuals claim their Aigostar Juliet continually smells of plastic, other reviewers countered the issue and noted that it could be caused by failing to follow the manufacturer's cleaning and care instructions.
If you're a bit short on space but find romance in little rituals (and little appliances), Aigostar's Juliet (or Romeo) can be purchased on Amazon starting at $20.
Best for travel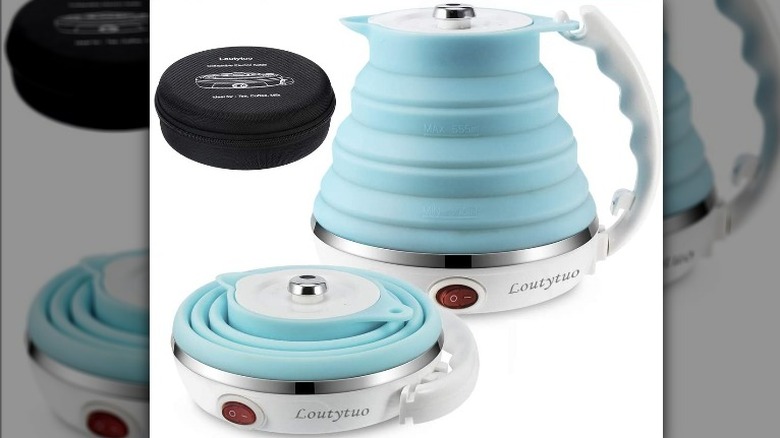 Loutytuo
The Loutytuo Ultrathin Silicone Travel Kettle has all the features of a single setting kitchen appliance, except that this mini kettle collapses to 3 inches flat. It's made with food-grade silicone and BPA-free plastic and comes in four colors. At capacity, the Ultrathin Silicone Travel Kettle holds 0.5 liters and reaches a full boil in only three minutes. Just like an at-home electric kettle, it has auto shut-off, boil-dry protection, and a warming feature that kicks on once the water temperature dips below 75 F.
One element that customers find quite useful is that this compact cutie can accommodate two different voltages, making it perfect for international travel — 220V for Europe and Asia and 110V for the United States, Canada, and Japan. Because the Ultrathin Silicone Travel Kettle breaks down so easily, reviewers really tout it as an incredibly convenient travel buddy. One consumer notes a design flaw with the locking mechanism on the handle: If it's not properly (and completely) assembled, you can risk burning yourself if the silicone loop pops off. Best Views Reviews gives it an overall rating of 8.6 out of 10, with scores of high eights and nines in each of the seven categories listed (functionality, value, size, giftability, temperature control, customer satisfaction, and customer support).
If you're in need of a compact kettle for your upcoming road trip, scroll on over to Amazon, where you can purchase the Loutytuo Ultrathin Silicone Travel Kettle starting at $49.
Best budget buy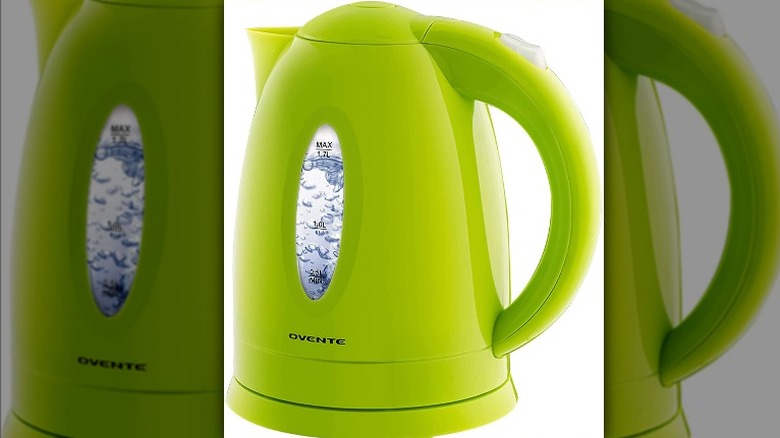 Ovente
The Ovente Electric Kettle is made with lightweight BPA-free plastic, which makes it relatively safe to touch (though it will still be warm). This simple kettle has one heat setting and holds 1.7 liters of water. For user safety, it also features an auto-shut-off function as well as boil-dry protection. It's available in five different hues (including lime green, bright pink, and ruby red) and has cord storage at the base of the appliance.
The main issue some reviewers seem to have with Ovente's Electric Kettle is that it's 100% plastic. (Doesn't this make you wonder if those individuals actually read the product description?) So if having a kettle made from BPA-free plastic makes you a little skittish, just pass on this one. It doesn't seem to be an issue to the other 28,000 customers who gave it 4.5 stars and a 76% overall satisfaction rating. (It's also ranked in the top 10 electric kettles on Amazon.) Customers appreciate that it's lightweight, boils fast, and also has the snazzy automatic shut-off feature to prevent over-boiling. While some consumers think it's difficult to clean, others find it to be the exact opposite. The verdict? Personal preference is completely up to each individual user.
If you're all about a killer deal and don't mind if your electric kettle is made out of BPA-free plastic, Ovente's Electric Kettle is available on Amazon with a low starting price of $14.
Best splurge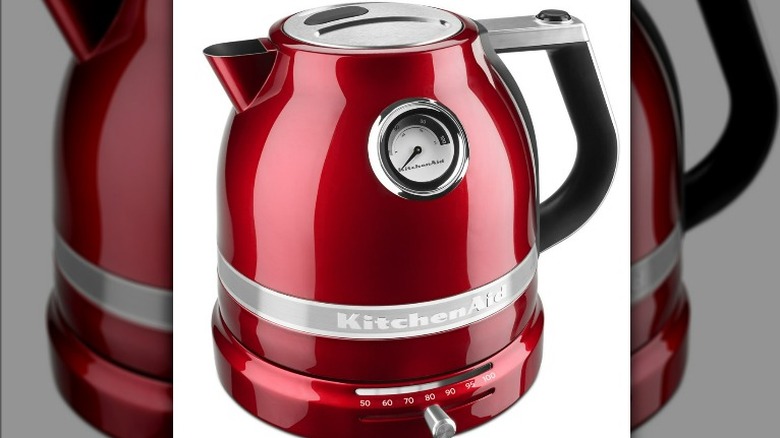 KitchenAid
KitchenAid has been in the appliance business for over 100 years and originally sold one product: the standing mixer. Over the past 10 decades, the company has produced both large and small appliances at varying price points, including the KitchenAid Pro Line Electric Kettle. The Pro Line series was designed for individuals who aren't necessarily professional chefs, but definitely cook like they are.
This 1.5-liter electric kettle comes in four different colors with a frosted or pearl finish. Though it's a modern-day gadget, the KitchenAid Pro Line Electric Kettle bears a striking resemblance to what you might find in a 1950s kitchen (that's part of its appeal). It has a dual-layer body, which means you don't have to worry about accidentally burning yourself. On that note, some consumers mention that it's a bit tough to clean because the lid can't be removed. 
Meanwhile, other individuals are perplexed by its BPA-free plastic liner. The folks at Elegant Serenity state that customer support confirms that while there is a minimal amount of plastic in the design, the internal lining is mainly stainless steel. And when it comes to customer support, KitchenAid excels. Best Buy reviewers rate this kettle at 4.9 stars with a 100% recommendation for friends, while Trusted Reviews also gives it high marks, noting the only aspect that could be improved is the high price tag.
If you're a person who enjoys the finer things in life, Amazon sells the KitchenAid Pro Line Electric Kettle starting at $214.
Best overall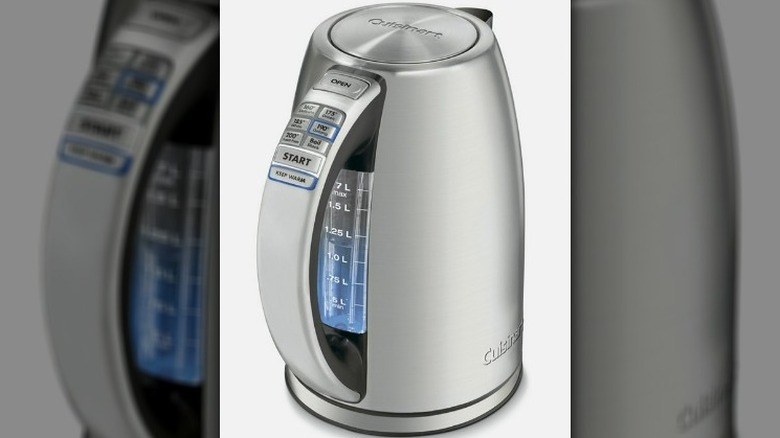 Cuisinart
Durability, longevity, and a 3-year warranty are just a few features that customers love about the Cuisinart PerfecTemp Cordless Electric Kettle. Not only is it compact (it's just under 10 inches tall), but it reaches a boiling point in under four minutes, according to Wirecutter. It also has a removable and washable scale filter that prevents any potential mineral deposits from making it into your cup. The Cuisinart PerfecTemp Cordless Electric Kettle has cord storage in the base of the heating element, which makes it easy to tuck away when not in use. It holds 1.7 liters (around 7 cups) and has six preset temperatures (for assorted teas and coffee) built into the actual handle — its convenience is a big plus for Amazon reviewers.
Multiple people share that they've had their Cuisinart PerfecTemp Cordless Electric Kettle for many years with no problems. And while minor in the grand scheme of things, the main gripe some reviewers have with this kettle is that it lets out a loud beep to signal that it's finished boiling. Still, Cuisinart's PerfecTemp Cordless Electric Kettle maintains consistently positive reviews on Amazon and rates 4.7 stars with an 82% approval rating from over 13,500 contributors. 
If you're looking for the best of the best, look no further. The Cuisinart PerfecTemp Cordless Electric Kettle can be yours starting at $99 on Amazon.