That Time Morton's The Steakhouse Made An Impromptu Airport Delivery
Anyone who has taken a cross-country commercial flight understands it can be a miserable experience. When traveling for business with a same-day roundtrip itinerary beginning early in the morning, it is practically guaranteed to be a miserable experience. Given the high degree of variability in the availability, quantity, and quality of food that might be served in-flight, as well as the stress incurred by travelers under these circumstances, debilitating hunger pangs are likely to set in. Even in the best of cases — first-class or business-class roundtrip tickets for flights whose durations and take-off times will guarantee meal service — passengers will not be dining on Cornish game hens as they might have done in the 1960s (via Travel + Leisure).
According to Time Magazine, after traveling to Tampa for a quick lunch meeting, entrepreneur Peter Shankman was headed home to New York City, waiting for his evening Newark-bound flight to begin boarding when daydreams of a steak dinner entered his mind. Well, as the adage goes, "You miss all the shots you don't take." Taking to Twitter, Shankman tagged Morton's The Steakhouse and requested the restaurant meet him at the arrival gate in two hours with a porterhouse. He ended the tweet with a "K, thanks," followed by a smiley face, lest there be any confusion over whether he actually expected to be greeted in Newark with a steak dinner.
Sometimes dreams really do come true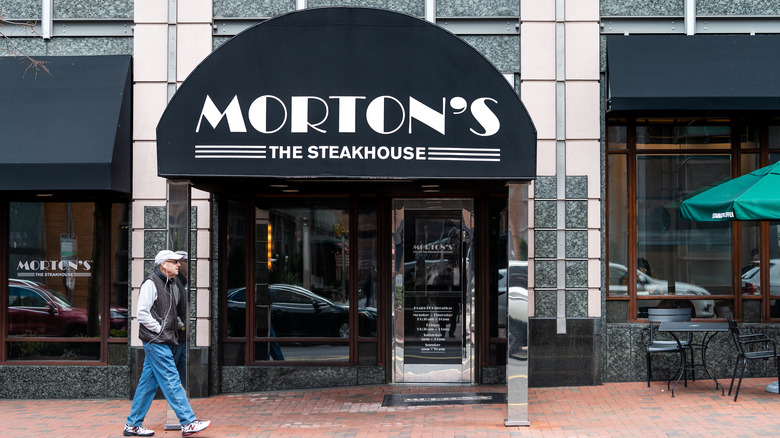 Andriy Blokhin/Shutterstock
After deplaning in Newark, Shankman was greeted by a server from Morton's The Steakhouse, outfitted in a tuxedo, who was ready with a to-go bag containing a porterhouse complete with all the fixings (via Time). Shankman, though he is a semi-public figure with more than 100,000 Twitter followers as well as a loyal customer and avowed fan of the high-end steakhouse, did not expect the restaurant to take his cheeky tweet seriously.
Morton's porterhouse steak weighs in at 24 ounces. In a review of the Morton's that opened in the Hyatt Regency hotel in Rochester, the Democrat & Chronicle reports the porterhouse is the most expensive cut of steak at $68. Shankman was happy to help the restaurant create a buzz and drum up publicity around its airport stunt. According to Time, the entrepreneur updated his Twitter followers with a photo of himself, a shocked expression on his face, standing next to the Morton's server, to-go bag in hand. The photo was captioned simply, "I. Was. Floored."
The complicated logistics required to deliver the porterhouse to Shankman makes the stunt all the more extraordinary. Going from tweet to arrival gate within two hours is an impressive feat for a company to coordinate, especially considering it employs more than 4,000 people (per Zippia).