Easy Pickled Beets Recipe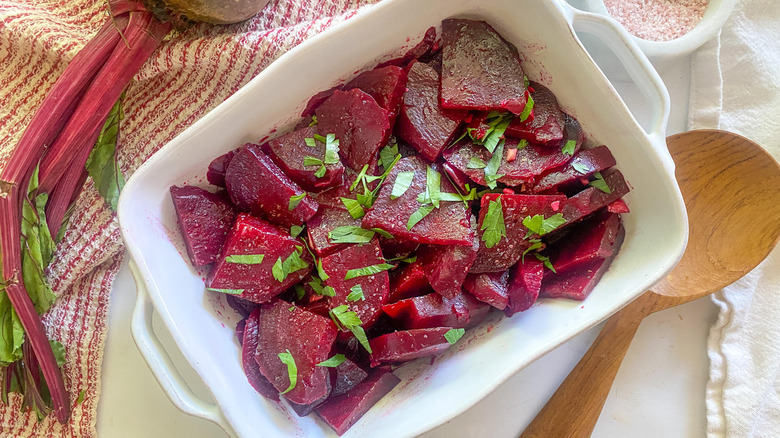 Miriam Hahn/Mashed
Beets may not be the first vegetable you think about whipping up as a side dish, but the dark red root's sweet and earthy flavor pairs well with just about every protein, sharp cheeses, and other veggies, too. Plus, according to Healthline, it's a powerhouse food that may help improve heart, brain, and digestive health while fighting inflammation. But if you're not sure how to whip up a batch of beets, there's nothing complicated about it — an easy pickled beets recipe that requires very few ingredients is the perfect way to add beets to your menu. "I love how easy this recipe is and how much flavor comes from just a few ingredients," says Miriam Hahn, recipe developer and health coach. "This is my favorite way to eat beets, which are loaded with antioxidants, vitamins, and minerals." 
Just make sure you have ume plum vinegar on hand before you start cooking, as it's the secret ingredient that makes this recipe shine. "It adds so much to this recipe. Ume plum vinegar has a salty, fruity, yet tart flavor. It is a really potent vinegar that goes a long way," Hahn explains. Also, this recipe calls for a rather speedy pickling process, so you won't have to wait around for days as the beets pickle in a brine. Instead, you'll toss them in a vinegar-based dressing at the end, and voila! You'll have easy pickled beets, without the waiting time or hassle.
Gather your ingredients for easy pickled beets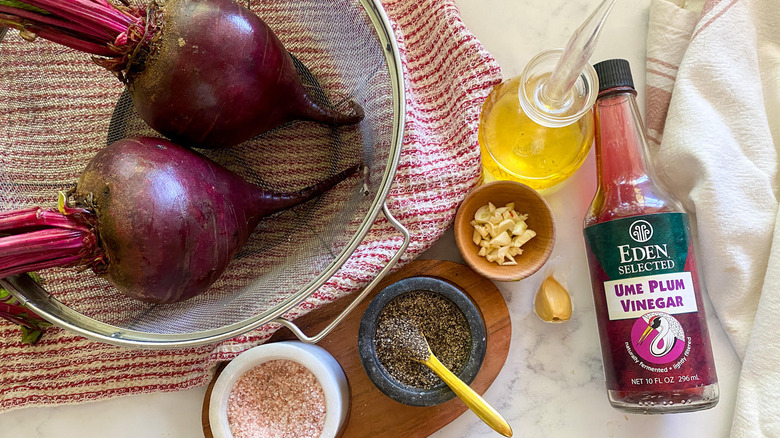 Miriam Hahn/Mashed
Very little is required to make a batch of pickled beets. Aside from the beets themselves (you'll need two large beets or four small ones) and the ume plum vinegar, all you need is minced garlic, olive oil, salt, and pepper. Hahn also suggests adding Italian parsley for topping, but notes that you could try other fresh herbs as well, like cilantro, basil, or chives.
While the ingredients in this recipe are pretty standard, you may be wondering why it doesn't call for a typical pickling brine. "Since beets are soft they easily absorb the vinegar dressing and you get great flavor very quickly," Hahn explains. "Because we are not going for a fermented probiotic affect that you get with a salt brine, there is no point in waiting." Hahn also notes that the ume plum vinegar has a stronger taste than regular vinegar, so even in a short amount of time, you really will taste that "pickled" flavor in these beets!
Cook and cool the beets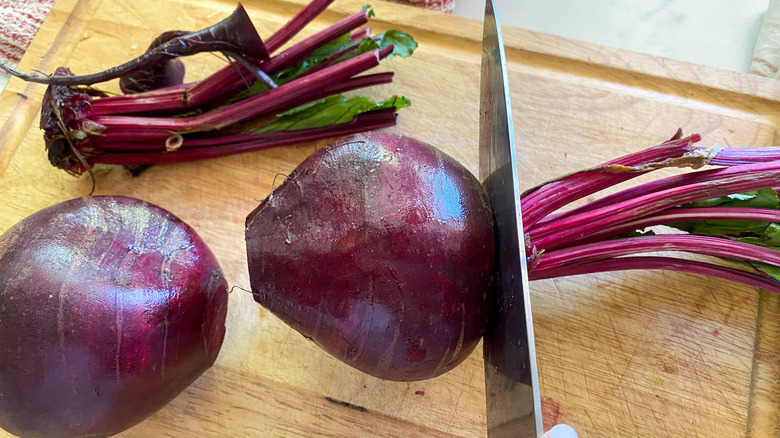 Miriam Hahn/Mashed
Working with beets isn't all that different from other root veggies — you'll want to cut off the stems and tails, boil them, and peel them. In fact, that's pretty much all you have to do to prep this pickled beets recipe. Specifically, once you've cut the stems and tails off the beets, place them in a large pot, and add water until it's roughly 3 inches higher than the beets. Bring the water to a boil and cook the beets for 30 to 50 minutes, depending on the size of the beets. They're done when you can easily insert a knife into the veggie and pull it out easily. Once they've cooked through, set them aside to cool for about 10 minutes. 
Make the dressing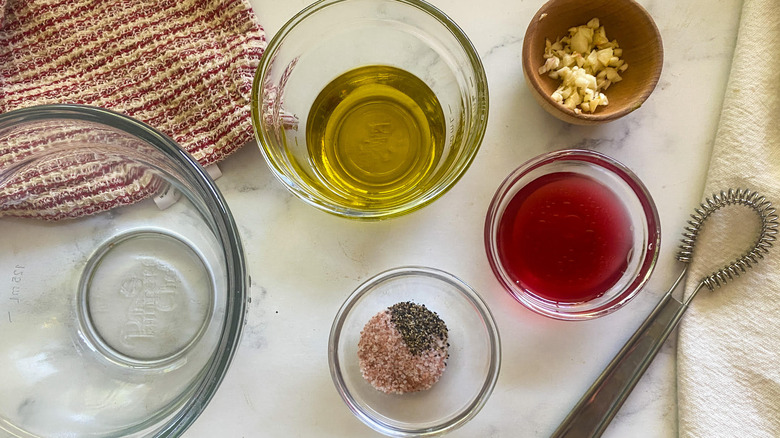 Miriam Hahn/Mashed
While the beets are cooling, you'll have time to whip up your dressing. In a small bowl, whisk together the garlic, olive oil, ume plum vinegar, salt, and pepper. When the ingredients are well-combined, set the dressing aside.
Peel and slice the beets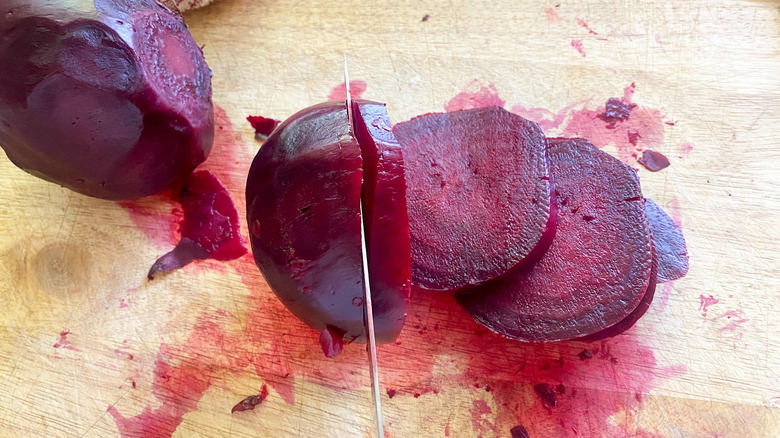 Miriam Hahn/Mashed
Once the beets have cooled enough to handle them, peel them with your hands or a paring knife. Just be forewarned, beets stain! Hahn suggests wearing kitchen gloves to prevent turning your hands red. 
When you've peeled the beets, go ahead and cut them into ½-inch thick slices, quarter them, or chop them into cubes. It doesn't matter which you choose; it's a matter of personal preference. 
Top with the dressing and serve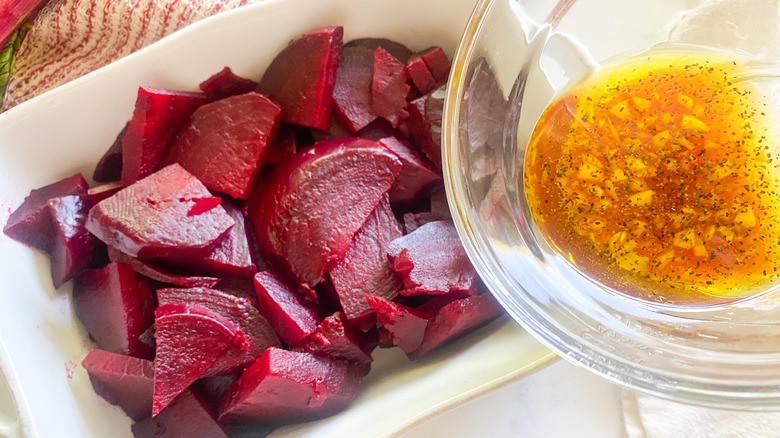 Miriam Hahn/Mashed
The only thing left to do is add the "pickling" part of this recipe, AKA the vinaigrette dressing. Pour the prepared dressing over the beets and toss lightly to combine. If desired, go ahead and add the fresh parsley or other herbs before serving. 
While beets may be thought of as a typical side dish, Hahn says you can also enjoy them as a snack on their own, or they can be added to a hearty salad. If you do plan to serve them as a side, you don't need to think too hard about what to add them to. "They go great with anything off the grill, pasta, paninis, wraps, salads, or even lettuce wraps," Hahn says. "They last for well over a week in your fridge, so you can have a little bit with each meal and get the digestive aid benefit." 
Easy Pickled Beets Recipe
If you're looking for a quick and easy dinner side dish, these pickled beets will do the trick.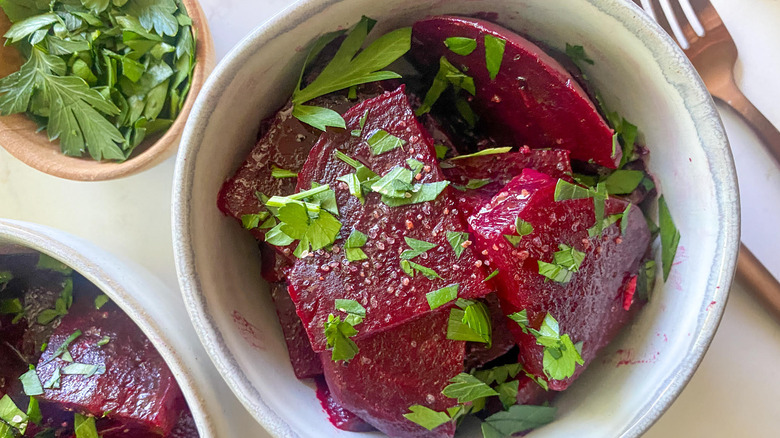 Ingredients
2 large beets
1 garlic clove, minced
3 tablespoons olive oil
2 tablespoons ume plum vinegar
1 teaspoon salt
½ teaspoon pepper
Optional Ingredients
Italian parsley, for topping
Directions
Cut the stems and tail off of the beets.
Place the beets in a large pot and fill with water about 3 inches above the beets.
Bring to a boil and continue to boil on medium-high heat for 30 to 50 minutes. This will depend on the size of your beets. You will know they are done if an inserted knife glides in and out easily.
Let the beets cool for about 10 minutes.
While the beets are cooling, mix the garlic, olive oil, vinegar, salt, and pepper together.
When the beets are cool enough to handle, peel them with a paring knife, or you can peel them with your hands, and consider wearing gloves as the beets will stain.
Slice them in ½-inch thick slices, quarter slices, or chop them into cubes.
Toss with the dressing and serve. Top with fresh parsley, if desired.
Nutrition
| | |
| --- | --- |
| Calories per Serving | 115 |
| Total Fat | 10.2 g |
| Saturated Fat | 1.4 g |
| Trans Fat | 0.0 g |
| Cholesterol | 0.0 mg |
| | |
| --- | --- |
| Total Carbohydrates | 5.4 g |
| Dietary Fiber | 1.5 g |
| Total Sugars | 3.5 g |
| Sodium | 162.6 mg |
| Protein | 0.9 g |