A San Diego Man Is Feeling The Burn With His Guinness World Record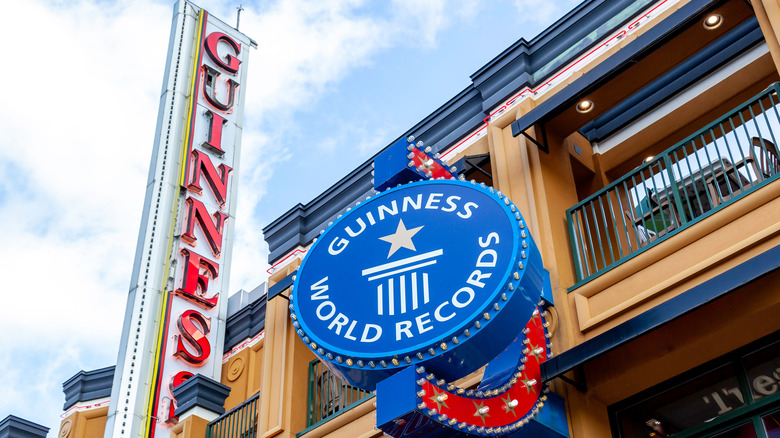 JHVEPhoto/Shutterstock
If San Diego didn't exist, we might not have such cultural criterions as Dr. Suess, the "Top Gun" franchise, pro-skater Tony Hawk, Double IPAs, or Dr. Bronner's Magic Soaps (per Thrillist). And for all the laid-back energy it exudes from its Pacific Coast boardwalks and fish taco stands, the Southern California city has also played host to a number of winning titles awarded by the crème de la crème of reference guides for human achievement: The Guinness Book of World Records. 
Upon its 100th anniversary, for example, the San Diego Zoo achieved Guinness fame for the "largest gathering of people wearing hand puppets," per the guide's website – a stunning accomplishment, for sure. Then, in 2019, a San Diego bar did the city proud once again with its "record-breaking whiskey collection." The following year, a San Diego woman broke the record for "the oldest competitive rope skipping contestant," and she basked in the glory alongside a pair of fellow San Diegites who took home the gold for "the oldest living triplets," per Patch. 
"America's finest city" recently added yet another record-breaking resident to its roster: Gregory Foster, chili-eating extraordinaire.  
The record-breaker ate some very spicy peppers
In December, San Diego man Gregory Foster came in hot to break the record of "fastest time to eat three Carolina Reaper chillies," per Guinness World Records, downing them in an impressive (and not-so-mildly concerning) 8.72 seconds. It might not surprise you to learn that Foster is the proprietor of a hot sauce company, Inferno Farms, nor that he already holds the world record for most Carolina Reaper chillies eaten in one minute. "The chili fan attempted the record as a personal challenge, to see how far he could push himself and his love for the Carolina Reaper pepper," reports Guinness. 
If you've never heard of a Carolina Reaper, think of it as a tiny blistered volcano of heat. The average Reaper, (which holds its own Guinness World Record as the hottest chili pepper in the world) contains roughly 1,641,183 Scoville Heat Units, according to a Winthrop University of South Carolina study cited by Guinness, while a milder pepper, like the Jalapeño, clocks in between 2,500 to 8,000 units. 
For Foster, participating in a Reaper-eating challenge is all about listening to your body. After all, eating a Carolina Reaper pepper sent someone to the ER last summer for "thunderclap headaches," an archaic-sounding condition caused by narrowing blood vessels in the brain. Scary! Foster seems unfazed by the dangers of his passion, sharing "I've always loved spicy food and have constantly tried to push my tolerance to the limit." He certainly succeeded.