The Heartfelt Reason Korean Celebrities Often Have Coffee Trucks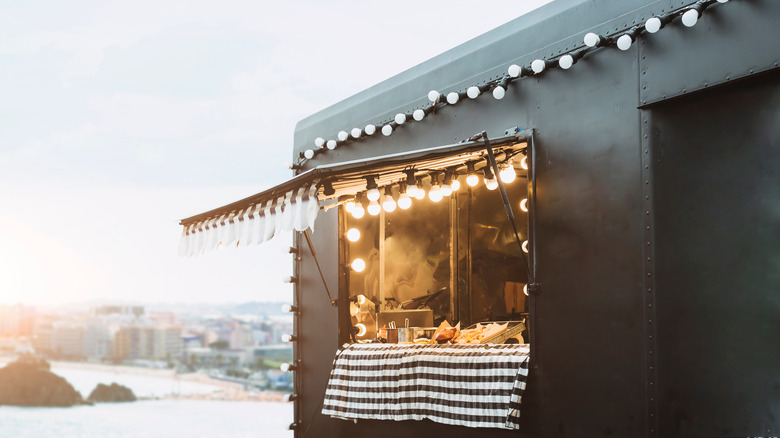 Bro Crock/Shutterstock
It's a pretty common occurrence for those who love following Korean celebrities on social media. You scroll through Instagram or Twitter and find your favorite K-drama lead brightly smiling next to a coffee or food truck. These are usually cute pictures you love to like but you may not be able to resist asking yourself — why do so many of your favorite Korean stars have vehicles with pictures of their faces plastered across them?
As with many facets of the culinary world, food trucks have created their own unique cultures in different countries. In the U.S., New Yorkers have made a tradition out of grabbing hot dogs and a variety of other cuisines from food trucks on their lunch breaks (per Long Island Weekly) and reputable European chefs are setting up their own food trucks on the streets of Paris (via Peacock Plume). Much like Korea's history of fascinating and flavorful foods like budae jjigae, the country has a food and coffee truck tradition all its own that involves the mutual appreciation and love between Korean celebrities and their supporters (via Metro.Style).
The trucks are gifted to them
DisobeyArt/Shutterstock
Food trucks are common on U.S. movie sets. Companies like Roaming Hunger and Roadside Kitchens offer services for movie production crews. But in Korea, movie or television sets often receive custom food trucks that are gifted from fans, personal friends of Korean stars, and sometimes the stars themselves (via Preview).
These gifted trucks include more than just delicious iced lattes. They often have a long list of foods to keep everyone on set well-fueled. Stars and crew members can find "drinks, sandwiches, waffles, fruits, churros, milkshakes, pastries, and other mini snacks and sweet treats," according to Talk Talk Korea. The trucks, as seen on Instagram, also tend to be personalized for a certain celebrity, with pictures of them from their professional TV and movie work.
As noted in Preview, it's only natural that these celebrities would want to highlight the incredible kindness of their friends and fans on social media. By photographing themselves with the trucks, they are able to showcase just how much these thoughtful and sincere gifts mean to them (and potentially inspire more truck donations). Every post that these stars make with one of these mobile eateries is another sign of gratitude to the people who are most invested in them.