How Trader Joe's May Have Copied An Indian Relish Brand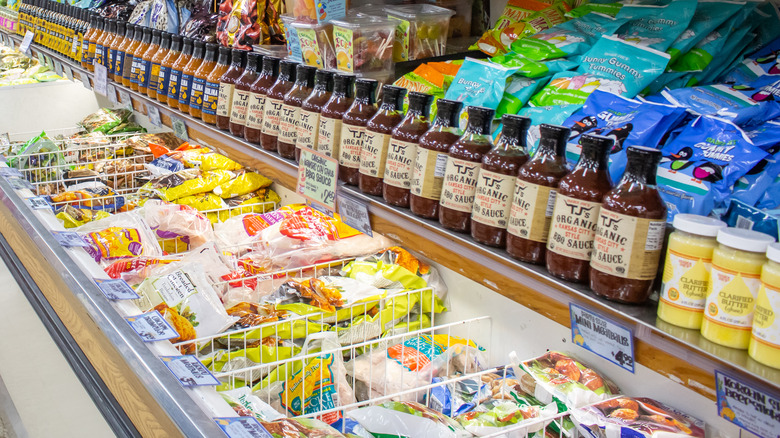 The Image Party/Shutterstock
If you've ever tasted roasted garlic achaar, it was, until recently, very likely from a brand called Brooklyn Delhi. The small-batch Indian condiment company — founded in 2014 by Chitra Agrawal, a US-born cookbook author of South Asian descent — creates condiments and sauces "inspired by Indian culinary traditions and plant-based ingredients," per its website. While it's still a small operation, you don't have to scour the booths at a Brooklyn farmers market to find the stuff; large retailers like Whole Foods and Farm to People now sell Brooklyn Delhi products on their shelves, and the meal-prep company Blue Apron often features them in its South Asian-inspired recipes.  
The brand makes everything from mango chutney to simmer sauces to curry mustard, but its standout is the aforementioned roasted garlic achaar, which won a National Restaurant Association FABI award in 2018 and which New York Magazine lauded as a "hot, sweet, sour, bafflingly complex, and addictive" treat that will "blast your taste buds into consciousness any hour of the day or night." 
The South Asian pickle condiment achaar can be made with a variety of fruits and vegetables — Brooklyn Delhi also makes a tomato achaar, for instance — but garlic is common. Raw garlic, that is. "You don't find roasted garlic achaar," Agrawal told NBC Asian America. "That was my innovation." So, when Trader Joe's released a suspiciously similar "Indian Style Garlic Achaar Sauce" months after expressing interest in selling Brooklyn Delhi's products, Agrawal was rightfully upset.
Trader Joe's had previously expressed interest in selling Brooklyn Delhi's products
According to NBC News Asian America, Trader Joe's approached Chitra Agrawal back in January with particular interest in her brand's Coconut Cashew Korma simmer sauce. In April, without consulting Agrawal, the market chain released a "spicy garlicky condiment with aromatic spices" called "Indian Style Garlic Achaar Sauce," which bears striking resemblance to Brooklyn Delhi's roasted garlic achaar. When Agrawal heard the news, she said her "heart just dropped." There are purported similarities in the product label and name that stood out to Agrawal, including the use of the word "achaar" as words like "relish" or "pickle" are more typical.
In the past, Trader Joe's has been accused of branding its "ethnic" products with racist names. Longtime TJ's shoppers might remember when the brand labeled its Mexican-inspired products "Trader José's" and its Chinese-inspired products "Trader Ming's." The store removed such labels in 2020 after widespread criticism, per Eater, but many people still accuse the store of "whitewashing" recipes for its products inspired by the cuisines of ethnic minorities. 
A viral video posted last week by TikTok star Pragadish Kalaivanan brought the garlic achaar controversy to light. He points out that Trader Joe's confusingly conflates the words "sauce" and "achaar," which means pickle. "Is it sauce, is it pickle, what is it?" he asks. "If you don't know, don't sell it."