Aldi Just Dropped A Must-Have Summer Cooler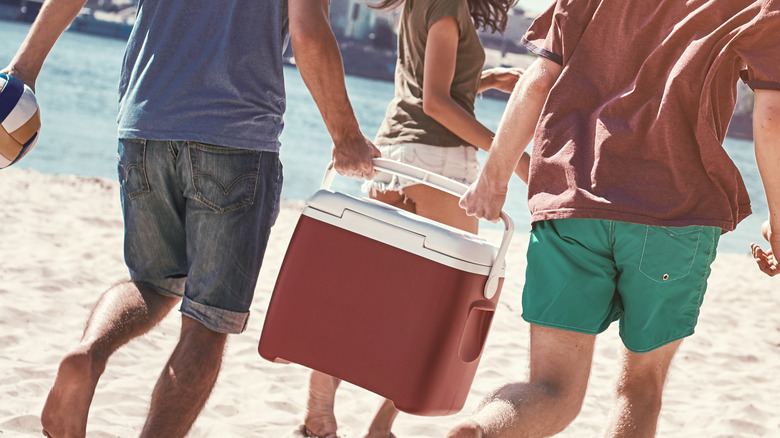 Friends Stock/Shutterstock
Summer is the time when people engage in all kinds of fun outdoor activities. While Americans' top three favorite summer outdoor activities are picnicking, hiking, and going to the beach, there are also plenty of other, more unique experiences to try, according to the National Recreation and Park Association. The more adventurous among us might be intrigued by going to an amusement park, taking on a thrill-seeking activity like whitewater rafting, or exploring on a road trip (via Bucket List Journey). But no matter what type of activity appeals to you, there is one important thing we should all remember to do this summer: stay hydrated.
Whether you are relaxing at the beach or ziplining down a mountain, you'll definitely want to have some cool drinks handy. And this summer, Aldi has released a cold and convenient cooler bag that shoppers can't wait to take on all of their summer adventures. Aldi's new wine dispensing tote makes it easy to keep your favorite beverages cool and accessible, even on the go.
Aldi's wine dispensing tote turned heads on social media
One Aldi fan couldn't resist alerting their followers to the new find on social media. "WINE FRIENDS! Or really anyone that likes beverages. The coolest bag is here for $16.99! A big compartment for snacks and cheese ... The side pocket has beverage pouch and pocket where a spout comes out!" @aldi.mademedoit posted on Instagram, asking "Who else thinks this is so perfect for summer?! What drink are you putting into the pouch?!" Other Aldi fans were similarly excited by the new product. "I think we need this. It can be our 'pool' bag," one shopper replied, while another follower called the bag, "So fun!" "Need asap!" another user wrote.
The wine dispensing tote comes in a variety of bright, seasonal colors, easy-to-carry handles, a sizable insulated main compartment to keep your snacks and lunches cool, and a beverage bag and spout specifically for dispensing your favorite drink (via Aldi). While the beverage dispenser is perfect for wine, it can also hold any number of different beverages, like juice, soda, or even water. And based on these social media responses, this cool and convenient Aldi tote seems to be a summer must-have for shoppers this season.