Classic Mai Tai Cocktail Recipe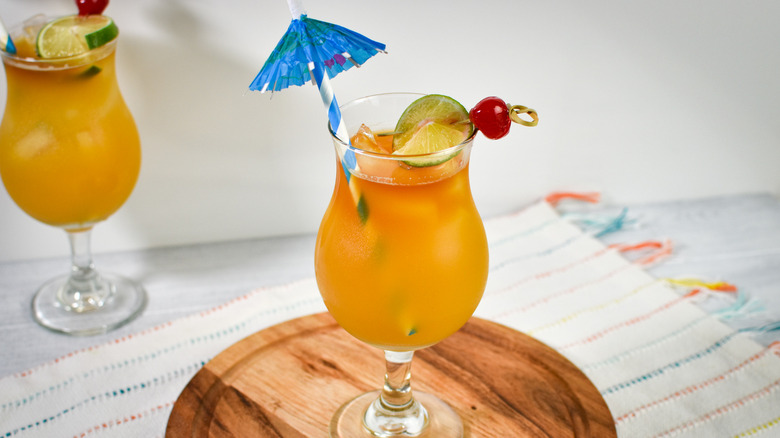 Stephanie Rapone/Mashed
On a hot summer day, is there anything better than kicking back and enjoying a nice, refreshing cocktail that gives off major tropical vibes? We don't think so. Like Jay-Z sings in "Empire State of Mind," we're still sippin' mai tais. This classic drink has a rum base, and it contains pineapple juice and orange juice, which helps make it super crisp and fruity. Another great thing about this cocktail is the dramatic presentation. The bright orange color of the drink, paired with the lime wedge and Maraschino cherry (and don't forget the little umbrella!) makes it look like something you would order at a poolside resort. This is the perfect drink to impress a crowd.
Recipe developer Stephanie Rapone came up with this fantastic recipe that checks all the boxes. "I love these mai tais because they are very smooth, but not overly sweet," Rapone says. As for her inspiration? "Honestly, my husband loves fruity drinks," she says, "so I was on a mission to come up with a version that was a good balance that we would both enjoy." Don't forget us, Stephanie!
Gather the classic mai tai ingredients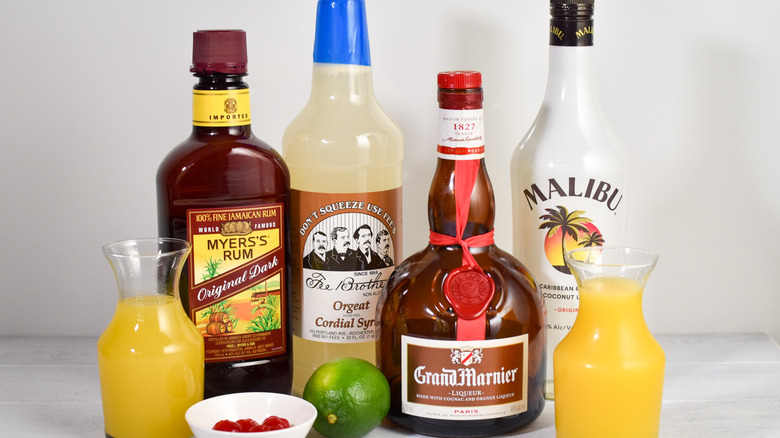 Stephanie Rapone/Mashed
Kick things off by grabbing all of the necessary ingredients. You will need a lime, spiced or dark rum, coconut rum, Grand Marnier, orgeat syrup, pineapple juice, orange juice, and a Maraschino cherry.
Juice that lime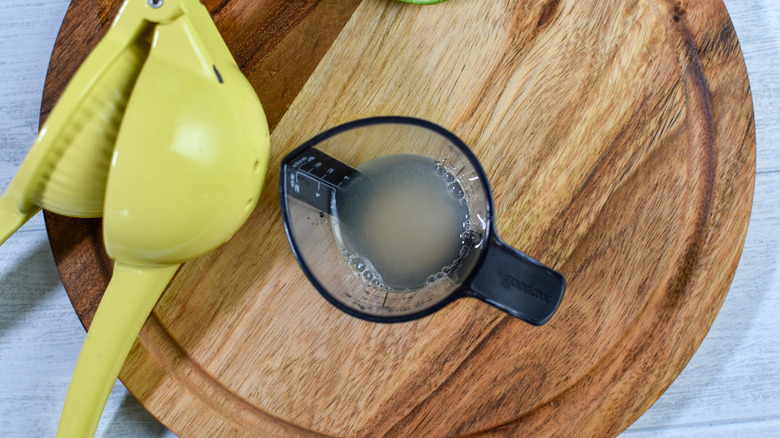 Stephanie Rapone/Mashed
Go ahead and add 1 cup of ice to your cocktail shaker and some more to your serving glass. If you don't have a cocktail shaker, no worries! "Any clean jar with a lid will do the job. Just strain the cocktail through a mesh sieve or use a spoon to hold the ice back when you pour it into the serving glass," Rapone shares.
Next, on a cutting board, cut the end off of the lime and then cut a round slice to use for garnish. Leave the other half of the lime intact, and squeeze the juice from it. This should give you about ½ ounce; add it to your cocktail shaker with the ice.
Build the cocktail in the shaker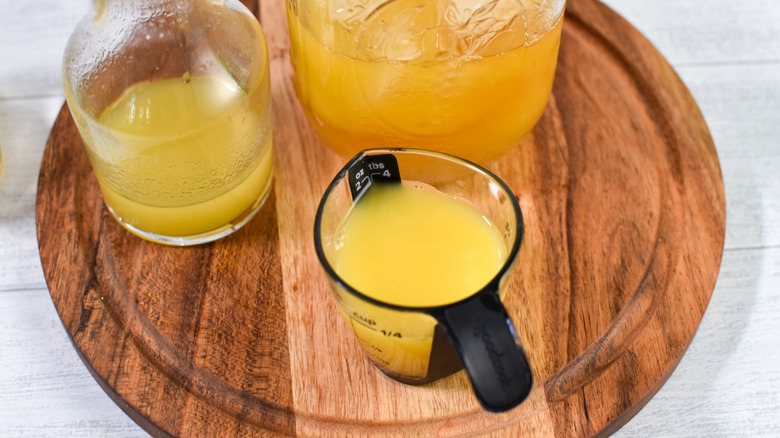 Stephanie Rapone/Mashed
Now, add 1 ounce each of both of your rums, ½ ounce Grand Marnier, ½ ounce orgeat syrup, 3 ounces pineapple juice, and 2 ounces orange juice to the cocktail shaker.
Orgeat syrup is not a super common ingredient, but it's what makes mai tais extra special. Rapone says it "makes it a more authentic version, like what you would find in Hawaii. It adds a rich almond undertone, which definitely helps balance the sweetness." Yum!
Shake and strain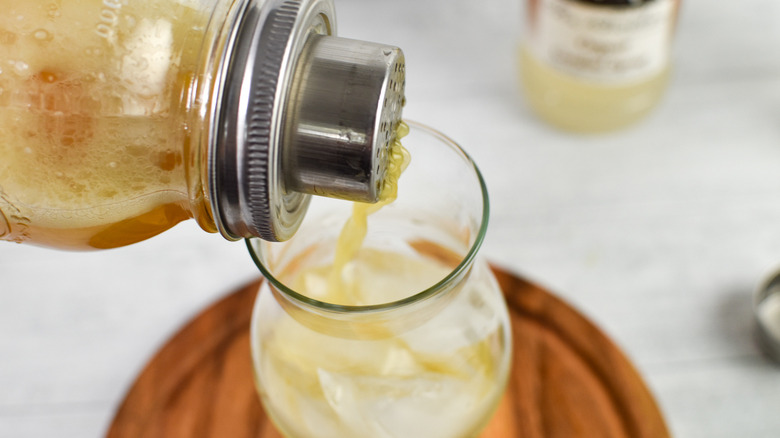 Stephanie Rapone/Mashed
Now that the cocktail shaker is loaded up, place the lid on and shake vigorously. Once chilled, strain into a serving glass and, for good measure, add one more splash of rum.
Garnish and serve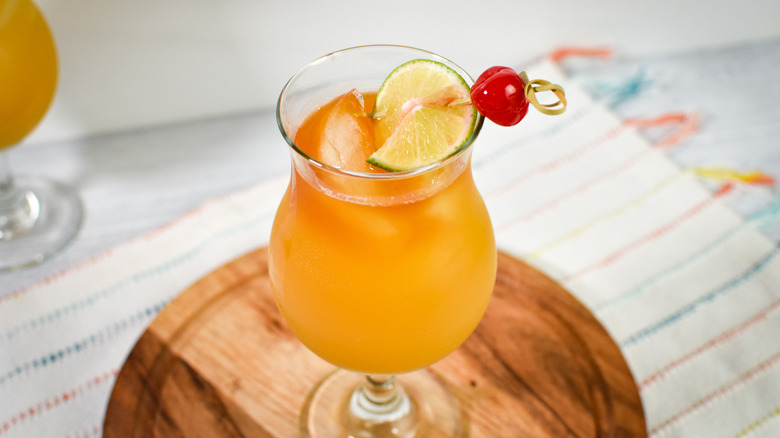 Stephanie Rapone/Mashed
Garnish the cocktail with that slice of fresh lime and a cherry. Now, you're ready to serve this delicious and refreshing cocktail. This is great for happy hour or paired with a meal. "We usually enjoy these in the summer after a long day of yard work, and before throwing a simple dinner on the grill," Rapone notes.
Classic Mai Tai Cocktail Recipe
Whether you're hanging by the pool or daydreaming of an island escape, you deserve a refreshing cocktail. Try this tropical favorite, loaded with rum and fruit.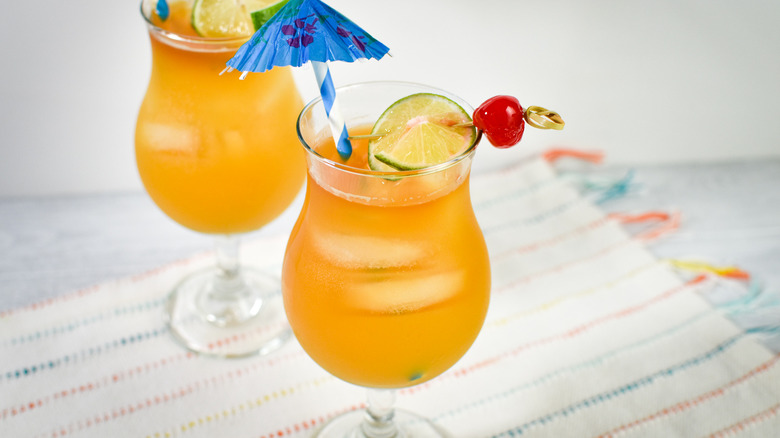 Ingredients
½ ounce lime juice
fresh lime, for garnish
1 ounce dark or spiced rum, plus a splash for garnish
1 ounce coconut rum
½ ounce Grand Marnier
½ ounce orgeat syrup (can substitute almond syrup)
3 ounces pineapple juice
2 ounces orange juice
1 maraschino cherry, for garnish
Directions
Add 1 cup ice to a cocktail shaker. Also put ice in your serving glass and chill until ready to serve.
Cut the end off the lime and then a round slice for garnish, leaving half the lime intact to juice.
Juice the lime half. Add ½ ounce of the fresh lime juice to your cocktail shaker.
Add both rums, Grand Marnier, orgeat syrup, pineapple juice, and orange juice to the shaker.
Secure the lid and shake vigorously.
Strain cocktail into the serving glass. Top with a splash of dark or spiced rum. Garnish with the reserved lime slice and cherry.
Nutrition
| | |
| --- | --- |
| Calories per Serving | 289 |
| Total Fat | 0.3 g |
| Saturated Fat | 0.0 g |
| Trans Fat | 0.0 |
| Cholesterol | 0.0 mg |
| | |
| --- | --- |
| Total Carbohydrates | 31.4 g |
| Dietary Fiber | 1.0 g |
| Total Sugars | 22.3 g |
| Sodium | 7.6 mg |
| Protein | 0.9 g |