Soothing Ginger Root Tea Recipe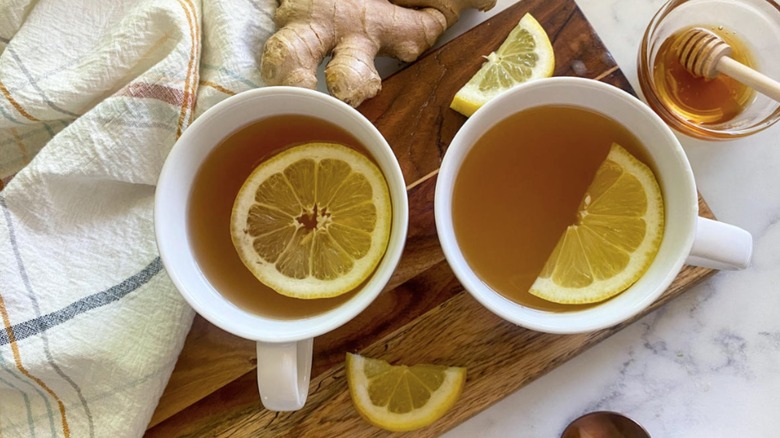 Miriam Hahn/Mashed
Did you know that there are many health benefits of ginger root? Yes, it's true. While most people are familiar with the trendy turmeric root, turmeric isn't the only healthy root out there. Ginger can be incredibly wholesome, but be careful not to eat too much.
Health coach and recipe developer, Miriam Hahn, brings us this recipe for ginger root tea. Hahn loves to "drink this tea at all times of the day or even right before bed." It's simple to make and only requires a few ingredients to throw together. Similar to your mug of nightly chamomile tea, this ginger root tea is very comforting.
And while this might seem like a winter beverage, Hahn says that "in the summer months when it is hot, I keep a batch of this in a mason jar in the fridge and pour [it] over ice." Yum! How refreshing does that sound?
Gather your ingredients for ginger root tea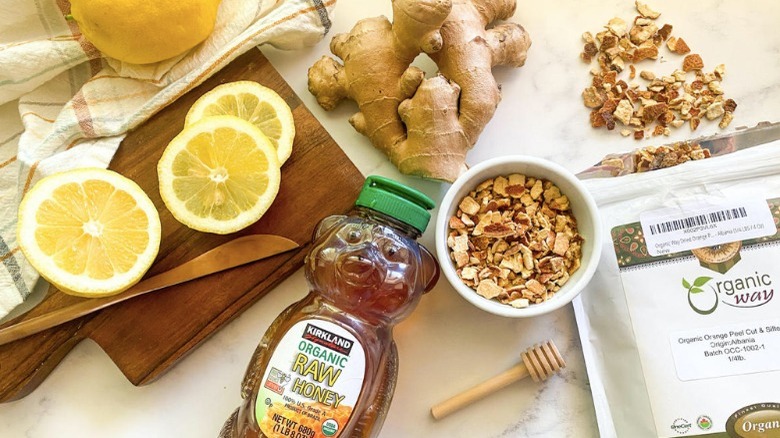 Miriam Hahn/Mashed
To make this ginger root tea, you can start by gathering your ingredients. You'll need fresh ginger, water, dried orange peel, lemon juice, and raw honey. Hahn emphasizes that in addition to the ginger itself, the other key ingredient is the dried orange peel. She notes that the orange flavor complements the ginger and says "there are a lot of healthy compounds in citrus peels and using the dried form is easy to add to all types of teas."
Peel and grate the ginger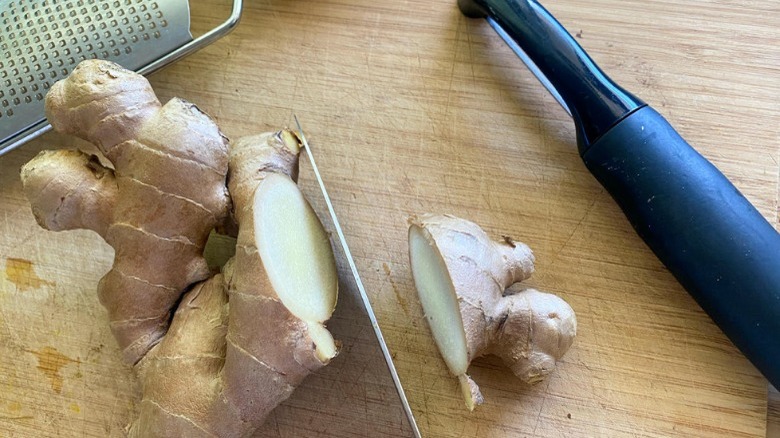 Miriam Hahn/Mashed
Let's get working on the main ingredient: ginger. As a health coach, Hahn says that ginger "helps with joint pain and acts as a pain reliever. Ginger is also great for digestion and for building a strong immune system." 
To start, go ahead and peel the ginger using a vegetable peeler. Then, using a microplane, grate the ginger until you have about 1 tablespoon.
Add ginger and dried orange peel to water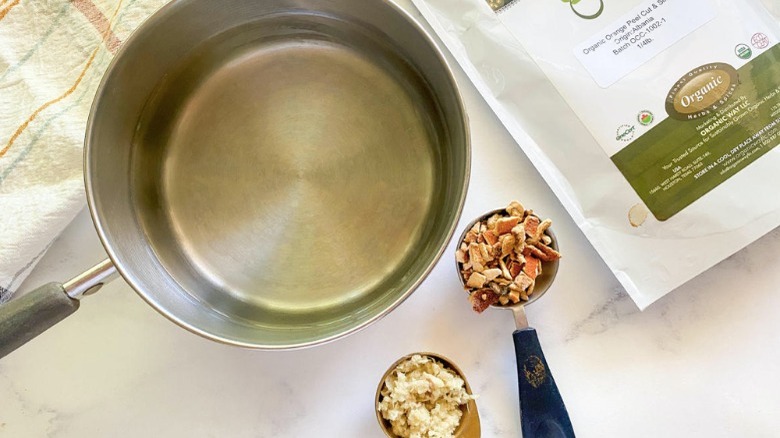 Miriam Hahn/Mashed
Next, add the water to a small pot. Add the freshly grated ginger and the dried orange peel to the water. Place this pot on the stovetop over medium heat. Then, lower the heat to a simmer for about 10 minutes to allow the flavors to meld.
Strain the flavorful tea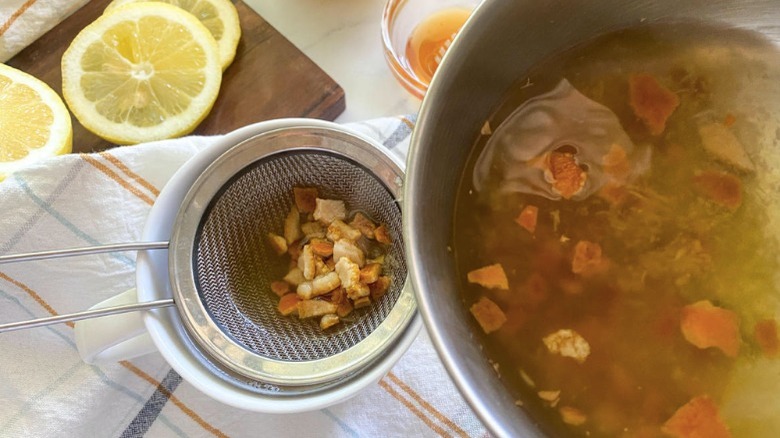 Miriam Hahn/Mashed
Next, remove the pot from the heat. Using a colander, strain the ginger tea into two mugs. Since you will not need them anymore, discard the ginger and orange peel.
Add lemon juice and honey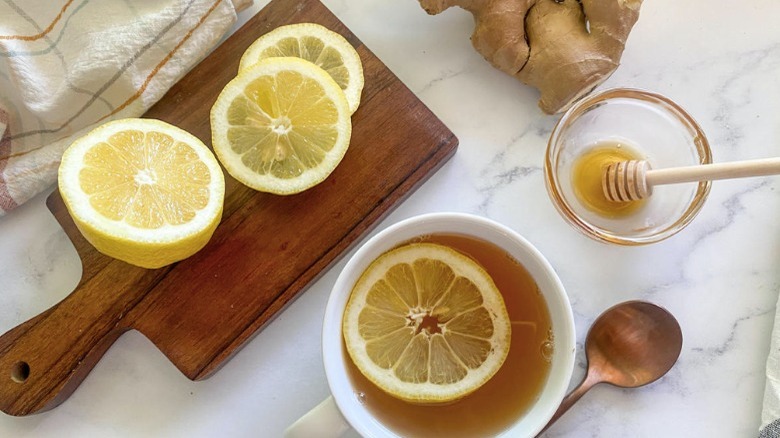 Miriam Hahn/Mashed
Now, add some lemon juice into each mug. Hahn states that "Lemon is also full of antioxidants and helps to alkalize the body." Then, add about 1 tablespoon of honey for sweetness. Hahn suggests "for those that want it a little sweeter, you can add some Stevia." Give each mug a good stir and place a slice of lemon inside for garnish.
Soothing Ginger Root Tea Recipe
if you're looking for a healthy and soothing drink to take the edge off at the end of the day, try this easy ginger root tea recipe.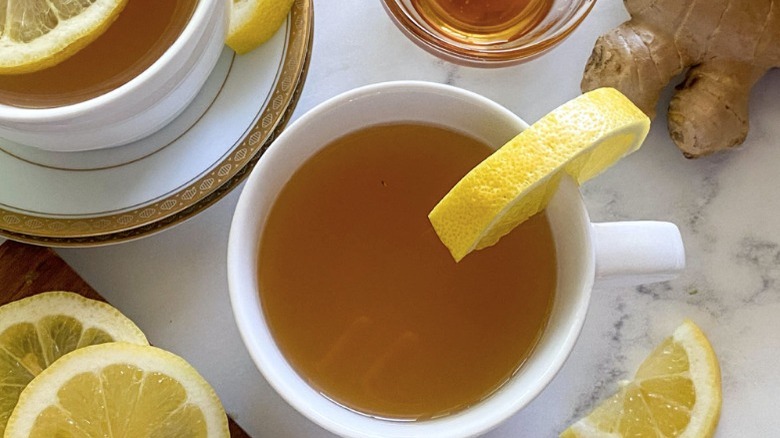 Ingredients
2 inches fresh ginger root (1 tablespoon grated)
2 ½ cups water
1 tablespoon dried orange peel
½ lemon, juiced
2 tablespoons raw honey
Optional Ingredients
lemon slices, for serving
Directions
Peel the ginger. Using a zester, grate 1 tablespoon.
Add the water to a small pot. Add the grated ginger and dried orange peel to the water. Set the burner to medium heat, then lower to a simmer for 10 minutes.
Remove the tea from the heat and strain the ginger tea into two mugs.
Add the lemon juice and raw honey to each mug. Stir to melt the honey and combine.
Add fresh lemon, for garnish
Nutrition
| | |
| --- | --- |
| Calories per Serving | 83 |
| Total Fat | 0.2 g |
| Saturated Fat | 0.0 g |
| Trans Fat | 0.0 |
| Cholesterol | 0.0 mg |
| | |
| --- | --- |
| Total Carbohydrates | 22.1 g |
| Dietary Fiber | 1.1 g |
| Total Sugars | 17.9 g |
| Sodium | 15.0 mg |
| Protein | 0.5 g |