The Trader Joe's Salsa With An Unexpectedly Nutty Ingredient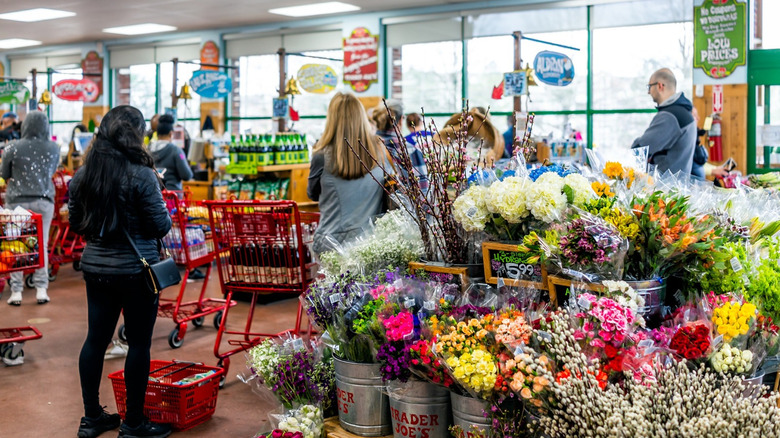 Kristi Blokhin/Shutterstock
Chances are, you've tried salsa at least once in your life. You've probably been brought a serving of chips and salsa before your meal at a Mexican restaurant or grabbed a jar or two for yourself at your local grocery store. This spicy, flavorful condiment is a popular snack food, but when most people think of salsa, they are likely thinking of the most common version served in America, which is made with tomatoes, onions, and chiles as the main ingredients (per the association for Dressings & Sauces).
This is far from the only kind of salsa available, however. Salsa translates simply into "sauce" and there are plenty of innovative and unique salsa creations on the market. One such salsa recently made an appearance on Trader Joe's shelves. Shoppers couldn't help but be intrigued by the unusual addition to the brand's Salsa de Cacahuate. The southern Mexico-inspired sauce is made with typical ingredients like tomatoes, jalapenos, and chili peppers, but also includes peanuts for an unexpectedly creamy, nutty kick, per the Trader Joe's website. One shopper was so intrigued by the new sauce that they couldn't help but post about it online.
The popular account, @traderjoeslist, posted to Instagram with the caption, "NEW SALSA DE CACAHUATE • $2.99 • You can never have too many salsas!" There was, however, one small problem regarding the product.
Trader Joe's Salsa de Cacahuate contains peanuts
The original poster expressed they couldn't buy the salsa due to its peanut content, and asked followers to post their reviews on it instead. Many Trader Joe's shoppers were quick to rave about the unique salsa in the comments. "It's totally different than a normal salsa and took me about 3 bites to decide I love it. Definitely confusing a first. It was a little spicier than normal TJ salsas but I'd give a 9/10 and will be buying again," one wrote. Another shared, "10! amazing depth of flavor and heat. incredibly unique," and others deemed it "so bomb" and "Delicious, and spicy!"
And while you may want to think twice about eating peanuts every day, one TJs shopper has a more serious warning regarding the salsa, sharing "Peanut allergy beware it has peanuts." Peanut allergies are one of the most common types of food allergies, affecting around one in 50 children and one in 200 adults, and they can be quite serious and even fatal (per Sydney Local Health District). 
Those who suffer from peanut allergies need to be especially mindful of the types of foods they consume. But while this unusual salsa might not be ideal for peanut allergy sufferers or those who dislike the taste of the nut, it seems to be a hit with fans of unusual dips and salsas who can't seem to stop raving about Trader Joe's uniquely nutty, spicy Salsa de Cacahuate.