Classic Vodka Martini Cocktail Recipe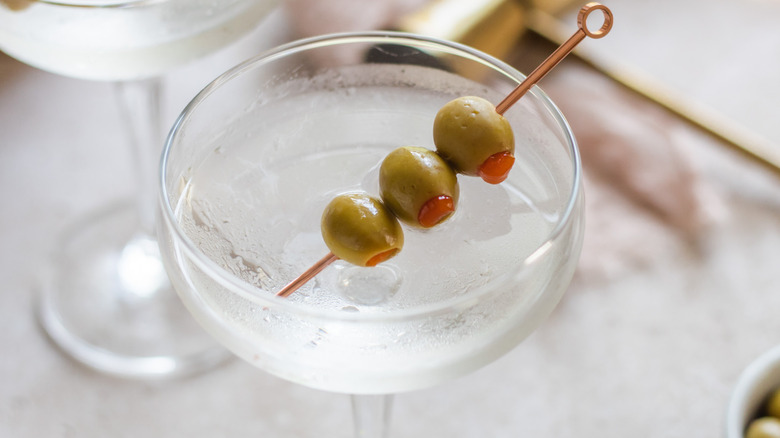 Jaime Shelbert/Mashed
James Bond was onto something — and no, we don't mean hot on the trail of Dr. No or onto the vile plans of Alex Trevelyan. We mean he was onto something with his choice of beverage and its method of preparation. While the original martini was made with gin, the vodka martini has been around for so many generations that calling it a "classic" is more than justified. Indeed, according to Newsweek, Bond did in most cases specifically drink vodka martinis. And of course, he asked for them  — say it with us — "Shaken, not stirred."
Here, chef and recipe developer Jaime Shelbert of Wholly Nourished lays out an elegantly simple preparation for this classic and classy drink. "A vodka martini is such a classic, how could you not want to learn how to make one?" she says. Follow the simple steps and you'll shake up your own cocktail fit for anyone, be it an international spy, or a spouse or buddy from work.
Gather your ingredients for a classic martini cocktail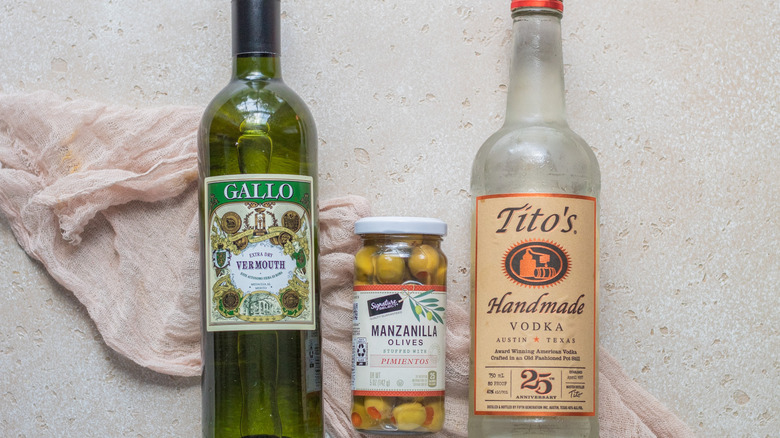 Jaime Shelbert/Mashed
All you need to make the finest cocktail around is a few ounces of a good quality vodka, some dry vermouth, some olives, and some ice. Oh, and a cocktail shaker, a martini glass, and, ideally, a wry smile to flash as you shake up your libations. 
To make the best martini, plan ahead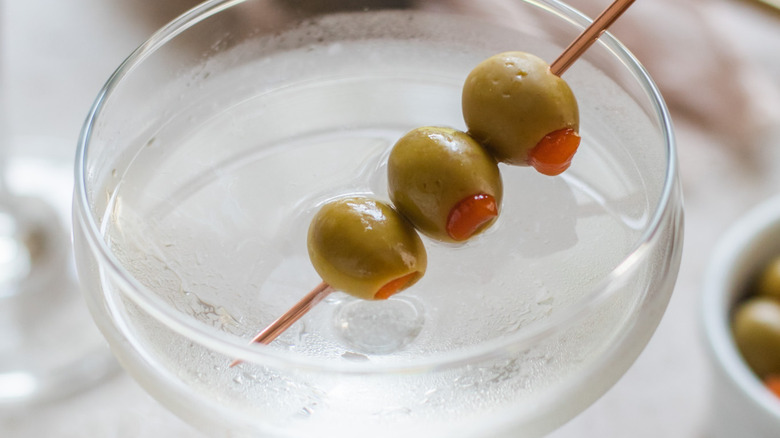 Jaime Shelbert/Mashed
Sure, sometimes the moment calls for a martini, and in those moments, you can make a fine drink without any forethought. But if you have a sneaking suspicion a cocktail may be called, plan for it ahead of time.
"Martinis are known for being ice cold," says Shelbert. "I like to place the vodka, cocktail glasses, and cocktail shaker in the freezer prior to making martinis." That way, there will be almost no melting of the ice, leaving you a perfectly cold drink.
Add the ingredients and shake, then pour, garnish, and enjoy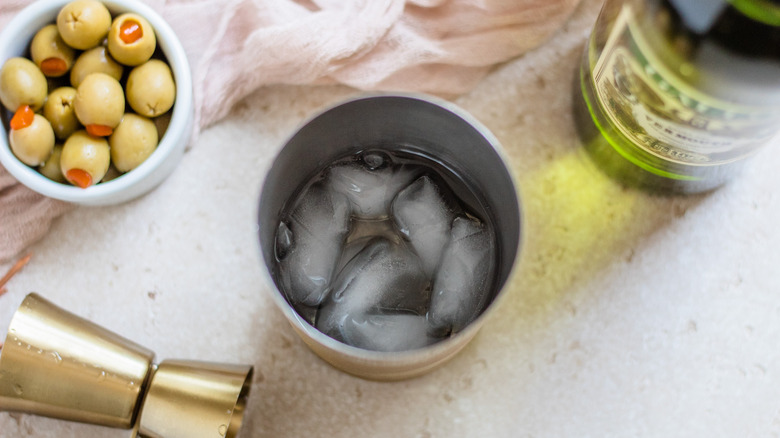 Jaime Shelbert/Mashed
If you have all your ingredients and hardware ready, it's time to get started.
Fill the cocktail shaker halfway with ice, then add the 5 ounces vodka and 1 ounce vermouth to the shaker. Next, shake the cocktail shaker 10-15 times to get the martini cold and well-mixed.
Finally, strain the liquid into 2 cold glasses. Garnish each with three olives, and enjoy!
As for how to enjoy, Shelbert says "A martini is traditionally enjoyed as an aperitif, but can also pair with a seafood or chicken meal that incorporates citrus. Sharp cheeses, olives, salted nuts, smoked salmon — these all pair well if having a martini with an appetizer."
Classic Vodka Martini Cocktail Recipe
If you've never made a James Bond-style classic vodka martini, now's the time to do it. You just need 3 ingredients to have a "shaken, not stirred" cocktail.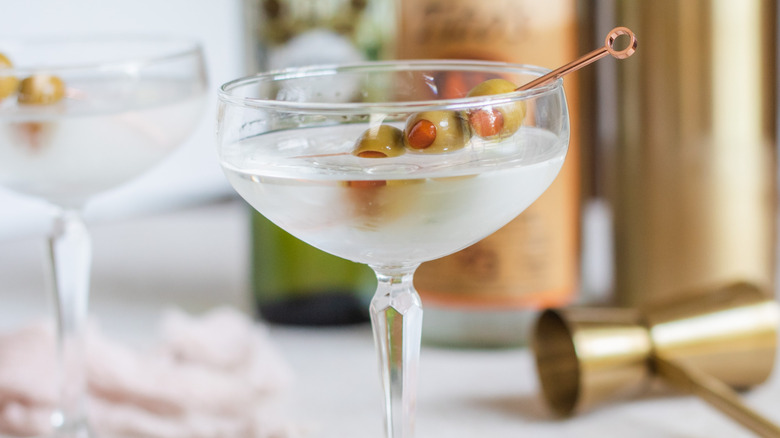 Ingredients
5 ounces vodka
1 ounce dry vermouth
6 olives for garnish
Optional Ingredients
Directions
Fill a cocktail shaker halfway with ice.
Add the vodka and vermouth to the cocktail shaker.
Shake the cocktail shaker to get the martini cold.
Strain into two glasses. Garnish with olives.
Nutrition
| | |
| --- | --- |
| Calories per Serving | 187 |
| Total Fat | 1.0 g |
| Saturated Fat | 0.1 g |
| Trans Fat | 0.0 |
| Cholesterol | 0.0 mg |
| | |
| --- | --- |
| Total Carbohydrates | 1.0 g |
| Dietary Fiber | 0.3 g |
| Total Sugars | 0.1 g |
| Sodium | 72.0 mg |
| Protein | 0.1 g |