Why Reddit Is Comparing Taco Bell's Burrito To A McDonald's Classic
Aside from low price points and quick service, there's not too much that McDonald's and Taco Bell have in common. At the Golden Arches, customers are presented with an array of classic American food to choose from, including hamburgers and chicken nuggets, while the Bell is home to craveable Tex-Mex cuisine. McDonald's keeps French fries on the menu 24/7, 365 days per year, while Taco Bell only doles them out for limited periods of time. And if it's ice cream you're seeking, heading to the T-Bell drive-thru won't do anything to satisfy your craving (though, to be fair, depending on the status of its ice cream machines, a trip to your local McDonald's may leave you disappointed, as well).
As you can see, McDonald's and Taco Bell offer quite different eating experiences — though this is hardly a bad thing (after all, sometimes you just want to think outside the bun). However, recently, one Redditor pointed out a similarity between a current Taco Bell menu item and a discontinued favorite from Mickey D's past that has generated some serious buzz in the fast-food world. "Holy Sh*t...the Chipotle Ranch Grilled Chicken Burrito is [fire emoji]," Reddit user u/895501 posted on the Taco Bell subreddit page on June 4. "Reminds me of the old McDonalds snack wraps," they added, which several others on the platform agreed with. "No lies detected here," u/knightcrusader commented. Could this be a potential replacement for the discontinued McDonald's fave?
Taco Bell's Chipotle Ranch Grilled Chicken Burrito can be customized to taste like a Snack Wrap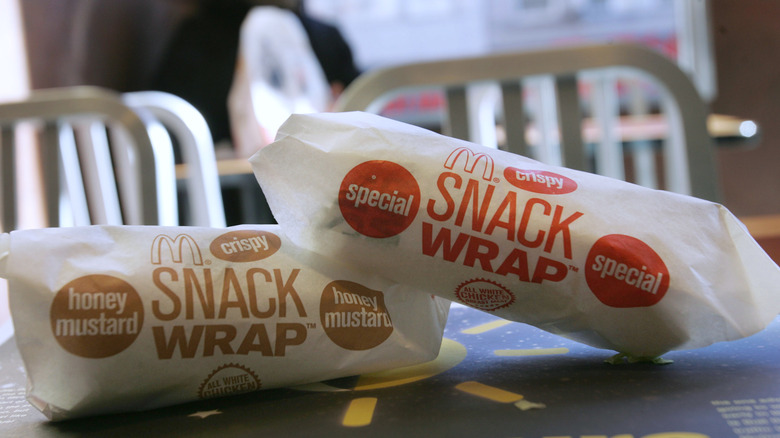 Bloomberg/Getty Images
McDonald's devastated many customers when it discontinued its beloved Snack Wraps in 2016. Featuring either crispy or grilled chicken, shredded lettuce, cheese, and a drizzling of ranch dressing wrapped up in a soft flour tortilla, the handheld treat was a favorite for foodies looking for a cheap, filling meal. Therefore, we have to admit we're a bit surprised that it took so long for someone to alert the internet to the similarities between the gone-but-not-forgotten Mickey D's favorite and Taco Bell's Chipotle Ranch Grilled Chicken Burrito, which initially debuted in select markets last July.
Like the Snack Wrap, Taco Bell's $2 Chipotle Ranch Grilled Chicken Burrito consists of grilled chicken, cheese, lettuce, and avocado ranch dressing on a flour tortilla. It also adds tomatoes and crunchy fiesta strips into the mix, as well as a chipotle sauce to give it a spicy kick. However, as several commenters on Reddit user u/895501's post pointed out, customers are welcome to add or remove ingredients to customize the value menu item to their liking. One Redditor suggested swapping avocado ranch for spicy ranch to make the dish even more akin to a Snack Wrap, though, as user u/Gwynbleidd_z_Rivii wrote, "It's good but nothing will ever compare." But while it may be true that nothing will ever replace McDonald's Snack Wraps, it's nice to know there's at least one suitable substitute out there.