The TikToker Who Earned A Huge Pride Month Honor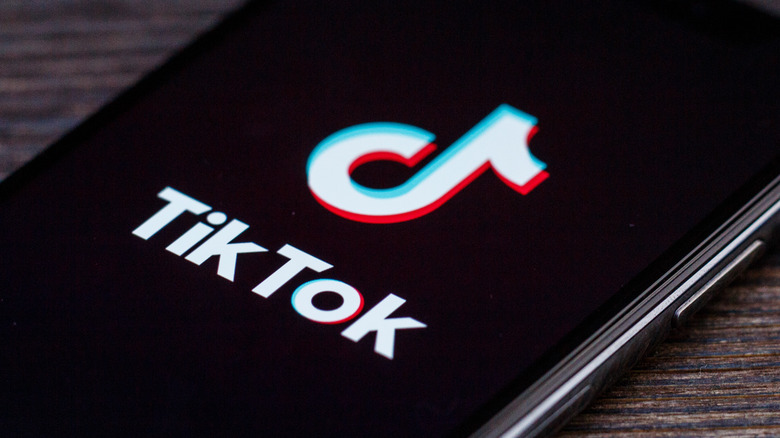 XanderSt/Shutterstock
When it comes to recipes, TikTok doesn't always have the best advice, but the platform does serve a meaningful purpose. TikTok has become an important space for the LGBTQ+ community. In 2018, The Washington Post reported that the social media space has helped LGBTQ+ users share their feelings in a supportive environment. As Amit Paley, CEO of The Trevor Project, an organization focused on crisis intervention and suicide prevention for LGBTQ youths, explained to the Post that support is essential "because there are many LGBTQ youth in this country who are not able to get support where they physically are."
Beyond fostering meaningful connections on its platform, TikTok has announced its sponsorship of the 2022 L.A. Pride Parade and Festival. This year, the company also decided to recognize some of the creators on its platform who use their skills to "make meaningful change, drive awareness of important causes, and embrace our collective journeys in finding pride." Twelve TikTokers were chosen as 2022 LGBTQ+ TikTok Trailblazers, and you may recognize one of them for his colorful pasta videos.
TikTok recognized a well-known pasta-lover
Danny Freeman, better known on TikTok as @dannylovespasta, knows his way around a pasta maker. When it comes to making fresh pasta, Freeman has quite the creative approach, including impressing followers with his wizardry by making Harry Potter pasta in one video, and dazzling viewers with his design skills by whipping up Louis Vuitton pasta in another post. With more than 900,000 followers and a good sense of humor, Freeman certainly knows how to whet his audience's appetite again and again.
Freeman was formerly a lawyer and is now a chef and stay-at-home dad of a 2-year-old daughter (via TikTok). Beyond showing off his impressive pasta skills, Freeman's account shares footage of his life with his husband and daughter, like in the montage where he explains that he first met his now-husband, Steve, on a blind date. Steve was also featured in the first video of the pasta pride series on @dannylovespasta, which includes members of the LGBTQ+ community sharing their stories coupled with videos of — what else — Freeman making amazing pasta in every shade of the rainbow. For his 2022 LGBTQ+ TikTok Trailblazer nomination, we can see in one TikTok video that Freeman was rewarded with a spot on the TikTok float in the L.A. Pride Parade, and even got to attend a Christina Aguilera concert. Freeman seemed truly appreciative of the experience, revealing "I'm so grateful I got to be here."