The Rising Pop Star Who Loves Waffle House For An Important Reason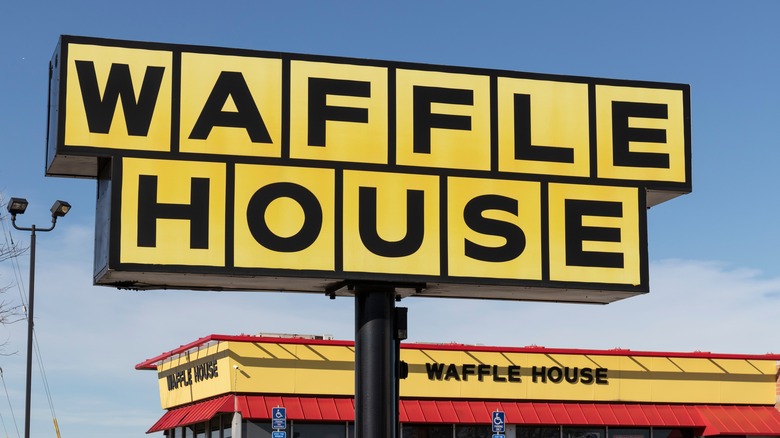 Jonathan Weiss/Shutterstock
With a brooding signature sound and incisive lyricism, Ethel Cain is staking her claim as one of music's burgeoning singer-songwriters. Her newly-released, full-length debut album is far-reaching and expansive, touching on everything from religion and unrequited love to cynicism and youthful disillusionment. Waffle House is an iconic, long-time cultural touchstone that has fed millions over the years. What do they have in common?
Ethel Cain is one alter-ego of Hayden Silas Anhedönia, a persona that helped her "find release by imagining life as a superstar diva," as noted by The Guardian. While songs like "American Teenager" are more immediately accessible, the bulk of her album is rich with immersive torch songs that chronicle her life: torrid experiences growing up, blissful intimate moments, and everything in between. Most of the moments throughout the album are cinematic, with searing imagery and scathing lyrics. Many of the songs are epic in length, with some of them reaching to nearly seven minutes. Pitchfork's Evan Rytlewski notes that the album "dwells on roiling gloom and smoldering Americana," encapsulating the record's sound and intent.
Cain's debut features a gothic-leaning aesthetic, film-like flourishes, and lyrics that focus on trauma, women, self-doubt, and much more. The album's ethos is encapsulated in songs like "Ptolemaea," a conflagration of anger bolstered by high-powered guitars, guttural vocals, and intense drumming, creating a wall of sound that approximates Cain's internal unrest. NPR states that the album "explores Americana horror."
Why does Ethel Cain like Waffle House?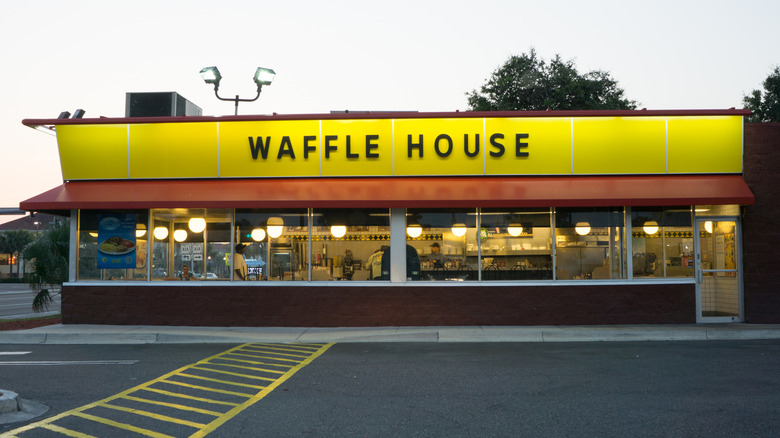 Rob Wilson/Shutterstock
How does this connect to Waffle House, you may be wondering? Cain is a fan, and while she is fond of the food, the main attraction for her has to do with something that is non-edible.
In a May interview, Cain told The New York Times, "that's why I love Alabama: Nobody in this Waffle House knows who I am, nobody at Walmart knows who I am," she said. "Down here I can just be a local girl, and I love that." The Times piece also notes her "shellshocked disdain for cities like New York and Los Angeles, where most in her enviable position end up." Over "nighttime eggs at the nearby Waffle House," Cain notes that she would never want to be "required" to live in either of the large cities, more so comforted when ensconced by the anonymity of a place like Waffle House in a random small town.
Unfamiliar with Waffle House? The first Waffle House opened in 1955 just outside of Atlanta. The official website states that the Waffle House now has "more than 1,900 locations in 25 states," all of which are open 24 hours a day. (There's even a Waffle House museum.) Atlanta Magazine refers to its cultural relevance, noting that "if you stripped all the coloring and lettering off a Waffle House, you would still know it's a Waffle House, the way a Coca-Cola bottle could never be anything but a Coke."
What makes Waffle House so special?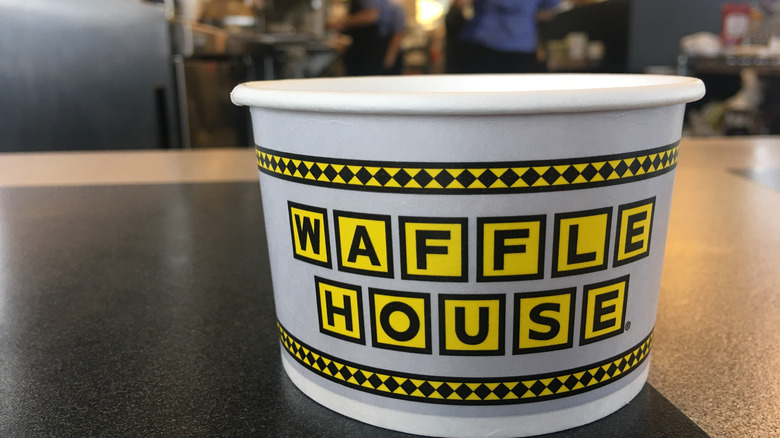 Eric Glenn/Shutterstock
A love for Waffle House is instilled in so many, Southerners especially. This is encapsulated throughout internet. Bitter Southerner conducted a photography project titled "Waffle House Vistas" which "collects images that document Southern communities as seen through the windows of Waffle Houses." The project's goal is to include a viewpoint from different windows in different Waffle House locations: "each photograph looks out from booths and chairs, making the viewer a witness to intertwined narratives of poverty, transience, and politics." Here, Waffle House is used as a vantage point to shine a light on the myriad societal, capitalistic, and political ills befalling the country in recent years. 
A 2017 piece in GQ sums up the widespread cultural adoration for Waffle House and its meaningful place in a fractured country, noting that "everyone sits at the same formica table; everyone eats the same crispy hash browns; everyone pays the same prices. In this nation that is scattered, smothered and covered, Waffle House is where America is its truest, an oasis where we can all unite free of prejudice and preconceived notions."
While Cain's love for Waffle House is steeped in its anonymity, GQ states that "the most comforting thing about eating at any Waffle House location is the constancy it offers." No matter what draws you to the eatery, it is clear that it is incredibly beloved.