Jennifer Aniston Just Tossed A TikTok Salad Rumor Aside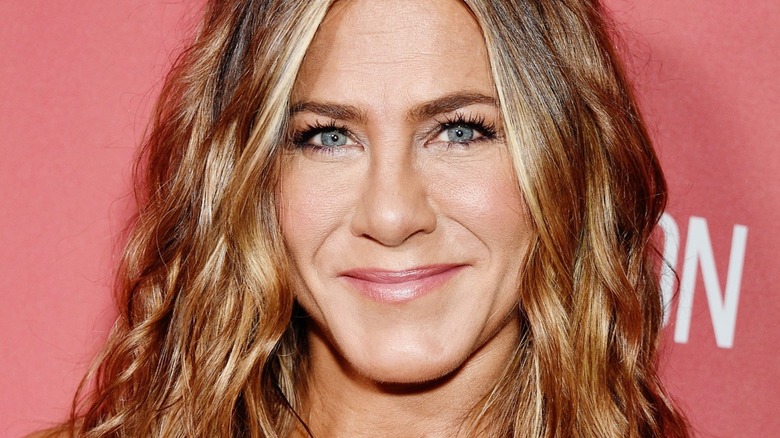 Credit: Gregg Deguire/Getty
Celebrities are often targeted with rumors, from the outlandish and almost inconceivable (the urban legend about Richard Gere lodging a live gerbil in his rectum) to the conspiratorial (the CIA, an entity that has carried out assassinations, probably did not take out John Lennon in 1980) to the unusual but plausible (Beyoncé was rumored to have faked her first pregnancy — which, okay, is possible but why?) In an interview with Elle published Wednesday, Golden Globe-winning actor and producer Jennifer Aniston addressed a rumor whose origins are more than a decade old. No, not that rumor. (Widespread speculation that Aniston's then-husband Brad Pitt started his courtship with Angelina Jolie in 2005 when the two were filming "Mr. & Mrs. Smith" actually turned out to be true, per Rolling Stone.) No, this rumor concerns the ingredients in Aniston's favorite salad.
At first blush, the intensity of the speculation over something as seemingly banal as an actor's preferred bowl of greens may seem unusual. It bears remembering, however, that the hairstyle Aniston wore when starring in "Friends" was so widely copied that "the Rachel" (named after Aniston's character) became, according to Glamour, "one of the most famous haircuts in pop culture history." And when the cast reunited in 2021, 17 years after the show's final season, stylists saw a 179% increase in demand for the cut. So, when fans caught wind of a video that purported to show the salad Aniston ate on set every day, it went viral.
Aniston corrects the record: 'That's not the one.'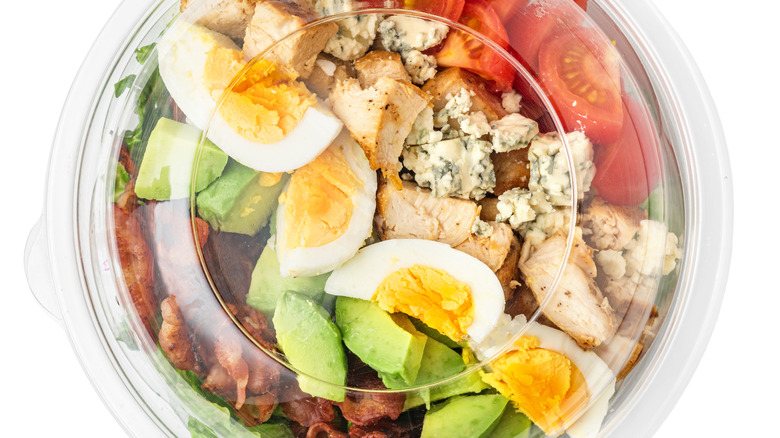 artem evdokimov/Shutterstock
People reports that in 2011, looking back on "the Rachel" — Aniston's iconic haircut that debuted in an early season of "Friends" circa 1995 and, according to Byrdie, made the whole world go "ga-ga" — the actor got candid about her true feelings. "I think it was the ugliest haircut I've ever seen." It was "not my best look," she said, adding that it created a rift between her and a longtime friend, hairstylist Chris McMillan, who was responsible for the cut.
A TikTok video that went viral on the social media platform and beyond features a cobb salad, with a few upgrades, that is purportedly identical to the one that actor Jennifer Aniston enjoyed when filming "Friends." A pretty standard version in Simply Recipes includes, among other ingredients, greens that are tossed together with a hardboiled egg and Roquefort cheese, topped with a Dijon vinaigrette along with slices of avocado, tomato, and chicken breast. The problem? The salad Aniston actually ate on set was "not the one." When shutting down the rumor, Aniston was much more reluctant to let her fans down this time around, now that they were emulating her lunch rather than her coiffure. "That's not the salad that I had every day on Friends," the actor told Elle on Wednesday. "I feel terrible because it's literally taken off like crazy, and it looks like a delicious salad," she said. (Except for the chickpeas, whose quantity, the actor said, is bad for the digestive tract.)