Just Salad's Summer Menu Is Inspired By Warm-Weather Cookouts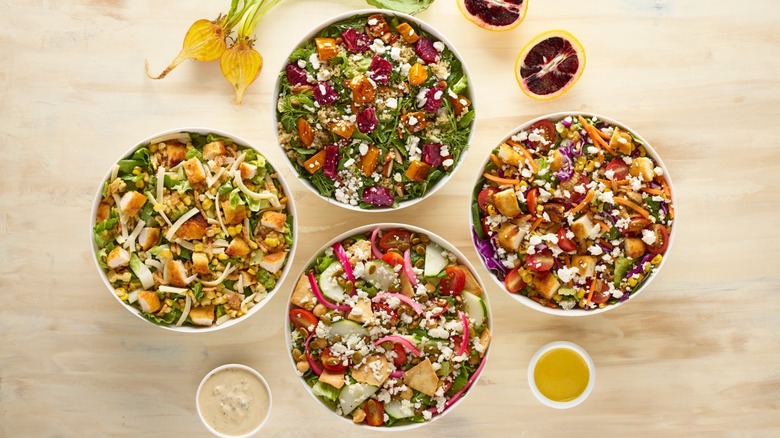 Just Salad
For some people, the return of warm weather signals the return of beloved summer foods — tasty, albeit heavier fare like burgers, hot dogs, and fried chicken found at BBQs. Others equate pool time with light bites like sushi and salads, which can be easier to eat when it's blisteringly hot out. And thankfully for fans of the latter, there's no shortage of popular salad chains to choose from, making it easy to enjoy a bowl of crisp greens, colorful veggies, and savory proteins.
And while each of these spots has its set routine, these chains often switch things up by season, offering summery riffs on salads to entice customers and utilize in-season produce. This summer, Just Salad is jumping in with both feet with its latest seasonal salad additions, combining the light, refreshing crunch of salad with a popular barbecue staple so your taste buds can have the best of both worlds.
Simple ingredients with big flavor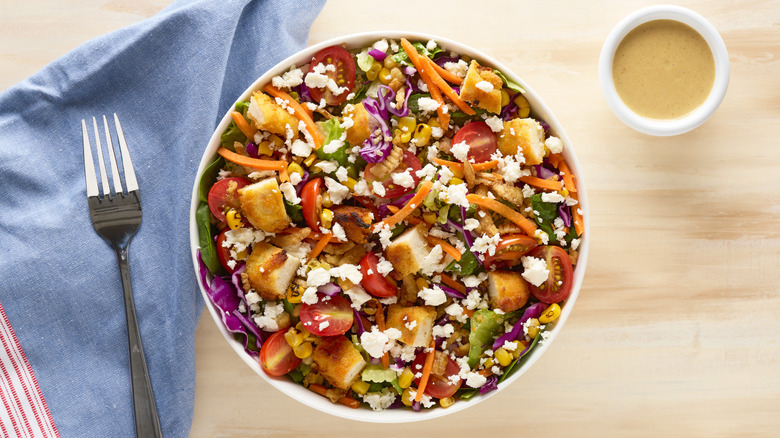 According to QSR Magazine, Just Salad's newly introduced summer menu combines fresh greens and veg with "oven crispy chicken" to create a variety of colorful summer salad options. The limited-time menu, which is available through the end of September, also puts nutrient-heavy quinoa in the spotlight through a partnership with the brand SIMPLi ROC.
Just Salad's Honey Crispy Chicken Salad includes SIMPLi's ROC White Quinoa and a slew of other fresh ingredients like grape tomatoes, feta, corn, onions, and carrots. It has also created two vegetarian salads: One with quinoa, golden beets, blood oranges, and herbs called Golden Summer, and another called Modern Greek Crunch, which includes Stacy's pita chips instead of quinoa. The chain's last salad, the Backyard BBQ Salad, also foregoes the quinoa and instead sticks to the basics of "Oven Crispy Chicken, Sharp White Cheddar, Roasted Corn, [and] Crispy Onions".
With the weather warming up, these salads could inspire some healthier decision-making for those about to sit by the pool. After all, some days you want to chow down on hot dogs in the park, while other days you just want a salad.