Instagram Can't Entirely Get Behind Gordon Ramsay's Lastest Pizza Video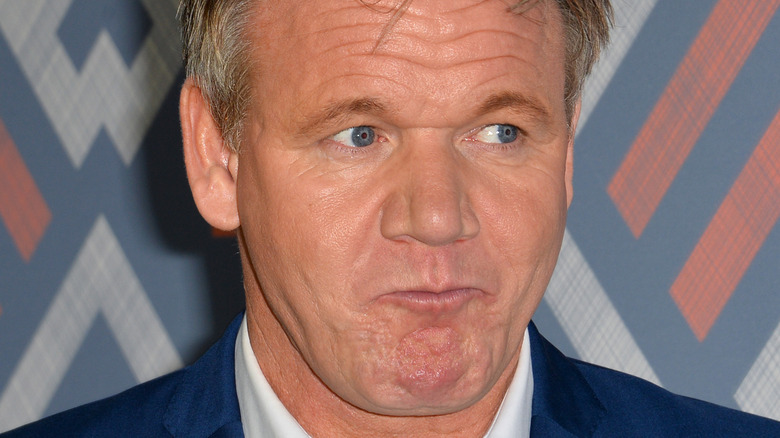 Featureflash Photo Agency/Shutterstock
Celebrity chef Gordon Ramsay might have thought there was plenty to be excited about when he shared a short video from Gordon Ramsay Street Pizza, his chain of London pizza restaurants. It showed chili oil being drizzled on a whole pie. The clip, which was uploaded onto Instagram, had the caption: "fresh out the oven and topped with chili oil... what a lunch !!"
The clip was perhaps all the more surprising, particularly to longtime Ramsay fans because the celebrity chef has, in the past, been heard and seen complaining about greasy pizzas – and there is a record of him saying it, too. In a Season 7 episode of "Kitchen Nightmares" (via Facebook), Ramsay is served a sausage pizza which he calls "the pizza that ate Denver" and is heard mumbling "dripping in grease... the oil, the grease coming out of there" as he lifts up a slice and watches in horror as cheese slides off the slice. 
Ramsay's pizza post divided fans
Unfortunately, the clip didn't wasn't exactly a conversation starter for the right reasons, because while the Instagram post has picked up more than 432,000 likes, it also caused a few fans to chide Gordon Ramsay for adding oil on top of what they opined was a greasy pizza. "Looks good, but is the extra oil necessary?" one asked. "Unpopular opinion: Oil on pizza ruins it," another fan shuddered. A third made an unpalatable comparison, saying: "Way wayyyy too much. Like turning it into a giant flat Zit," while a fourth explained why the concept was a difficult sell: "The cheese and especially the salami make it greasy enough already. [And] then you add so much extra oil too? Ma no..."
It might help Ramsay's fans to know that, no, the chef didn't suddenly find room in his heart for extra grease to go onto his pizzas. A recipe labeled on Ramsay's site as "alternative meat and chilli topping" actually lists olive oil as a topping (along with tomato passata, salami, and a ball of mozzarella cheese) – which explains why he thought the oil was the perfect addition to the pizza – it belonged there all along.