IHOP's New Menu Brings A Taste Of Mischief To Its Summer Lineup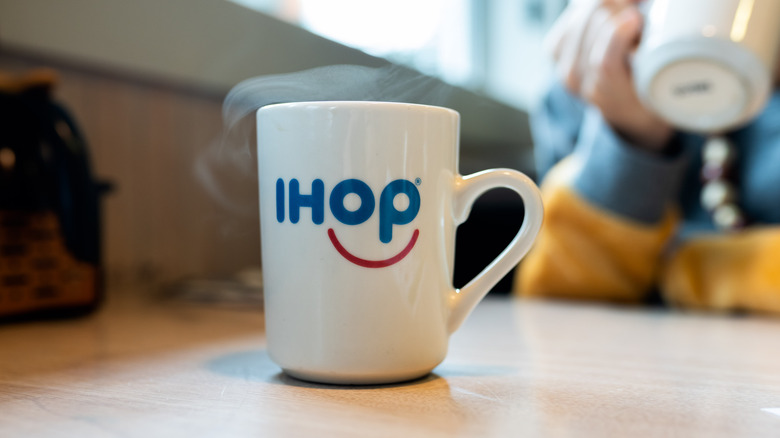 Alexander Oganezov/Shutterstock
We tend to think of popcorn as the one food that pairs perfectly with movies, but there are a couple of chain breakfast restaurants out there that might disagree. Remember Denny's Hobbit Hole Breakfast and other menu items tied to the release of "The Hobbit: The Desolation of Smaug" (via HuffPost)? But Denny's isn't the only breakfast joint that seems to think movies and morning munchies go hand-in-hand. IHOP just announced its own movie tie-in menu, and this one is based on characters from the new movie "Minions: The Rise of Gru" (via Businesswire).
For those not in the know, according to Vox, Minions are "tiny yellow henchmen...earnestly driven by the desire to serve an evil boss, though they often screw up because they're selfish, easily distracted, and generally inept." Apparently, they're constantly getting into mischief, and though the Minions themselves may not inspire you to want breakfast, mischief always does make us a little hungry. For customers in a similar position, here's what to look for on the new IHOP Minions menu.
Minions pancakes, burgers, and more
IHOP will be serving up eight brand new items on their limited-time Minions Menu, which will be available through August 21. Minions love bananas (via Minions All Day), so there are a couple of menu items that feature them (via Businesswire). The first is the Ba-Ba-Ba-Banana Pudding Pancakes, which are made from buttermilk pancakes filled with banana slices and topped with banana pudding, bananas, vanilla wafer cookies, and whipped topping. There's also a Ba-Ba-Banana Milkshake. There's a fun drink, the Minion Mango OJ Splasher, made with orange juice, mango syrup, lemon lime soda, and blueberries, and for the grownups there's Cold Gru Iced Coffee — like Cold Brew iced coffee?
As part of the promotion, kids 12 and under can receive a free kids entree with the purchase of any adult entree between 4-10 PM. Fans of IHOP on Instagram seemed excited about the Minions Menu and all of the new items. "I love Minons and pancakes!!!!" one commenter said. "It's happening guys it's happening," another said, tagging three friends. "Girl that's so crazy," one of the tagged people replied, "Literally it's like IHOP read your mind and did this just for you," they said. All customers, whether or not they somehow telepathically brought the Minions Menu into being, can try out the new items at IHOP through August 21.