This Might Be The Exact Date Starbucks' PSL Returns In 2022
If you're reading this, you're probably not one of those people who wishes summer would last forever. Not to pigeonhole you, but we wouldn't be surprised to learn that you occasionally walk around listening to Carole King's "Where You Lead" like a background character in an autumnal episode of "Gilmore Girls." This is nothing to be ashamed of. In fact, if you were to put a dozen strangers in a room and ask them to close their eyes and raise their hands if they dream about the Starbucks Pumpkin Spice Latte well before the fall equinox, you'd likely find that the majority of people are pro-PSL, whether or not they admit to it publicly. When Peter Dukes created Starbucks' most popular seasonal beverage at the coffee giant's Seattle HQ in 2001 (via CBS News), he didn't know that he was unleashing one of the coziest crazes in corporate coffee history. 
While summer people have barely had time to celebrate the June 21 solstice, PSL fans are already knitting their color-block scarves and marking their calendars for the drink's annual homecoming. We're looking at our trusty sources on the internet, and we think we may have an exact date for its return. 
All signs point to August 20-something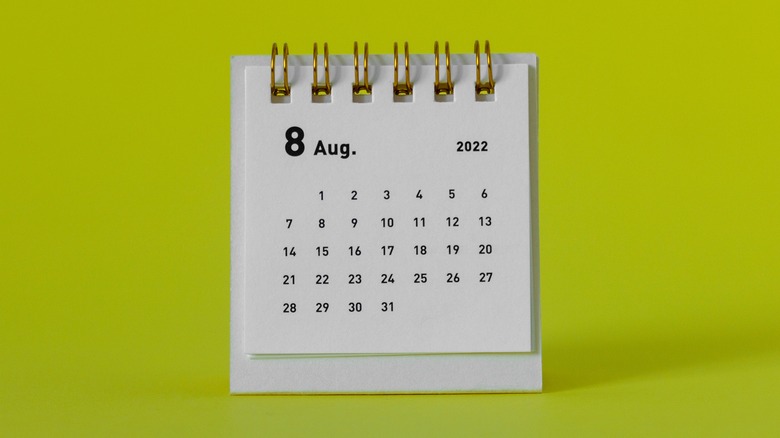 Alekcey-Elena/Shutterstock
In 2018, Starbucks took the hint that pumpkin spice latte fans didn't want to wait until the leaves changed the get their hands on its most popular seasonal beverage. The chain released it on August 28, per Business Insider, and the positive response from pumpkin heads might mean it can never go back to an actual fall release. As Delish reported in 2019, Starbucks unleashed the spice a day earlier the following year, and three days earlier the year after that (via Food & Wine). If this pattern continues, we have no reason not to believe that Starbucks' PSL will hit stores around the same time — or even sooner — this August.
If you just beamed down from Mars and have never heard of a PSL, Starbucks describes it as its "signature espresso and steamed milk with the celebrated flavor combination of pumpkin, cinnamon, nutmeg and clove." The company adds that the drink can be enjoyed hot or iced with whipped cream and "real pumpkin pie spices." If this year's PSL release arrives during a heat wave, the iced option might be a necessary one.