Why GBBO Is Moving Its Iconic Tent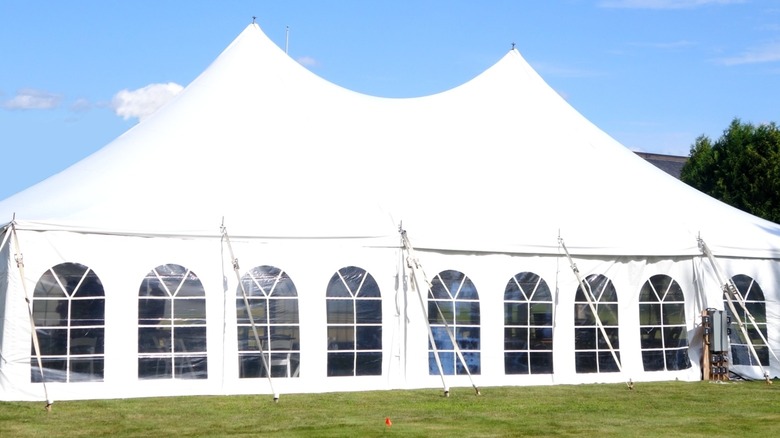 MGS/Shutterstock
"The Great British Bake Off" has been incredibly popular, as Rotten Tomatoes gives the series a rating above 85%. The bubble days of filming the popular Channel 4 cooking competition television series appear to be over. Mirror reports that unlike for the last two seasons, the show's usual allotment of hotel rooms and parkland the tent occupies are available for bookings. "The Great British Bake Off" used those hotel rooms and parkland to isolate the cast and crew over the past during filming to protect everyone from the COVID-19 pandemic.
The availability of those rooms now suggests Channel 4 is keen to return to its usual practices before the COVID-19 pandemic changed everything. Among those practices is Channel 4's use of the tent. While the temperature regulation issues that the tent presents are a challenge (per Decider), the next round of bakers will have to pass that test just like their predecessors. However, the tent isn't going anywhere in terms of it being the setting of the show. The tent's location, not its role in the show, is set to change.
The GBBO hits the road again
A spokeswoman for "The Great British Bake Off" confirmed to Mirror that the show will no longer be filming inside a COVID-19 bubble. In the two previous seasons, the cast and crew lived in isolation from the general public for as much as six weeks at a time to limit exposure. According to Vanity Fair, the producers condensed the filming schedule down from 12 weeks to six to limit that isolation. Competitors and production staff weren't completely alone, though. Vanity Fair also shared how the show made accommodations for families and even pets as well. Because the cast and crew were in isolation at Down Hall Hotel in Essex, the tent also hasn't left the nearby parkland.
Before then, however, Channel 4 set up the tent in a different spot each season. It seems that will be the case again this summer. While it has not been officially announced where the filming location will be, it's possible the tent will be set up in Welford Park, Berks. The end of the bubble protocol for the show seems to be a welcome change, though. Mirror also reports that members of the cast are delighted to return to the standard practices, allowing them to go home on weekdays. Regardless of where the tent ends up, the fact that it's on the move again is good news for everyone from fans to Paul Hollywood himself.