Costco's New Garden Salad Could Be A Summer Hit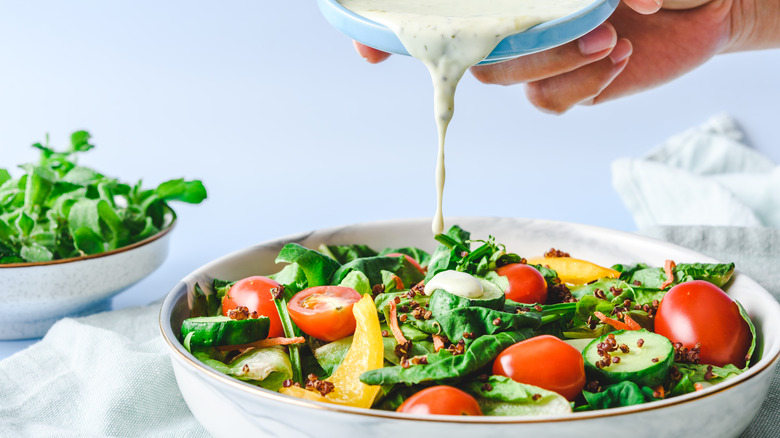 Chris LayKK/Shutterstock
We know what you're thinking: "Salads? In the summer? Groundbreaking." Well, these crisp and cool dishes are undeniably the perfect remedy to beat the heat. Not only are scrumptious salads light and refreshing, but they are also versatile. From leafy greens and creamy potato numbers to hearty pasta versions, there are so many perfect salads to make this summer. With such a range of ingredients to choose between, you never even have to repeat a recipe.
Salads are extremely easy to achieve at home, as long as you know the surprising hack that will save your wilted lettuce (give it a brief bath!) and know a few recipes for homemade salad dressings so good, you'll forget they're healthy. But every so often, especially during the lazy days of summer, we want to skip an hour in the kitchen and treat ourselves to a ready-made lunch or dinner. Thankfully, pre-made summer salads aren't too difficult to find. One such item comes from Costco, which just debuted a new garden salad that could very well be all the rage this season.
Costco shoppers have mixed feelings about the new garden salad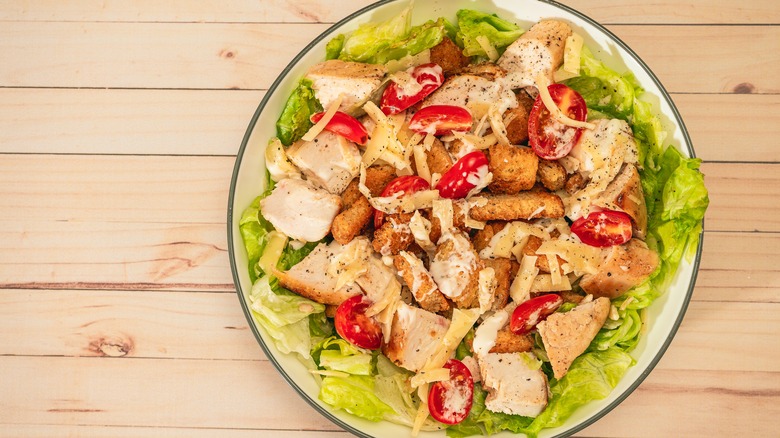 HC FOTOSTUDIO/Shutterstock
User @costcohotfinds took to Instagram to share their latest seasonal discovery at the discount warehouse chain, captioning their post, "There's a NEW Salad at Costco and I'm a fan." The clamshell package is full of fixings, including bell peppers, carrots, cherry tomatoes, Parmesan cheese, and chicken. The lunch-in-a-box also comes with a separate package of croutons, as well as a packet of Caesar vinaigrette dressing that you can choose to add if you wish. The Instagram user, however, made it their own with a squirt of the ranch dressing in their fridge. 
While some Costco fans seem excited about the new garden salad, others appear to be a little more skeptical. "You usually have great reccos, that looks awful though," one user wrote in the comments section, to which @costcohotfinds responded with a laughing face emoji, "it's just a salad." Others took issue with the "horrible ingredients," such as "nasty pulled chicken" and "soggy" lettuce. Despite its evidently polarizing contents, the new item is a great bang for your buck, according to @costcohotfinds. They turned one $8 package of the $5.99/pound salad into two meals.