The Truth About Cat Cora's Split From Her Wife, Nicole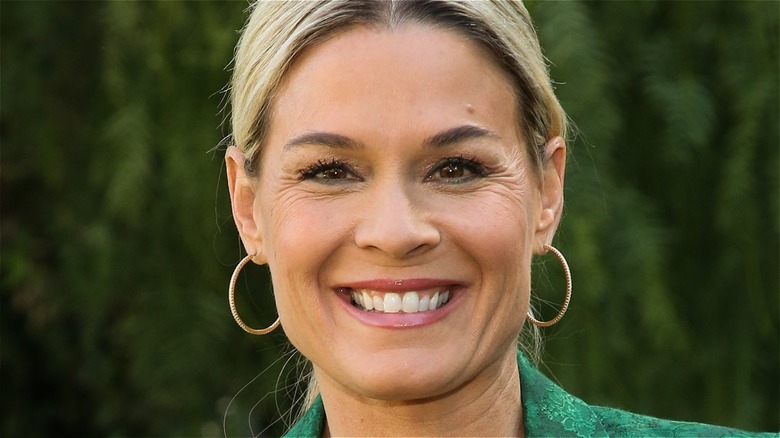 Paul Archuleta/Getty
Iron Chef's Cat Cora has been married twice. Her first marriage, to Jennifer Cora (her maiden name has not been disclosed), ended badly, per Mercury News. Cat and Jennifer had four sons between them, whom they raised together, per People. Although the two spent 17 years together, they were married for just two. Long after Cat and Jennifer's 2016 divorce, Cat claimed that Jennifer, whom Cat likened to serial killer Ted Bundy, was on a mission to ruin her. In 2020, Cat sought a restraining order against Jennifer — based on allegations of domestic violence, per Page Six. Although the marriage is long over, some aspects remain unresolved, including $100,000 in support obligations Cat still owed to Jennifer as of August 30, 2022, per TMZ.
Cora's second marriage was to music producer Nicole Ehrlich. The two split in April 2021 after three years of marriage, according to People. The now-former couple's non-contentious divorce was settled in late August, according to TMZ, and was to become legally binding on November 8. Having managed to get ahold of a copy of the settlement agreement signed by the judge in the divorce proceedings, TMZ revealed that Nicole walked away from the marriage with some furniture, some jewelry, several bank accounts, and three cars, namely, a 2010 Lexus RX 350, 2015 Audi CV and a 2017 Jeep. While that sounds like the makings of an amicable divorce, it's not even the best part.
If you or someone you know is dealing with domestic abuse, you can call the National Domestic Violence Hotline at 1−800−799−7233. You can also find more information, resources, and support at their website.
The marriage ended, but not its lip-smacking legacy
Something you may never have known about Cat Cora is that she's a talented dancer, which came to light as she emerged victorious, along with dance partner Corbin Bleu, on Season 1 of "The Real Dirty Dancing, per Hollywood Life. And this is despite that she had no prior dance training, as she told our affiliate, The List, in an exclusive interview. And so it goes that the self-proclaimed first female Iron Chef continues to surprise her fans in various aspects of her life, both personal and professional. And she did it once again when it came out that, notwithstanding her recent divorce from Nicole Ehrlich, it turns out that Ehrlich played a big role in inspiring Cora's current partnership with the non-alcoholic wine company, Miller Family Wines, per Noozhawk. 
As the company's director of marketing, Tommy Gaeta, revealed in January 22 interview with Noozhawk, "Nicole does not drink, and the couple could not find a selection of nonalcoholic wines, so they reached out to the Miller family." The upshot? The launch of the joint venture between Cora and the Miller family, Hand on Heart Wine. In other words, although the marriage between Cat Cora and Nicole Ehrlich ended, it could also be said to have been the beginning of a "beautiful relationship" between Cora and Miller Family Wines.