The Unexpected Ingredient Anne Burrell Uses In Deviled Eggs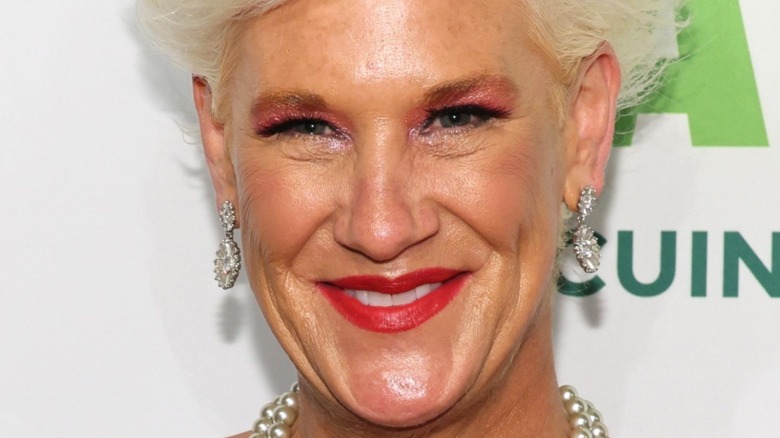 Dia Dipasupil/Getty
You can find deviled eggs on the menu in almost any setting. Fancy restaurant? Deviled eggs. Backyard barbecue? Deviled eggs. Holiday party? You guessed it. This easy appetizer can be made with as few as two ingredients: eggs and mayonnaise. However, those who have made them before often like to put their own twist on the dish. Seasonings such as salt and paprika are commonly used to add flavor, though Food Network suggests adding avocado, pickles, or bacon.
Celebrity chefs love to give their own touch to popular dishes, and deviled eggs are no exception. The unexpected ingredient Rachael Ray uses in her recipe is anchovy paste, which helps them taste like Caesar salad; she even serves them alongside lettuce. Anne Burrell, who is known as the host of Food Network's "Worst Cooks in America," puts a different spin on her version of the dish to give the eggs an impactful flavor.
Anne Burrell's surprising deviled eggs ingredient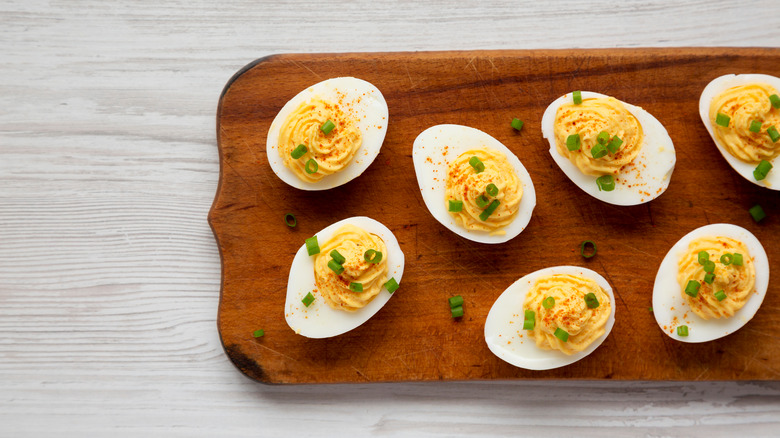 Liudmyla Chuhunova/Shutterstock
Anne Burrell takes the flavor of traditional deviled eggs to new heights with the addition of truffle. According to Taste of Home, Burrell first debuted her truffle deviled eggs at Centro Vinoteca, her Manhattan restaurant (the eatery closed in 2013; it had filed for bankruptcy in 2009, per Eater). Burrell combined truffle oil into the usual yolk mix, then topped the eggs off with peelings of black truffle to complete the look and seal the truffle flavor.
The full recipe is also available on Food Network's website, and reviewers have given it 4.5 stars. The recipe calls for the traditional eggs and mayonnaise, of course, but Burrell also adds chives and cayenne pepper, in addition to the truffle.
Some chefs take issue with truffle oil, such as Gordon Ramsay, who once called it "one of the most pungent, ridiculous ingredients" in an episode of "MasterChef." However, the oil often costs less than traditional truffles, so it's a good alternative for those looking to get the flavor at a lower cost.